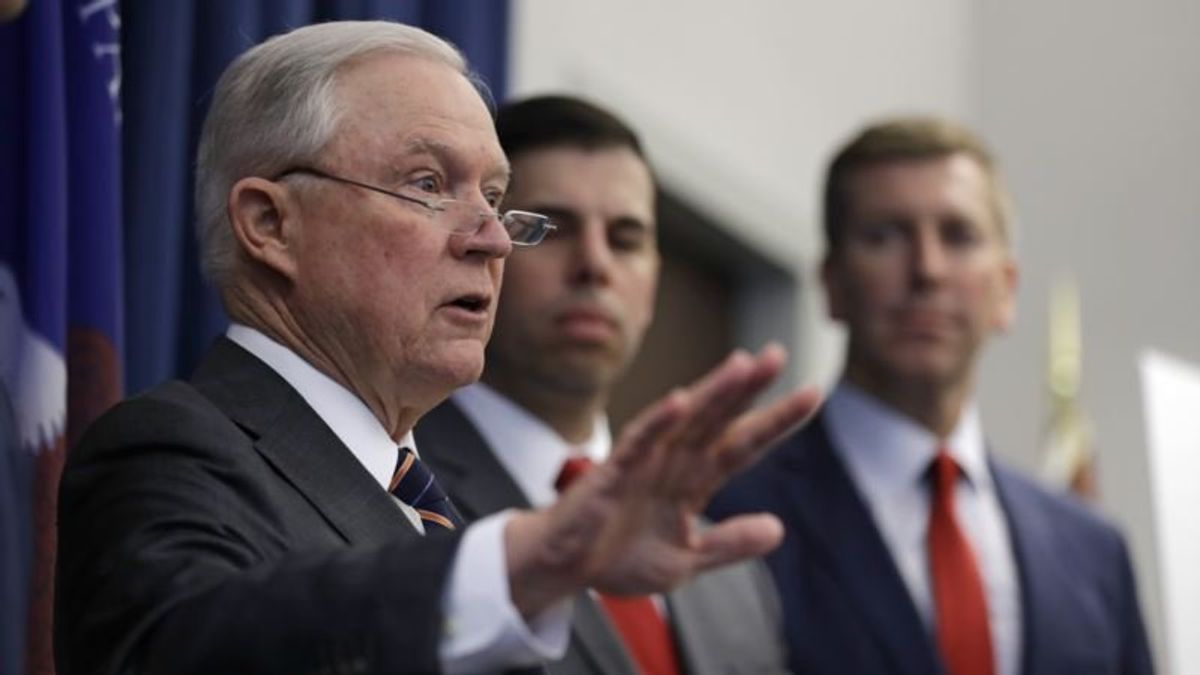 Sessions Hits Back at Trump Over Justice Department Criticism
Sessions Hits Back at Trump Over Justice Department Criticism
President Donald Trump drew a sharp rebuttal from his attorney general on Thursday after he gave a scathing assessment of Jeff Sessions as being unable to take control of the Justice Department.
Trump intensified his criticism of the Justice Department in a Fox News interview broadcast on Thursday as the White House grappled to respond to the conviction of former Trump campaign chairman Paul Manafort on multiple fraud counts and a plea deal struck by Trump's former personal lawyer Michael Cohen that implicated the president.
He reprised a litany of complaints about the Justice Department and the FBI, attacking both without providing evidence they had treated him and his supporters unfairly.
Trump also renewed his criticism of Sessions, blaming him for what he called corruption at Justice.
"I put in an attorney general who never took control of the Justice Department," Trump said.
Sessions, in a rare rebuttal to Trump, issued a statement defending the integrity of his department.
"I took control of the Department of Justice the day I was sworn in," he said. "… While I am attorney general, the actions of the Department of Justice will not be improperly influenced by political considerations."
Sessions, a longtime U.S. senator and early supporter of Trump's presidential bid, drew Trump's ire when he recused himself in March 2017 from issues involving the 2016 White House race.
That removed him from oversight of the federal special counsel's investigation of Russia's role in the election and whether Trump's campaign worked with Moscow to influence the vote. Trump has repeatedly called the investigation a witch hunt.
"Jeff Sessions recused himself, which he shouldn't have done," Trump said. "He took the job and then he said, 'I'm going to recuse myself.' I said, 'What kind of a man is this?'" However, Trump told "Fox & Friends" he would not interfere in department matters.
"I will stay uninvolved and maybe that's the best thing to do," he said in the interview.
At the U.S. Capitol, Republican Senator Lindsey Graham, who is both close to Trump and a defender of Sessions, said he believed Trump would appoint a new attorney general but should wait until after November congressional elections.
"The idea of having a new attorney general in the first term of President Trump's administration I think is very likely, Graham said.
'Every lobbyist in Washington does it'
Trump told Fox he respected Manafort for work he had done for prominent Republican politicians, adding that "some of the charges they threw against him, every consultant, every lobbyist in Washington probably does."
The Fox News reporter who interviewed Trump said on Wednesday Trump told her he would consider pardoning Manafort. But in the interview that aired Thursday, Trump never said he was considering the pardon.
U.S. intelligence agencies have concluded that Russia hacked and leaked Democratic emails during the campaign as part of an effort to tilt the vote in Trump's favor. The Kremlin has denied the allegations and Trump has denied any collusion.
Trump said Manafort and Cohen were charged with matters totally unrelated to his presidential campaign, although Cohen told a federal court in New York that Trump had directed him to arrange payments before the 2016 election to silence two women who said they had affairs with Trump.
Asked if he directed Cohen to make the payments, Trump said only that Cohen made both deals. He attacked Cohen, who once said he would "take a bullet" for Trump, for agreeing to a plea deal with prosecutors that made Trump look bad. "It's called flipping and it almost ought to be illegal," he said.
Trump was asked whether he thought Democrats would move to impeach him if they won control of the House of Representatives in November. "I don't know how you would impeach somebody who's done a great job," he said. "If I got impeached, I think the market would crash."