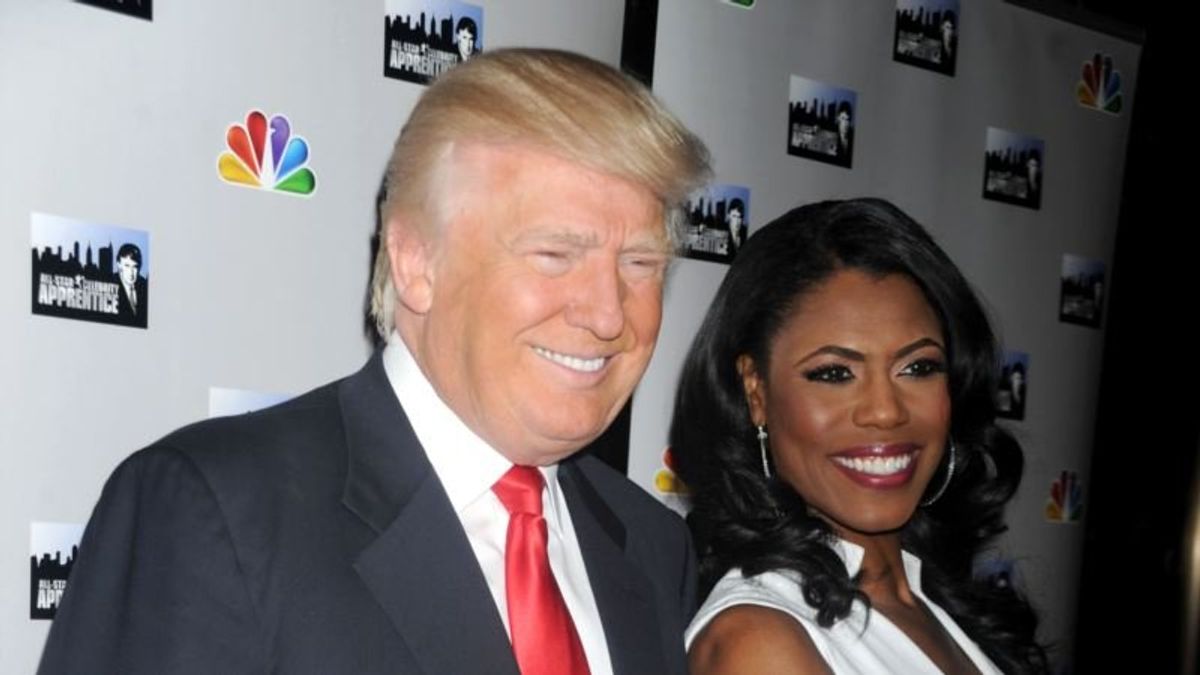 Secret Audio? In Trump World, There's Always a Tape
Secret Audio? In Trump World, There's Always a Tape
WASHINGTON —
Lordy, there are tapes. And tapes and tapes and more tapes.
Omarosa Manigault Newman's former colleagues say they are shocked that she secretly recorded private conversations with President Donald Trump and his chief of staff.
But surreptitious tapes in Trump's world are nothing new, with the president himself once suggesting he secretly recorded fired FBI Director James Comey (who responded by saying : "Lordy, I hope there are tapes"). Trump's ex-attorney Michael Cohen has his own cache of recordings, too. ′
What to know about the latest White House tapes and why they matter:
From 'loyal friend' to 'dog'
Trump on Tuesday called Manigault Newman, who is African-American, a "dog." But he clearly thought highly enough of her to give her a top post at his White House following his election.
A former contestant on his TV show "The Apprentice," Manigault Newman joined the campaign and became an assistant to the president, earning $179,000 a year as director of communications for the White House office of public liaison.
She lasted shy of one year, getting escorted off White House grounds in December 2017. (Manigault Newman later joined the cast of the reality TV show "Celebrity Big Brother," where she tearfully told a fellow contestant that the nation is "not going to be OK" under Trump.)
Now promoting a new book, Manigault Newman has released a recording of White House chief of staff John Kelly accusing her of "significant integrity issues" and saying, "If we make this a friendly departure … you can go on without any type of difficulty in the future relative to your reputation."
In another recording that Manigault Newman says was taken the next day, Trump can be heard saying he was surprised and disappointed that she was leaving the White House: "Nobody even told me about it … I don't love you leaving at all."
On Tuesday, she released a third recording to CBS "This Morning" that suggested top campaign staffers knew Trump had used the "N-word" and discussed a potential response if it leaked.
Smart move?
Manigault Newman defends her secret recordings, saying otherwise "no one in America would believe me." That's possible, considering her reputation as a reality show villain on "The Apprentice."
She also has offered differing accounts on her claim that Trump used a racial slur. In her book "Unhinged," Manigault Newman cites unnamed sources saying the president was recorded using the "N-word" repeatedly on the reality show. She later said she heard the tape herself.
When asked to clarify on NBC's "Meet the Press," Manigault Newman said she listened to the recording after finishing the book during a trip to Los Angeles.
The White House and Trump have pounced on the discrepancy and her reputation as someone who seeks the spotlight in a bid to discredit her. Hogan Gidley, deputy press secretary, said media outlets never took her seriously until she released the tapes.
"This is someone now that makes me concerned. I wonder if she is recording some of the things that we've talked about as well," he told Fox News' "Fox & Friends."
But she isn't alone
Manigault Newman clearly wasn't the only one who felt she needed to protect herself with audio recordings. Before becoming president, Trump himself had a reputation for quietly recording conversations during his business dealings in New York.
"He had to protect himself from allegations that would come up, both personal and business," said Sam Nunberg, a former Trump campaign aide.
Yet Trump expressed shock and disdain after Cohen, his longtime personal attorney, released a recording in which the two appear to discuss a $150,000 payout by a third party to a former Playboy model who alleged an affair with Trump. In a tweet , Trump called it "inconceivable" and "totally unheard of" that a lawyer would tape a client.
Gidley and other White House staffers are now acting shocked as well.
"The thought of doing something like that to a fellow employee, not to mention the leader of the free world, is completely disgraceful," Gidley said.