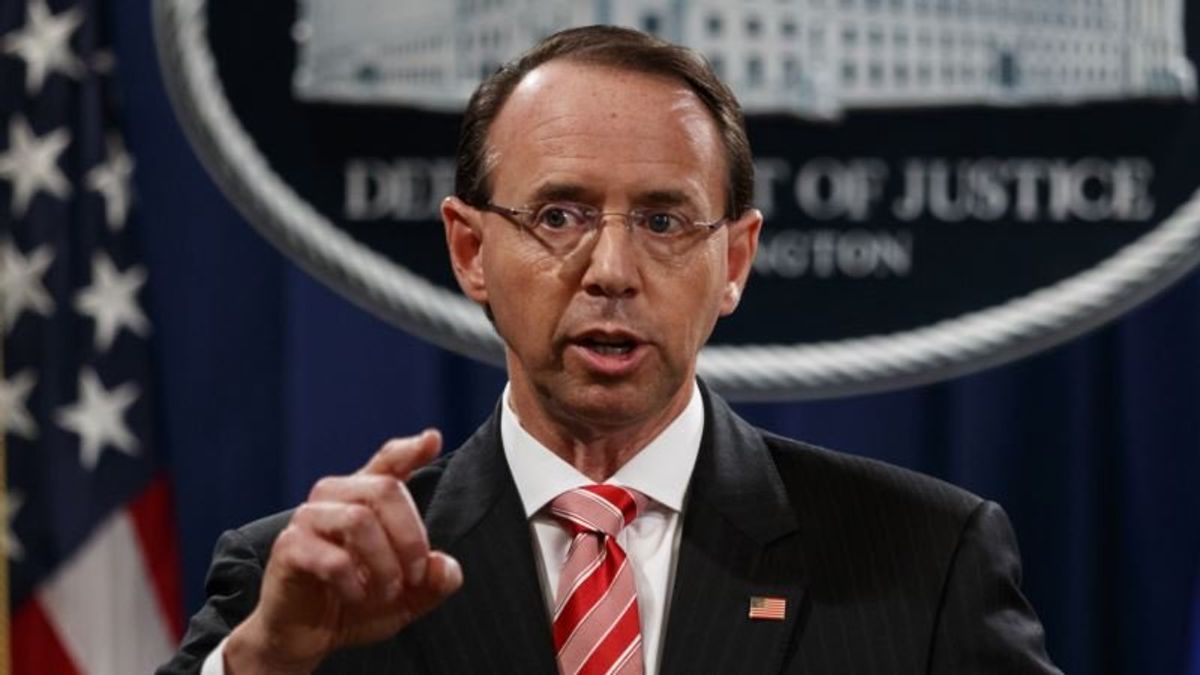 Rosenstein to Meet with Trump Thursday
Rosenstein to Meet with Trump Thursday
The White House says Deputy Attorney General Rod Rosenstein will meet with President Donald Trump on Thursday, following news reports that the senior Justice Department official was expecting to be fired.
The announcement comes days after The New York Times reported that Rosenstein last year suggested secretly recording President Donald Trump and that he raised the idea of using the 25th Amendment to remove Trump from office for being unfit to govern.
Rosenstein had denied the newspaper report last week.
"At the request of Deputy Attorney General Rod Rosenstein, he and President Trump had an extended conversation to discuss the recent news stories. Because the President is at the United Nations General Assembly and has a full schedule with leaders from around the world, they will meet on Thursday when the President returns to Washington, D.C.," White House Press Secretary Sarah Sanders said Monday.
Some media reports Monday suggested that Rosenstein had discussed resigning while others said he is refusing to leave unless he is fired.
After last week's Times story, Rosenstein said, "The New York Times's story is inaccurate and factually incorrect. I will not further comment on a story based on anonymous sources who are obviously biased against the department and are advancing their own personal agenda. But let me be clear about this: based on my personal dealing with the President, there is no basis to invoke the 25th Amendment," he said in a statement.
The 25th amendment outlines a process for the vice president and a majority of the cabinet to remove the president from office if he or she is unable to perform their official duties.
Rosenstein later issued a second statement denying the allegations in even stronger terms: "I never pursued or authorized recording the President and any suggestion that I have ever advocated for the removal of the President is absolutely false."
A source who was in the room when Rosenstein made the remark about recording the president said in a statement shared with VOA that the comment was made sarcastically. The source said it "was never discussed with any intention of recording a conversation with the president."
The deputy attorney general oversees the Special Counsel probe into Russia's interference in the 2016 election. Whether he is fired or resigns on his own could affect who will oversee the Russia investigation.
A Justice Department spokeswoman did not immediately respond to a request for comment.
The allegation about Rosenstein detailed in last week's New York Times story was included in contemporaneous memos kept by ousted Deputy FBI Director Andrew McCabe. The memos, which detailed McCabe's interactions with President Trump and other high-level officials, were later turned over to the special counsel.
In a statement released on Monday, McCabe expressed concern that Rosenstein's departure could jeopardize the Russia probe,.
"If the rumors of Deputy AG Rosenstein's departure are true, I am deeply concerned that it puts that investigation at risk," McCabe said.