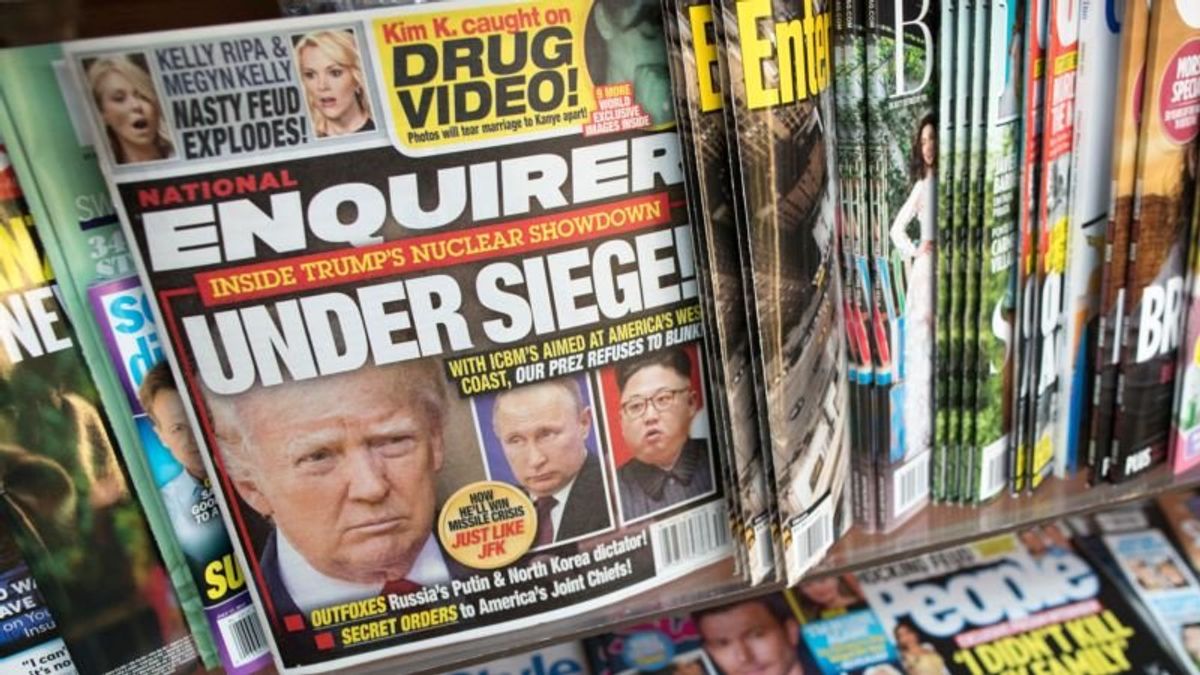 Relationship Between Trump, Enquirer Goes Beyond Headlines
August 23, 2018, 11:38 AM
Relationship Between Trump, Enquirer Goes Beyond Headlines
NEW YORK —
The plea deal reached by Donald Trump's former attorney Michael Cohen has laid bare a relationship between the president and the publisher of the National Enquirer that goes well beyond the tabloid's screaming headlines.
Besides detailing the tabloid's involvement in payoffs to porn star Stormy Daniels and Playboy Playmate Karen McDougal to keep quiet about alleged affairs with Trump, court papers showed how David Pecker, a longtime friend of the president and head of Enquirer parent company American Media Inc., offered to help Trump stave off negative stories during the 2016 campaign.
Court papers say Pecker "offered to help deal with negative stories about [Trump's] relationships with women by, among other things, assisting the campaign in identifying such stories so they could be purchased and their publication avoided.''
The accusations threaten Pecker's company, American Media Inc., both legally and in the court of public opinion.
The relationship between Trump and the Enquirer has been cozy for decades. Former National Enquirer employees who spoke to the AP said that negative stories about Trump were dead on arrival dating back to when he starred on NBC's reality show "The Apprentice.''
In 2010, at Cohen's urging, the National Enquirer began promoting a potential Trump presidential candidacy, referring readers to a pro-Trump website Cohen helped create. With Cohen's involvement, the publication began questioning President Barack Obama's birthplace and American citizenship in print, an effort that Trump promoted for several years, former staffers said.
The Enquirer endorsed Trump for president in 2016, the first time it had ever officially backed a candidate. In the news pages, Trump's coverage was so favorable that the New Yorker magazine said the Enquirer embraced him "
Positive headlines for Trump were matched by negative stories about his opponents: an Enquirer front page from 2015 said "Hillary: 6 Months to Live'' and accompanied the headline with a picture of an unsmiling Clinton with bags under her eyes.
Campaign finance laws generally prohibit corporations from cooperating with a campaign to affect an election, though media organizations are exempted from that restriction so long as they're performing a journalistic function. AMI's problem, said campaign finance expert Richard Hasen, is that Cohen's prosecutors don't appear to think hush money payments qualify as journalism.
"AMI and Pecker have not been charged, but they might be charged,'' he said. Though a novel legal case might be made that paying sources for silence is in fact standard tabloid reporting practice, he said, Cohen's plea agreement doesn't give that theory much weight.
The Cohen case outlined a tabloid strategy known as "catch and kill,'' or paying for exclusive rights to someone's story with no intention of publishing it in order to keep it out of the news altogether.
McDougal reached a deal to be paid $150,000 for her story about an alleged affair in 2006 and 2007, prosecutors said. Daniels, whose real name is Stephanie Clifford, negotiated a $130,000 payment through Cohen for her story — and both were successfully buried until after the campaign.
When negotiations lagged on the Clifford deal shortly before the election, her lawyer told the Enquirer that she was close to reaching a deal with another outlet to tell her story. An editor at the tabloid, in turn, texted Cohen to say something needed to be done "or it could look awfully bad for everyone,'' according to court papers.
The deal was quickly reached, and Cohen agreed to make the payment.
In court on Tuesday, Cohen said that he had agreed to work with Pecker to make the deals "in coordination with, and at the direction of, a candidate for federal office'' — clearly Trump.
AMI did not respond to requests for comment.
The accusations raise the question — can the Enquirer, indeed all of American Media, really be considered a media company when people become more familiar with its political activities?
Through an aggressive acquisition strategy, AMI has lately cornered a large part of the celebrity publication market. Besides tabloids like the Enquirer, Star and Globe, it also owns Us Weekly, In Touch and Life & Style.
"I think AMI is probably squirming,'' said Jerry George, a former editor at the Enquirer, on Wednesday. "They've painted themselves into a corner.''
Despite a reputation for fanciful stories, the Enquirer has a history of some aggressive political reporting; the tabloid's stories on John Edwards and Gary Hart helped end the chances of both men becoming president.
The Enquirer's willingness to bend journalistic rules and potentially the law on Trump's behalf tarnishes that reputation, George said.
And while a juicy political scandal involving adult film star, hush money and the President of the United States might seem like ideal tabloid fare, the Enquirer is steering clear.On the tabloid's web site Wednesday, the emphasis was on celebrity news — an old story about feuding on the set of "Golden Girls'' and squabbling between Brad Pitt and Angelina Jolie.