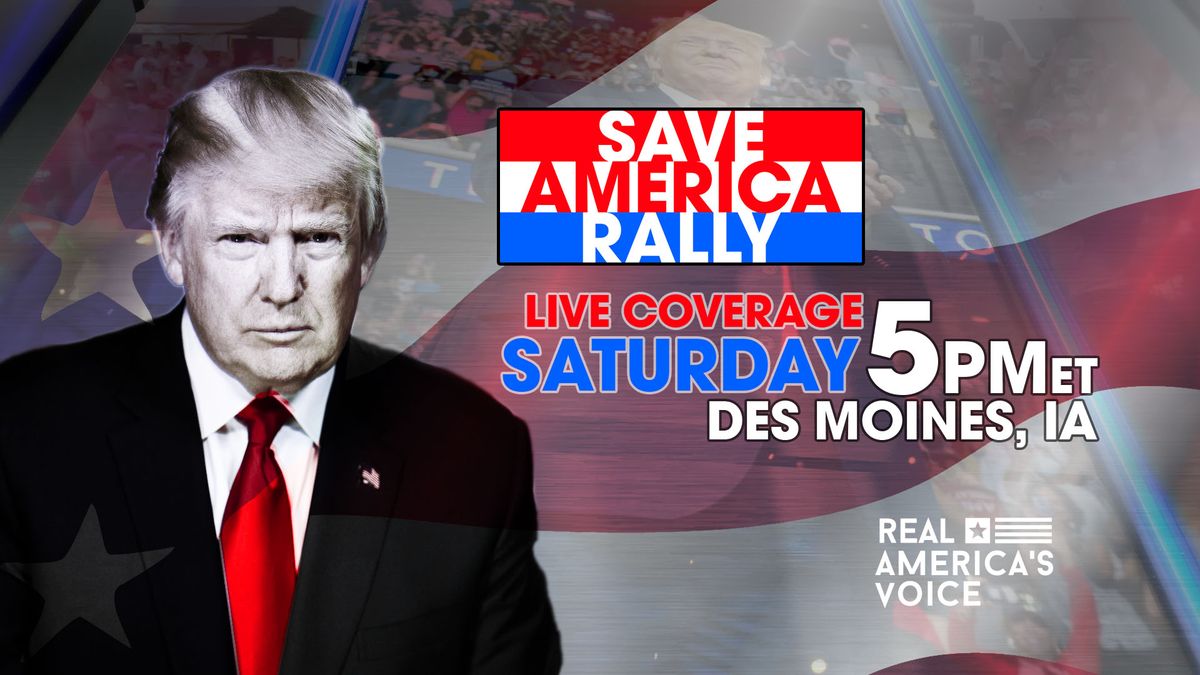 REAL AMERICA'S VOICE ANNOUNCES SPECIAL COVERAGE OF OCTOBER 9 TRUMP "SAVE AMERICA RALLY" IN IOWA
President Trump to appear at Des Moines, Iowa rally amidst record favorability in the Hawkeye State.
Centennial, CO/October 7, 2021 — Real America's Voice, the rapidly growing news network, will be airing wall-to-wall coverage of President Donald Trump's "Save America Rally" in Des Moines, Iowa on October 9.
President Trump will be joined by Governor Kim Reynolds, Senator Chuck Grassley, Republican Party of Iowa Chairman Jeff Kaufmann, Former Acting Attorney General Matt Whitaker, Representative Ashley Hinson, Representative Mariannette Miller-Meeks and Iowa Secretary Mike Naig.
The latest "Save America Rally" comes as Trump enjoys record popularity in Iowa, a crucial battleground state, with a recent Des Moines Register/Mediacom Iowa Poll showing 53 percent of Iowans holding a favorable view of the 45th President — more than at any time he was in office.
"With President Trump's popularity at record highs in the Hawkeye State, this will be the perfect rally for Real America's Voice to showcase our unique and unparalleled event coverage," said Director of Programming Roger D. Hudson. "We have consistently been on the ground with the very best correspondents in the business — who know the politics and our audience," Hudson continued. "We at Real America's Voice are committed to being the next best thing to a backstage pass to one of President Trump's rallies."

The special coverage of the Des Moines, Iowa "Save America Rally" will be anchored live by Terrance Bates from the Real America's Voice studios beginning at 5pm EDT and concluding at 11pm EDT. Top Real America's Voice talent — including Ben Bergquam, David Zere, Karyn Turk, Heather Mullins, and Amanda Head — will be on site covering the reaction from rally participants and providing live, in-depth analysis of the event and President Trump's speech.
The Real America's Voice patriot bus will also be in present to support the network's live coverage of the rally and connect with the tens of thousands of Trump supporters expected to be in attendance.
LIVE team coverage of the Des Moines, Iowa "Save America Rally" begins Saturday, October 9 at 5:00 pm EDT. Stream online at http://realamericasvoice.com or on DISH Ch. 219, Pluto TV Ch. 240, Samsung Plus TV Ch. 1029, SelectTV Ch. 106, Apple TV, Fire TV, and Roku. Programming of the 45th President's "Save America" Rally will replay on Sunday, September 26.
Retweet our Trump rally promo here: https://twitter.com/RealAmVoice/status/1445890729461567489
Share our Trump rally promo on Fb here:
https://www.facebook.com/RealAmericasVoice/posts/1039100710023190

#####
ABOUT REAL AMERICA'S VOICE
Real America's Voice delivers exciting live-event coverage seven days a week across a growing list of powerful content distribution channels. You can watch all Real America's Voice programming at http://realamericasvoice.com/ or by downloading the app on Apple or Android. Real America's Voice is also available on DISH Network, Apple TV, Amazon Fire TV, Pluto TV, Samsung TV Plus, SelectTV, and Roku.