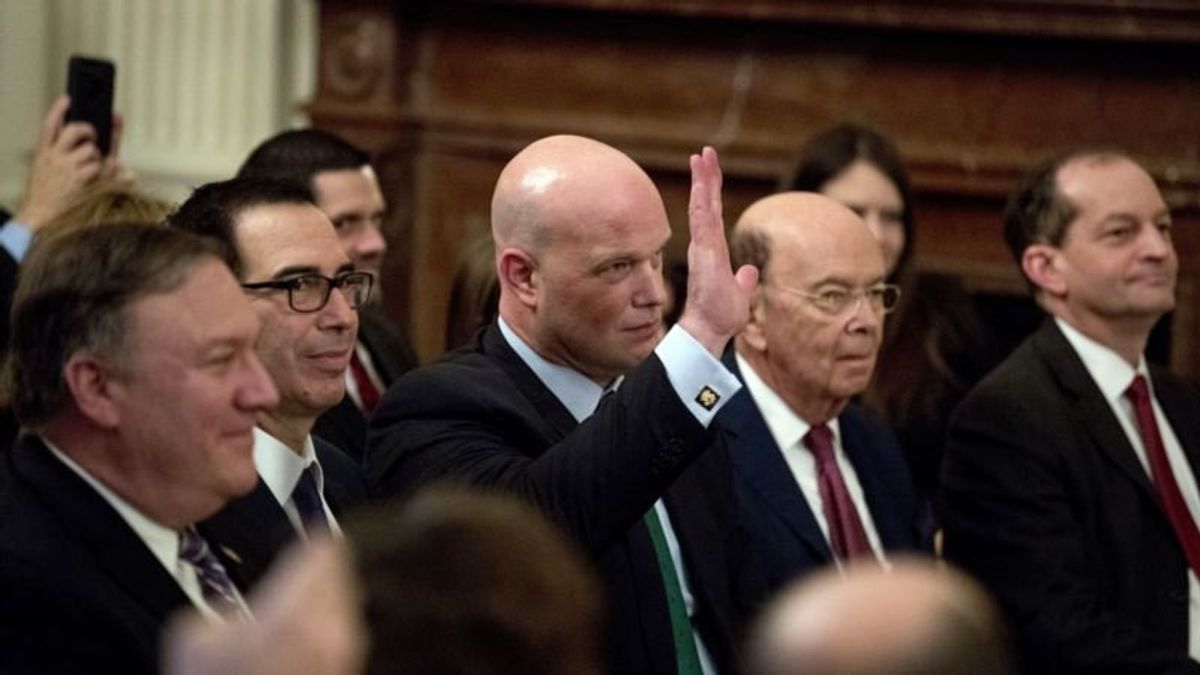 Questions Linger Over Legitimacy of Trump's Acting AG Pick
Questions Linger Over Legitimacy of Trump's Acting AG Pick
WASHINGTON —
Since his contentious appointment last week, acting Attorney General Matthew Whitaker has gone about business as usual, signing Justice Department documents, issuing statements in support of White House policies, and crisscrossing the country to deliver speeches before law enforcement groups.
Yet controversy lingers over his abrupt rise to the top Justice Department post, with questions swirling about the constitutionality of his appointment and its implications for the independence of special counsel Robert Mueller's investigation into Russian election meddling.
As acting attorney general, Whitaker now supervises the probe.
Whitaker's elevation has been dogged by allegations that he has engaged in political partisanship and shoddy business dealings. In a published essay last year, he wrote that the Mueller investigation had "gone too far." He later suggested shutting down the probe by cutting off funding for the office of the special counsel.
Whitaker has also been tied to at least one target of the Mueller investigation. In 2014, he headed the failed campaign of Republican Sam Clovis for Iowa treasurer. Clovis went on to serve as a national co-chairman of Trump's 2016 presidential campaign and has testified before the grand jury investigating the Russian interference. Critics have cited the link in urging Whitaker to recuse himself from the probe.
"There are two things at stake," said Paul Rosenzweig, a senior fellow at the R Street Institute, a conservative and libertarian think tank. "At the biggest and highest level, it's about whether or not the Senate will retain the power to act as a check against a president in his appointing authority. More narrowly but also importantly, it's about whether or not a presidential loyalist is going to take charge of the Mueller investigation."
Rooted in politics
Whitaker served as a U.S. attorney in southern Iowa from 2004 to 2009. Later, he worked as a conservative political and legal commentator, and served on the boards of several companies. After a failed run for the U.S. Senate in Iowa in 2014, Whitaker ran a conservative ethics watchdog before joining the Justice Department in October 2017.
Trump fired Attorney General Jeff Sessions on Nov. 7 and asked Whitaker to take over as acting attorney general, bypassing Deputy Attorney General Rod Rosenstein. Trump had repeatedly criticized Sessions for his recusal from oversight of the Mueller investigation. Sessions had recused himself on the advice of Justice Department ethics officials because he'd served as an adviser to the Trump campaign in 2016.
Whitaker's appointment drew criticism from members of both parties.
Former Republican attorneys general Alberto Gonzales and Michael Mukasey questioned whether Trump could legally put someone in charge of the Justice Department without the approval of the Senate.
Gonzales, who served as attorney general from 2005 to 2007 under former President George W. Bush, told NPR last week that he had "some issues" with Whitaker's selection. Mukasey, who succeeded Gonzales in the Bush administration, questioned whether Whitaker "qualifies under the Constitution" to serve as acting attorney general.
"The question is whether somebody who is acting would have to be someone who has been confirmed, and there are people available who have been confirmed," Mukasey said in an interview with Fox News.
The state of Maryland has challenged Whitaker's appointment as part of ongoing litigation with the Justice Department.
Presidential power
Whitaker was appointed under the Federal Vacancies Reform Act, a 1998 law that allows the president to appoint certain senior officials as heads of agencies.
Legal scholars said the appointment faced constitutional and legal hurdles. Under the U.S. Constitution, the attorney general must be approved by the Senate. And under the Attorney General Succession Act, the deputy attorney general becomes acting attorney general in the event of a vacancy at the top.
Whitaker has not addressed the questions surrounding his appointment. However, the Office of Legal Counsel, which provides advice to the executive branch, issued an opinion Wednesday defending the legality and constitutionality of his new role.
"As all three branches of government have long recognized, the President may designate an acting official to perform the duties of a vacant principal office, including a Cabinet office, even when the acting official has not been confirmed by the Senate," the 20-page ruling said.
Critics are unpersuaded. Rosenzweig called the opinion an "extreme view" handed down by an office that is "in the business of advancing executive power."
"I'd say that can't be right," he said. "It cannot be right that the president has that much power."
The controversy over Whitaker's appointment is likely to become moot once Trump announces a permanent nomination. But just how long Whitaker can survive the onslaught of attacks remains to be seen.