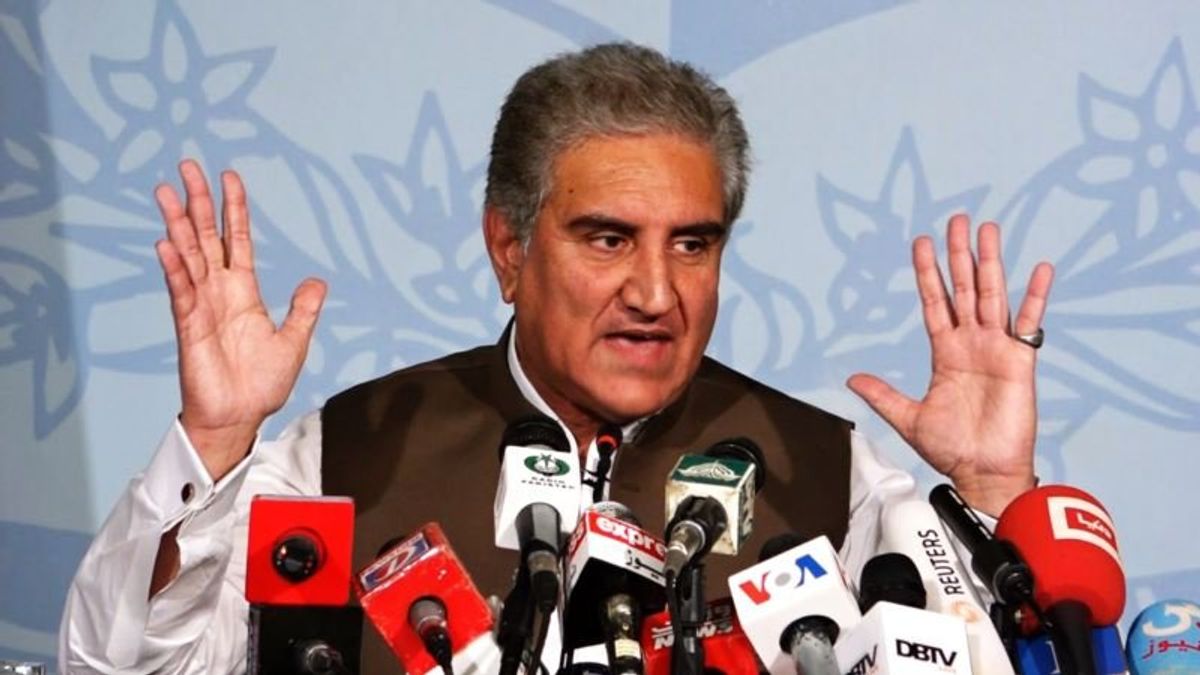 Pakistan Looks to 'Move On' Despite Row Over US Phone Call
August 28, 2018, 12:35 PM
Pakistan Looks to 'Move On' Despite Row Over US Phone Call
ISLAMABAD, PAKISTAN —
Pakistan vowed Tuesday it will attempt in upcoming talks with the United States to mend strained bilateral relations, despite a row over a recent phone call between new Prime Minister Imran Khan and Secretary of State Mike Pompeo.
Foreign Minister Shah Mehmood Qureshi, while speaking in the lower house of Parliament, the Senate, again denied there was any discussion on militants operating in Pakistan when Pompeo telephoned Khan. Washington's account of Thursday's phone call was "contrary to the facts," he explained to the house.
"Mistakes are made and it could have been made, and what we have stated [about the Pompeo-Khan call] is correct. I think we have to move on, and if he [Pompeo] is coming on September 5, we will try to steer our bilateral relations with America toward a better path," Qureshi said.
The U.S. State Department readout of the call said that Pompeo wished Khan success and also asked him to take "decisive action against all terrorists operating in Pakistan."
Despite the controversial beginning with the U.S., Qureshi sounded upbeat about better future ties with Washington. He informed the lawmakers the telephone conversation "much to the surprise of many, was very cordial. It was very engaging and very constructive in nature."
The foreign minister made the policy statement in the upper house in response to sustained opposition criticism and calls for an explanation, citing the U.S. State Department spokesperson standing by their version of the Pompeo-Khan talk.
"I will not allow a U.S. secretary of state to stand up and tell the prime minister of Pakistan to do more in the war on terror. This something which is not acceptable to us," said veteran opposition Senator Raza Rabbani.
"Pakistan has paid in terms of lives, Pakistan has paid in terms of economy, and yet the Americans have the gall to turn around and tell us to do more," said the former Senate chairman.
Washington-based analyst Michael Kugelman notes the messaging from both sides since the phone call has been largely conciliatory.
"Ultimately, both sides will move on from this little spat, but we're still likely to see the current stalemate in U.S.-Pakistan relations remain firmly in place," said the deputy director of the Asia Program and senior associate for South Asia at the Wilson Center.
Kugelman says the Trump administration is unlikely to support further progress in the relationship until the terrorism issue has been handled.
"America's biggest ask — that Pakistan cracks down on terrorist sanctuaries on its soil — certainly won't be supported by Khan's government, which has telegraphed an unwillingness to do anything at Washington's behest," Kugelman said.
Pompeo is due to arrive in Islamabad on September 5, and he will be the first top American official and is likely to be the first foreign dignitary to meet Khan since he was sworn in August 18.
Khan is well known for being highly critical of the U.S.-led military intervention in neighboring Afghanistan and Pakistan's alliance with the coalition. He has been calling for a negotiated settlement to end the Afghan war and has welcomed a recent American push for promoting talks with the Taliban insurgency.
U.S. President Donald Trump suspended all military assistance to Pakistan in January of this year until Islamabad takes decisive action against militants on its territory who allegedly are staging deadly attacks on American forces fighting the Taliban on the other side of the border.
Pakistani officials deny their country is supporting the insurgents and maintain U.S. allegations against Pakistan stem from Washington's military failures in Afghanistan. Islamabad says it has cleared its territory of all terrorist groups and has suffered tens of thousands of civilian and military casualties in the process.