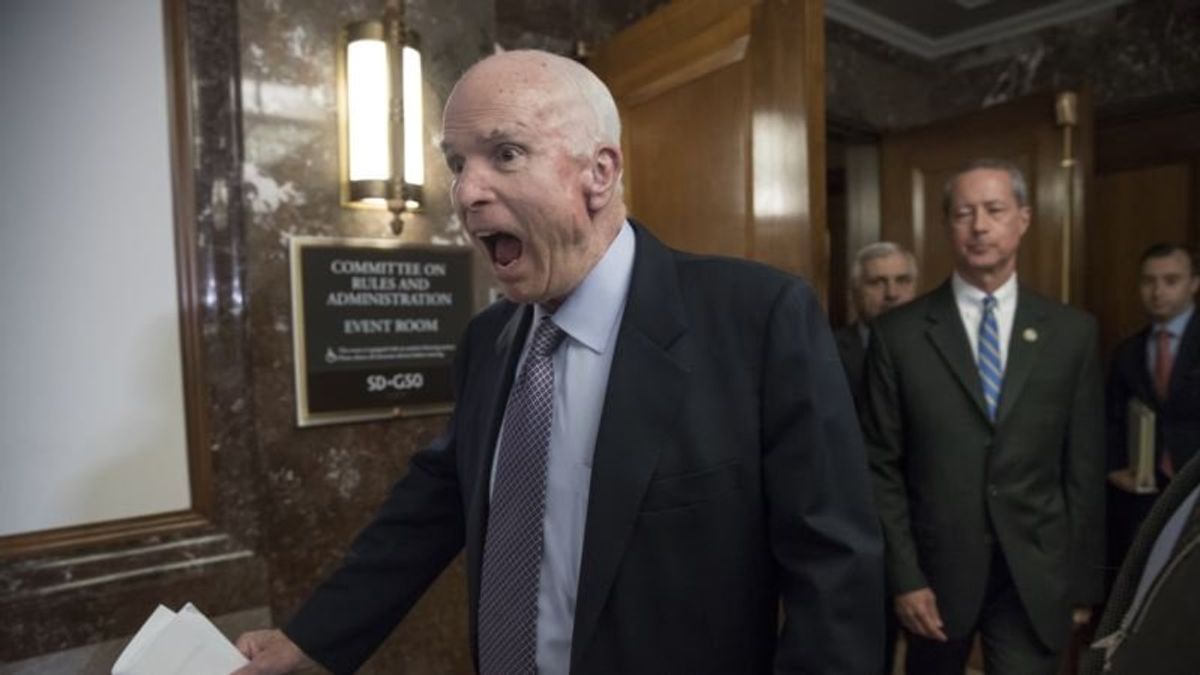 McCain Had 'Wicked' Wit He Often Aimed at Himself
McCain Had 'Wicked' Wit He Often Aimed at Himself
WASHINGTON —
Here's how John McCain made it clear he was happy to see you in the Senate hallways.
"Haven't seen you in a while. How was the Betty Ford clinic?"
Or he'd growl, "Whaddya want?"
Such rascally greetings produced smiles before the discussion or tough questions even had begun. The charm could be disarming, a way of making the sometimes unpleasant hothouse of American government and politics more, well, fun. That was true even among his equally ambitious Senate colleagues, campaign opponents and the reporters who covered him. In fact, Republicans grumbled for years that the McCain fun factor and his maverick streak made him more an ally of reporters than other Republicans.
And yet, the tributes pouring out since McCain's death on Saturday at 81 were marked by regret over the loss of his particular brand of humor, which was often in borderline taste and frequently at his own expense.
Even straight-faced Majority Leader Mitch McConnell, often vexed over the years by McCain, on Saturday lamented the loss of his "wicked sense of humor."
No one paying attention would have been surprised at what arrived in the Senate after Arizona's 1986 election. During the campaign, McCain referred to the retirement community Leisure World as "Seizure World." Prodded over that, McCain attributed the remark to his "irremediable" tendency to be "a wiseass."
He won by 20 percentage points.
Inside the Senate, McCain's humor became a trademark alongside his temper. He writes in his memoir "The Restless Wave" that during his early years in the Senate he had a shouting match away from the microphones with Sen. Ted Kennedy of Massachusetts. The exchange, he wrote, featured abundant cursing and was overheard by reporters in the gallery above. Then, he recalled, he and Kennedy became buddies.
Outside the Senate, McCain often aimed his humor at himself. And he frequently delivered it with a wink.
"Thanks for the question, you little jerk," he said in 2007 to a New Hampshire high school student wondering if McCain, then 71, was too old to be president.
McCain writes in his memoir that he learned about humor – and other matters – from his mentor Mo Udall, who wrote a book called, Too Funny to Be President. McCain wrote that the late Arizona congressman, who ran for president in 1976, was the funniest man he knew.
"You know the difference between a cactus and a caucus?" It was one of Udall's trademark jokes, which McCain repeated for reporters. "With a cactus, the pricks are on the outside."
Second funniest: Sen. Lindsey Graham of South Carolina. "With an eye to the absurd, he can brighten up the dreariest day and make any journey even the most exhausting slog, fun," McCain wrote. Then, perhaps describing himself, too, he writes that Graham "has a hard time not being amusing and amused."
In October 2008, McCain spoke before Democrat Barack Obama at the annual Alfred E. Smith dinner in New York. The Arizona senator played up expectations for Obama's speech. It would be unkind, McCain said, to throw Obama off his game by setting "unreasonably high expectations" for the quality of the Democratic senator's humor.
So McCain did.
"You all are about to witness the funniest performance in the 63-year history of this event," McCain said, predicting "nonstop hilarity" and the "funniest 15 minutes of your life or any other" from Obama.
"I think he knows that anything short of that would mar the evening, insult our host and perhaps even cost him several swing states. Sen. Obama, the microphone is all yours." Obama, cracking up, joined the standing ovation.
McCain returned to "Saturday Night Live" a few days before the election that year to run through some alternative strategies for beating Obama. Among them: "The reverse-maverick. That's where I do whatever anybody tells me."
Also under consideration, McCain said, was the "double-maverick. That's where I go totally berserk and just freak everybody out."
A third option: "The Sad Grandpa. That's where I get on TV and go, 'C'mon! Obama's going to have plenty of chances to be president. It's my turn!'"
McCain requested that Obama deliver his eulogy at the Washington National Cathedral.