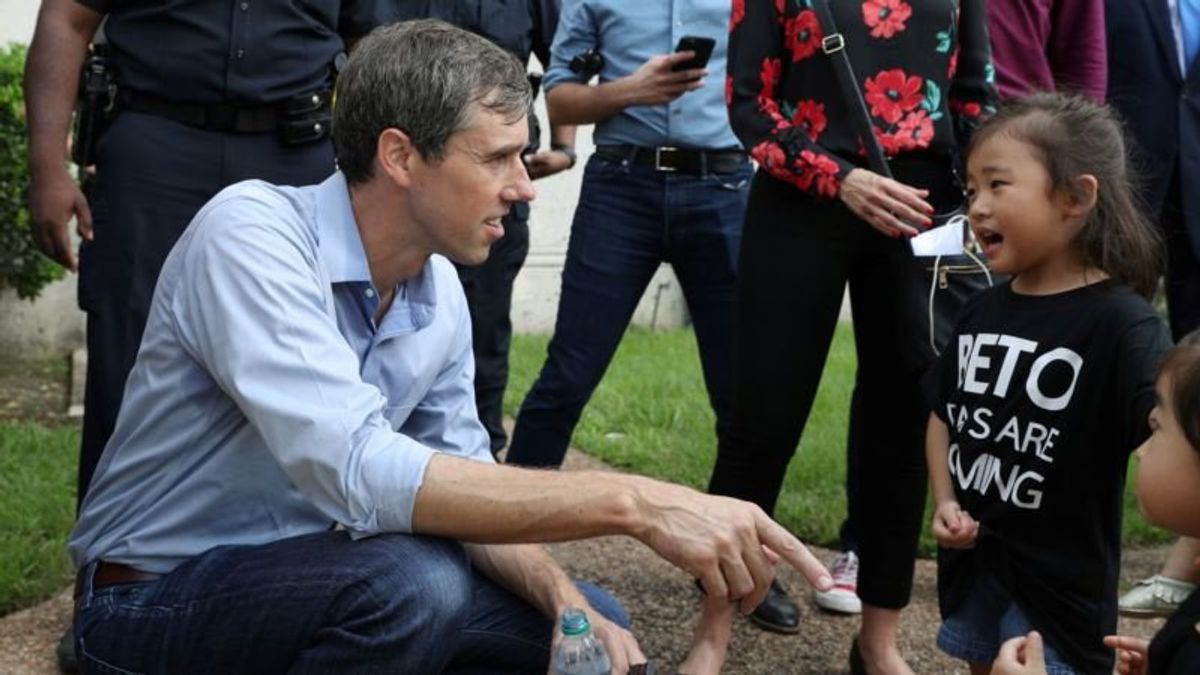 O'Rourke Raises Record $38.1M in Texas Senate Race
O'Rourke Raises Record $38.1M in Texas Senate Race
In one of the most closely watched U.S. Senate contests this year, Democrat Beto O'Rourke raised a record $38.1 million during the third quarter in a bid to oust Ted Cruz, a prominent Texas Republican who made an unsuccessful run for the White House in 2016.
O'Rourke announced on Friday his eye-popping financial haul over the last three months. It was more than three times the amount raised by Cruz and set a new quarterly fundraising record in a Senate race.
The funding was the most a Senate candidate has raised in a quarter since Rick Lazio, a onetime Republican member of Congress who hauled in $22 million in the third quarter of 2000 in a failed contest against Hillary Clinton for a Senate seat in New York, according to the Center for Responsive Politics.
Last week, Cruz said his campaign had raised more than $12 million during the third quarter and predicted, correctly, that his rival's take for the period would top $30 million. During a rally in Texas where he announced his own fundraising success, Cruz said of O'Rourke: "If you wanna raise money from Hollywood liberals, there ain't nothing better. But that's not Texas."
O'Rourke's unprecedented fundraising caused a stir on social media, with many commentators noting that it outpaced what high-profile presidential candidates have raised in a quarter in the past. One noted that Republican Jeb Bush's unsuccessful 2016 presidential campaign had raised $35.5 million in a quarter. Another pointed out that former President Barack Obama had raised $23.5 in the final quarter before the 2008 primary season kicked off.
Progressive push
The contest between O'Rourke, a three-term liberal member of the House of Representatives, and Cruz, a conservative senator, has fired up progressives around the country, drawing in large amounts of small donations from out-of-district and out-of-state donors as Democrats seek to wrest control of Congress.
O'Rourke, who has rejected receiving money from political action committees, said the latest funding came from 800,000 contributors, although he did not say how many were from outside El Paso, which is the heart of the congressional district he represents.
The Center for Responsive Politics said more than $25 million of the funds raised by O'Rourke during the latest quarter came through ActBlue, the Democratic online fundraising juggernaut. ActBlue said earlier this week that it had raised more than $385 million for 9,300 campaigns and organizations during the third quarter.
In a statement released Friday, O'Rourke said, "The people of Texas in all 254 counties are proving that when we reject PACs and come together not as Republicans or Democrats but as Texans and Americans, there's no stopping us."
The O'Rourke-Cruz race currently stands as the second most expensive Senate contest, with each candidate raising more than $23 million through the second quarter. The latest quarterly fundraising puts O'Rourke well ahead of his rival.
The most expensive Senate race is being waged in Florida between Democratic Sen. Bill Nelson and Republican Gov. Rick Scott; more than $50 million had been raised through the second quarter. Congressional candidates must report their third-quarter fundraising and spending to the Federal Election Commission on Monday.
Despite his sizable fundraising advantage,O'Rourke lags behind Cruz in most polls. In a poll conducted on Thursday by The New York Times' Upshot newsletter and Siena College, Cruz was ahead of O'Rourke 51 percent to 43 percent.
It's a 'serious race'
Nevertheless, with O'Rourke emerging as a competitive challenger in Texas, Republicans are "understanding now that this is a serious race beginning to rally to Cruz's side," said Brandon Rottinghaus, a professor of political science at University of Texas at Austin.
Spending on presidential, congressional and local election campaigns has been steadily rising in the United States in recent years, partly as a result of unlimited spending by outside groups.The Center for Responsive Politics expects this election cycle to set a new fundraising and spending record.
But outraising and outspending your rival doesn't always ensure victory. In one of the most expensive and closely fought races this election cycle, Democrat Jon Ossoff lost in a special election for a House seat in Georgia last year to Republican Karen Handel despite a $20 million fundraising advantage.
Nevertheless, money does make a difference.
To be competitive, "you need to be able to both outspend or keep up with your opponent but also have at bay, ready to deploy, a huge amount of money in case a super PAC comes in and makes a huge ad buy in your district," said Sarah Bryner, research director for the Center for Responsive Politics.
JOIN US ON RUMBLE LIVE NOW!