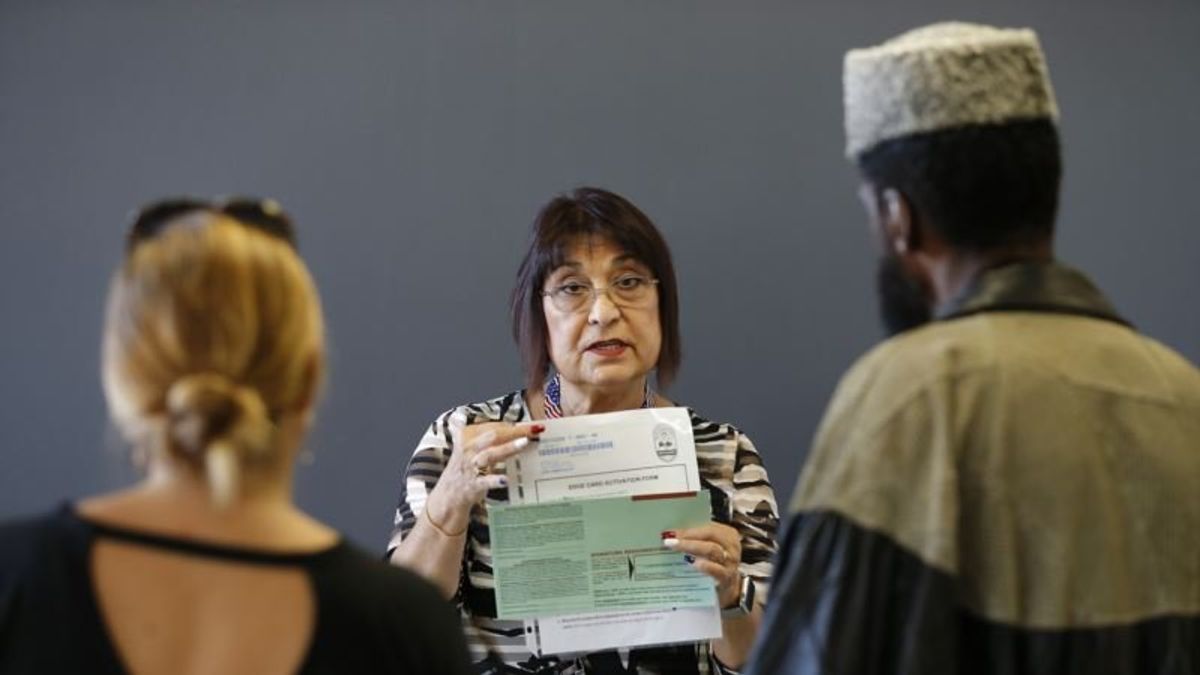 Official Hopes Staffing Boost Deters Arizona Voting Problems
November 2, 2018, 12:34 PM
Official Hopes Staffing Boost Deters Arizona Voting Problems
PHOENIX —
It's the week before the general election and poll workers for the Arizona county with 2.2 million of the state's 3.7 million registered voters gathered to train for their mission: Making sure Maricopa County's August primary nightmare doesn't happen again.
That's when dozens of polling stations for the sprawling area that includes Phoenix and its suburbs opened late and people who showed up early to vote couldn't cast ballots.
A group of about 15 mostly older workers at first appeared dazed and confounded as they received their initial instructions from a county elections trainer on how to work the voter check-in machines, printers and ballot tabulators used at all polling stations. But most quickly got the hang of it.
"I'm ready," declared Ruthie Jones, who never set up the machines during her previous stint as a temporary elections worker.
That's what the Democratic county elections chief, Adrian Fontes, hopes will be the case for the beefed-up roster of 4,000 people he's assigned to midterm election polling precincts — to fulfill his pledge that there won't be a repeat of the primary voting problems.
He received most of the criticism following the primary debacle, when 62 of the county's approximately 500 polling stations opened late. It happened two years after Fontes' predecessor, a Republican, was ousted over her decision to drastically reduce presidential primary polling locations, resulting in extremely long lines.
Fontes took heat from the county's Board of Supervisors for not warning voters ahead of time that some locations might not open on time, and they chided his contingency plan of using 40 vote centers as backup locations for voters whose normal precincts were not operational.
The polling station troubles served as a reminder that at a time when Russian hacking is a major concern in elections, human or technological errors often lead to voting problems.
In Los Angeles County, about 120,000 voters were left off the printed voting rolls in June because of a software error. That same month in South Dakota, officials could not get their equipment to connect to the internet, and voters had to cast provisional ballots.
Fontes, a former Marine and criminal lawyer, says the criticism of the polling station late openings doesn't concern him because voter turnout in Maricopa County hit a record high of 31 percent in the primaries and is expected to reach at least 55 percent Tuesday.
"I'm not so worried about the politics of it, because once you look at what actually happened, and you look at the numbers, we're doing a darned good job over here," he said.
'Multiple layers of redundancy'
Some polling stations will be set up Sunday, although most will be Monday.
"We've got multiple layers of redundancy that we're deploying this time around," Fontes said.
An internal audit of the primary election faulted Fontes for not having an efficient system for setting up voting machines and a good enough backup plan for what to do if polling stations did not open. It also said workers did not properly track the lengths of the lines of voters. Results of an independent audit focusing on what went wrong are expected to be made public before Tuesday's election.
Fontes blames himself for hiring a contractor to set up the machines in August that checked in voters at the polls. He has said the contractor did not send enough workers in time for the poll openings, delaying them. The contractor has said it sent more technicians than were required.
Fontes said he is not taking any chances by having about 4,000 county workers setting up machines and working at the precincts.
"We may have a little bit of overkill in our staffing. I'd rather have a couple of people standing around for an hour or two than have a contractor not show up at all," Fontes said.