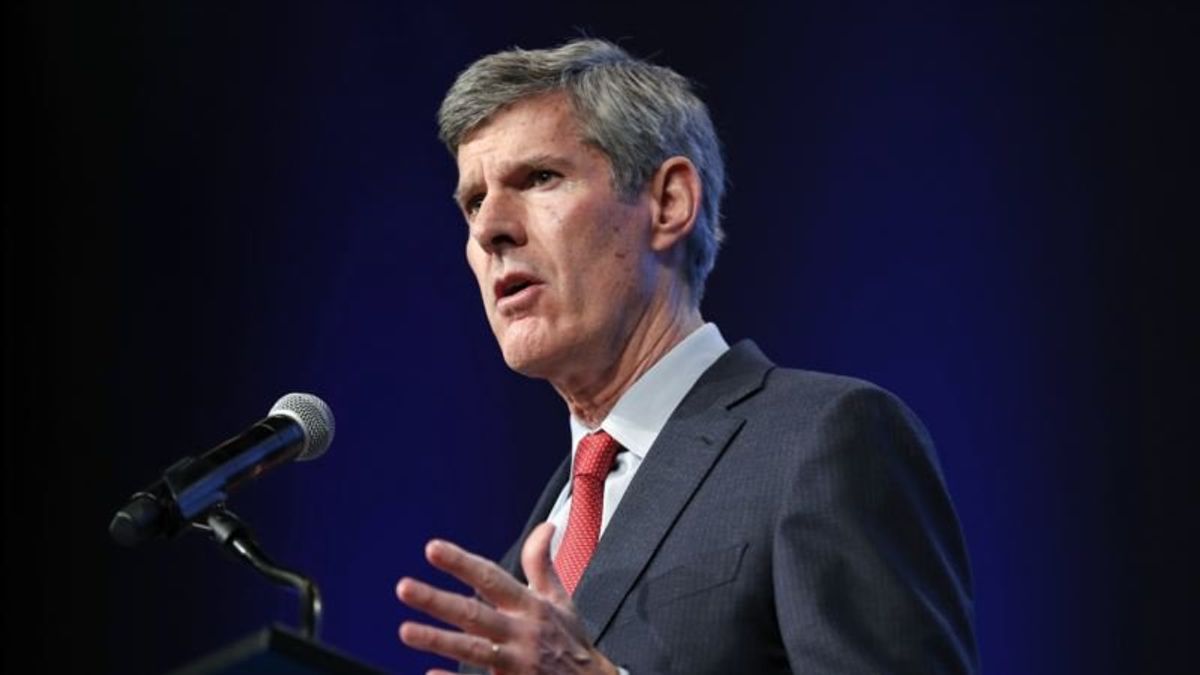 Iowa Governor's Race Turns on Whether Democrat Is Too Rich
November 2, 2018, 1:52 PM
Iowa Governor's Race Turns on Whether Democrat Is Too Rich
DES MOINES, IOWA —
Coming from Republicans, whose party celebrates wealth and praises President Donald Trump for his ability to turn a profit, the criticism of wealthy Iowa Democratic governor candidate Fred Hubble has been a bit jarring.
Republican Party of Iowa Chairman Jeff Kaufmann led the way, with the mocking refrain that "Prince Frederick just got it all handed to him."
On primary election night, Hubbell's opponent, GOP Governor Kim Reynolds, joined in by arguing, "The issue isn't that Fred Hubbell has been rich his entire life, it's that he has no idea what it's [like] not to be."
The claim obviously plays to Reynolds' strength, given her humble roots growing up in a blue-collar family in a town of 700. Why not contrast her everyday experiences with Hubbell, whose ancestors built incredible wealth by helping create modern Des Moines and whose family home overlooking downtown now serves as the governor's mansion?
What's harder to determine is if the strategy will work in an era where rich men hold governorships across the country and the president talks about his real estate holdings and luxurious golf courses.
Count Steve Jarding as skeptical. The former campaign manager, who now lectures on public policy at Harvard University, said candidates once feared being accused of using their wealth to buy elections but that there's now little shame in being rich.
"As people get polarized and as more voters get turned off, the only voters left standing are the people that would absolutely die for one party or the other," and they don't care about such issues, he said. "The rest of the people have tuned out."
Other governors
At least 11 current governors have wealth in the millions, and in some cases billions, of dollars. Most are Republicans, including those in Illinois, Michigan, Nebraska, Florida and Tennessee, but at least two Democrats — in Minnesota and Pennsylvania — also come from gold-plated backgrounds.
Usually, it's Democrats who try to turn that wealth into a disadvantage. Occasionally it might make a difference, most notably in the 2012 presidential campaign between millionaire Mitt Romney and President Barack Obama. In that race, there were questions about whether someone rich enough to have a car garage elevator in his home understood the needs of regular Americans.
In neighboring Nebraska, Democratic governor candidate Bob Krist has picked up the issue and begun calling millionaire incumbent Republican Governor Pete Ricketts "Wall Street Pete," noting he's the son of billionaire TD Ameritrade founder Joe Ricketts. Because of his wealth, Krist said, Ricketts doesn't see that a tax plan he backed would mean big savings to corporations and the rich but only $25 initially to an average homeowner.
"Thanks for the pizza night, Pete. Hope you enjoy the yacht," Krist said.
Ricketts' campaign quickly responded that the governor doesn't own a yacht.
Chicago-based political consultant Michael Schrimpf, who has worked on campaigns for Illinois Governor Bruce Rauner and North Dakota Governor Doug Burgum, both wealthy Republican businessmen, said that since about 2010 voters began placing more value on political outsiders than the net worth of a candidate.
"People are just fed up with career politicians and I know with Rauner and Doug Burgum they both said they're going to work for free. They're not doing this because they need a job," Schrimpf said.
Iowa campaigning
Hubbell, 67, said in an interview that the personal attacks are no surprise.
Reynolds, he said, "doesn't have a positive record to run on, so we knew they were going to try to tear me down."
While it's unclear how much questions about his money have hurt Hubbell — polls indicate a close race — there's no denying the upside of personal wealth.
The record $18 million Hubbell has raised includes $6.4 million of his own money. Reynolds, the former lieutenant governor who moved up when Governor Terry Branstad became the U.S. ambassador to China, has raised nearly $11 million.
Iowa political consultant Craig Robinson said the ability to pump your own cash into a campaign early really helps in places like Iowa where, instead of fundraising, a candidate can go from small town to small town shaking hands in cafes, town halls and neighborhoods.
For many candidates, "the fundraising alone can be a full-time job," he said.
After college, Hubbell worked at New York law firms before settling back in Iowa and taking the helm of family-owned companies. He's served on numerous corporate and community organization boards. A trust he and his wife created has given millions of dollars to charities.
He said voters don't ask about his inheritance or income.
"They want to know if you're listening to them," he said.
Reynolds, 59, the first woman to serve as Iowa governor, was a four-term county treasurer before being elected to the Iowa Senate. She served as lieutenant governor from 2011 until May 2017. She contrasts her background as the daughter of a farmer and factory worker who as a teenager worked as a waitress at a department store and as a grocery store checker.
"I just don't know if he understands that," she said of Hubbell. "I've been there so I understand the impact of the decisions that I make and really how hard it is."