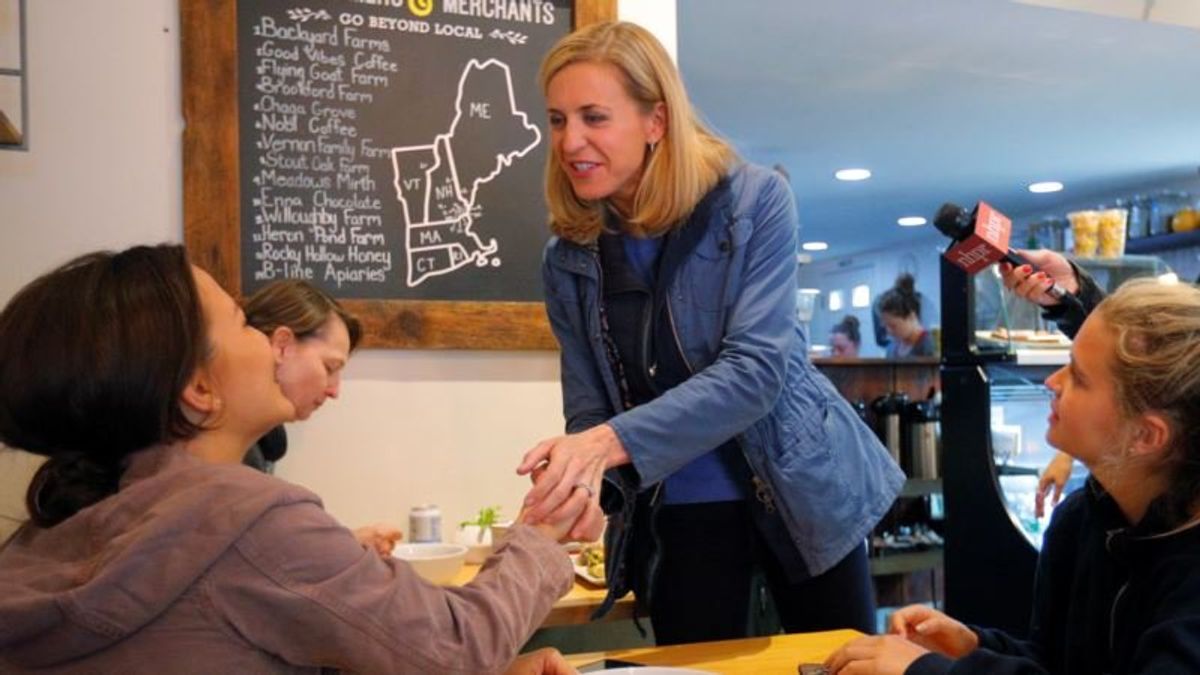 New Hampshire Swing District a Fresh Test for Women's Rise in US
New Hampshire Swing District a Fresh Test for Women's Rise in US
New Hampshire voters headed to the polls on Tuesday to pick candidates for a congressional seat that in this decade has flipped four times between the two major parties — and the same two people — in the latest test of the rising
appeal of women nominees.
Eleven Democrats, including three women, and six Republican men are seeking the seat that will open when Democratic U.S. Representative Carol Shea-Porter retires in January. Democrats can ill-afford to lose the spot as they head into November's election looking to gain 23 seats needed to take a majority in the House of Representatives and serve as a check on Republican
President Donald Trump's agenda.
The Democratic front-runners are former Obama administration official and U.S. Marine Corps veteran Maura Sullivan and Chris Pappas, a member of the state's executive council, according to polls and political analysts.
Recent victories by women Democrats in U.S. nominating primaries, including last week's win by Boston City Councilor Ayanna Pressley over a 10-term incumbent, may give the edge to Sullivan, said Dante Scala, a professor of political science at the University of New Hampshire.
"Democratic women are angry," Scala said. "Sullivan is a good candidate who fits the national mood among Democrats."
Sullivan is the fund-raising leader, having taken in $1.8 million, more than twice her nearest rival's total.
However, Pappas has the endorsement of three of the four members of the state's all-female congressional delegation, and Sullivan has been attacked for having only recently moved to the state. Jeanne Shaheen, one of the state's two Democratic senators, defeated former Massachusetts Senator Scott Brown in 2014, in part with attacks on his having been a resident of the
state for only a short time.
Pappas has previously served in the New Hampshire legislature and co-owns a restaurant that is a popular stopping point for presidential hopefuls ahead of the state's first-in-the-nation nominating primary.
Women candidates in both parties have dominated key races in a year with record numbers of women seeking office.
The leading Republicans in the New Hampshire race are state Senator Andy Sanborn and former South Hampton police chief Eddie Edwards. Each has been endorsed by a Trump proxy, with former campaign manager Corey Lewandowski backing Sanborn and Trump lawyer Rudy Giuliani behind Edwards.
The district has a history of going against the party that holds the White House. Shea-Porter won in a Democratic wave in 2006 due to voter dissatisfaction with Republican President George W. Bush. She has since traded the seat with Republican Frank Guinta, first elected in 2010 in response to anger at Democratic President Barack Obama. Shea-Porter regained the seat from Guinta in 2016.
Another Democratic candidate is Levi Sanders, son of U.S. Senator and failed 2016 White House candidate Bernie Sanders, who has endorsed dozens of candidates around the United States but thus far has not backed his son, who is seen as a long-shot.
Voters will also pick Republican challengers to U.S. Representative Annie Kuster and Democratic challengers to Governor Chris Sununu.
This week will set the final congressional match-ups ahead of the Nov. 6 general election, with Rhode Island set to vote on Wednesday. New York voters, who have already picked nominees for Congress, on Thursday pick candidates for governor and other state races.