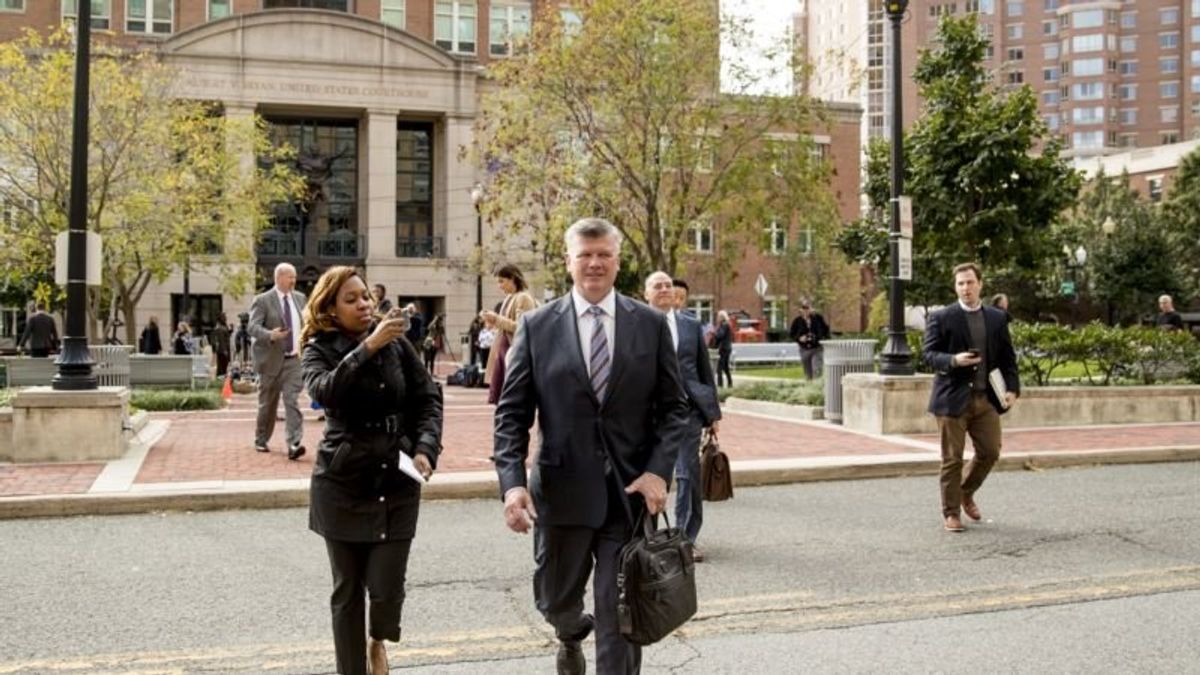 Mueller's Office: Former Trump Aide Manafort Broke Plea Deal
Mueller's Office: Former Trump Aide Manafort Broke Plea Deal
Former Trump campaign chairman Paul Manafort broke his plea agreement with U.S. federal prosecutors by lying to investigators, special counsel Robert Mueller's office alleged late Monday.
Manafort, who faces up to 10 years in prison for various financial crimes, had agreed to cooperate with investigators looking into possible collusion between President Donald Trump's campaign and Russian meddling in the 2016 election.
In exchange for his cooperation to answer questions "fully, truthfully, completely, and forthrightly," some of the charges against Manafort were dropped and prosecutors could have asked for a lighter prison term.
But Mueller's office says Manafort broke his promise and also broke federal law with "crimes and lies."
SEE ALSO:
Special Counsel: Manafort Lied to FBI
It did not specify what Manafort lied about, but promised to provide details at a later time. Manafort's attorneys denied the allegations.
Meanwhile, on Tuesday, Trump continued his attacks on the Mueller probe, claiming that the U.S. national news media "builds Bob Mueller up as a Saint, when in actuality he is the exact opposite. He is doing TREMENDOUS damage to our Criminal Justice System, where he is only looking at one side and not the other. Heroes will come of this, and it won't be Mueller and his terrible Gang of Angry Democrats."
"Wait until it comes out how horribly & viciously they are treating people, ruining lives for them refusing to lie," Trump said. "Mueller is a conflicted prosecutor gone rogue."
The developments in the Manafort case could mean some of the charges against him that were dropped could be reinstated, while prosecutors are no longer likely to ask for a lighter sentence.
Manafort is in jail awaiting sentence, which both sides now say there is no reason to delay.
Another Trump associate, former foreign affairs advisor George Papadopoulos, began serving a 14-day prison term Monday for lying to investigators in the Russian probe.
A federal judge rejected his appeal to delay his prison term while he waited for an appeals court to rule whether the Mueller appointment was constitutional.
SEE ALSO:
Former Trump Aide Ordered to Start Serving 14-day Jail Term
Judge Randolph Moss reminded Papadopoulos that he had already waived his right to an appeal and that two other judges had upheld the legality of the Mueller appointment.
Papadopoulos pleaded guilty to lying to investigators in January 2017 about the extent of his contacts with people who had connections with Russia.
Trump has consistently called the Mueller probe a "witch hunt" and strongly denies any collusion with Russia in the 2016 presidential election.