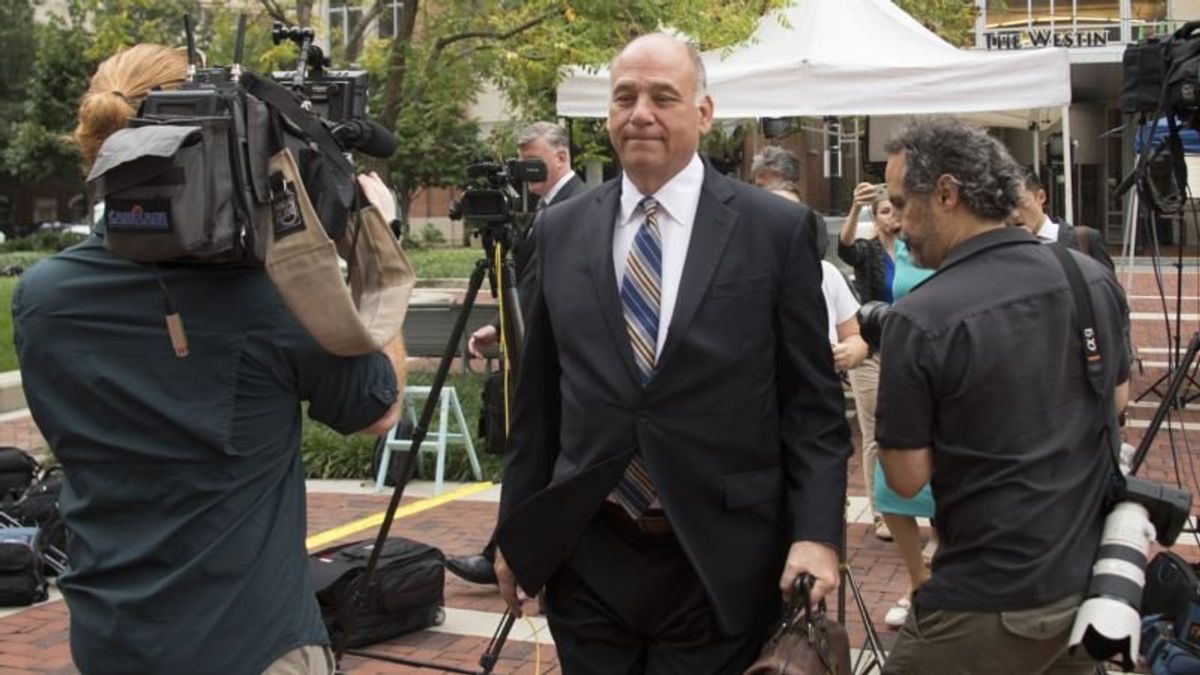 Manafort's Lawyers Lay Out Strategy: Blame Ex-Business Partner
Manafort's Lawyers Lay Out Strategy: Blame Ex-Business Partner
Paul Manafort's lawyers signaled their defense strategy on Tuesday as the former Trump campaign chairman's trial on tax and bank fraud charges began in Alexandria, Virginia.
Their strategy: blame everything on Manafort's former business partner, Rick Gates, and the Ukrainian oligarchs who paid for much of Manafort's political consulting work for former President Viktor Yanukovych and his pro-Russia Party of Regions.
"We are primarily here because of one man: Rick Gates," defense lawyer Thomas Zehnle said in his opening statement.
Manafort and Gates were indicted last year and earlier this year on charges related to their work in Ukraine by special counsel Robert Mueller, who is leading the investigation into Russian interference in the 2016 U.S. presidential election.
Gates, 46, pleaded guilty to two lesser charges February, agreeing to cooperate with the special counsel's investigation. He has emerged as the prosecutors' star witness against Manafort.
Manafort, 69, has pleaded not guilty to tax and bank fraud charges.
Core allegations
There are two core allegations against Manafort in the case being tried in the federal court in Alexandria, Virginia.
One is that he earned more than $60 million in consulting fees in Ukraine between 2010 and 2014 but evaded U.S. taxes on most of the income by setting up secret shell companies for the purpose of disguising the money as "loans."
The other charge alleges that after Yanukovych was deposed in 2014 and Manafort's Ukrainian earnings dwindled, he fraudulently obtained loans by lying about his income and debt to several U.S. banks.
"In each of these cases, the evidence will show that Paul Manafort placed himself and his money above the law," said prosecutor Uzo Asonye.
Bank records obtained by prosecutors show that Manafort used money transfers from more than 30 overseas accounts to pay for $6 million worth of real estate and all manner of luxury goods, from a $21,000 watch to a $15,000 jacket "made from ostrich," Asonye said.
U.S. law requires taxpayers to disclose foreign financial interests and bank accounts. But Manafort, according to prosecutors, hid the existence of his offshore accounts from his own tax preparers and bookkeepers.
"Just like he lied to the IRS and his tax preparer, Paul Manafort also misled his bookkeeper about his foreign accounts," Asonye said.
But Zehnle, the defense lawyer, sought to play down the tax evasion charges, labeling the case as one about taxes and a failure "to check a box" on tax return forms.
The defense will present evidence to show that Manafort reported $30 million in adjusted gross income between 2005 and 2015 and that his company reported an income of more than $92 million during the period, Zehnle said.
U.S. taxpayers are audited rather than "punished" for the "mistakes" they make on their tax returns, he said, adding that Manafort and his company were not audited by the IRS prior to the special counsel's investigation.
Shell companies
The more than two dozen secret shell companies Manafort is accused of using, Zehnle said, were created at the initiative of the Party of Regions' financial supporters.
"The people he was dealing with, they were the ones who told him to open the accounts," Zehnle explained.
The funders "instructed" Manafort that they didn't want Manafort's or Gates' names on the accounts. But Gates kept his name on them "so he could keep control," he said.
Discrediting the prosecutor's witnesses is a common defense strategy. But Manafort's lawyers appear intent on turning the tables on Gates and make him the main culprit in the affair.
Zehnle described Gates as the "point person" for Manafort's consultancy on tax and financial issues.
He said Manafort entrusted him with running the day to day operations of the company, but instead Gates abused his trust and "embezzled tens of millions of dollars form his longtime employer."
"Unfortunately, his trust in Rick Gates was misplaced," Zehnle said.
The trial is expected to take about three weeks.
Earlier Tuesday, a jury of six men and six women was impaneled for the closely watched financial crimes trial. Four alternate jurors were also chosen.
Prosecutors and defense lawyers objected to nearly two dozen other candidates in the juror pool for unknown reasons.
Manafort has been in jail since June, when the judge presiding over the Washington case revoked his bail for allegedly tampering with potential witnesses.
The special counsel has enlisted as many as 35 witnesses to testify against Manafort. They include accountants, financial advisers, tax preparers and real estate agents.
But prosecutors' star witness is likely to be Gates, who worked closely with Manafort in Ukraine and later followed him into Trump's campaign as deputy chairman.
Gates was named as a co-defendant in the initial indictment handed down against Manafort last October. But when the special counsel hit the two men with a second indictment in February, Gates pleaded guilty to two lesser counts in exchange for cooperation.
Manafort has remained defiant, vowing to fight the charges.