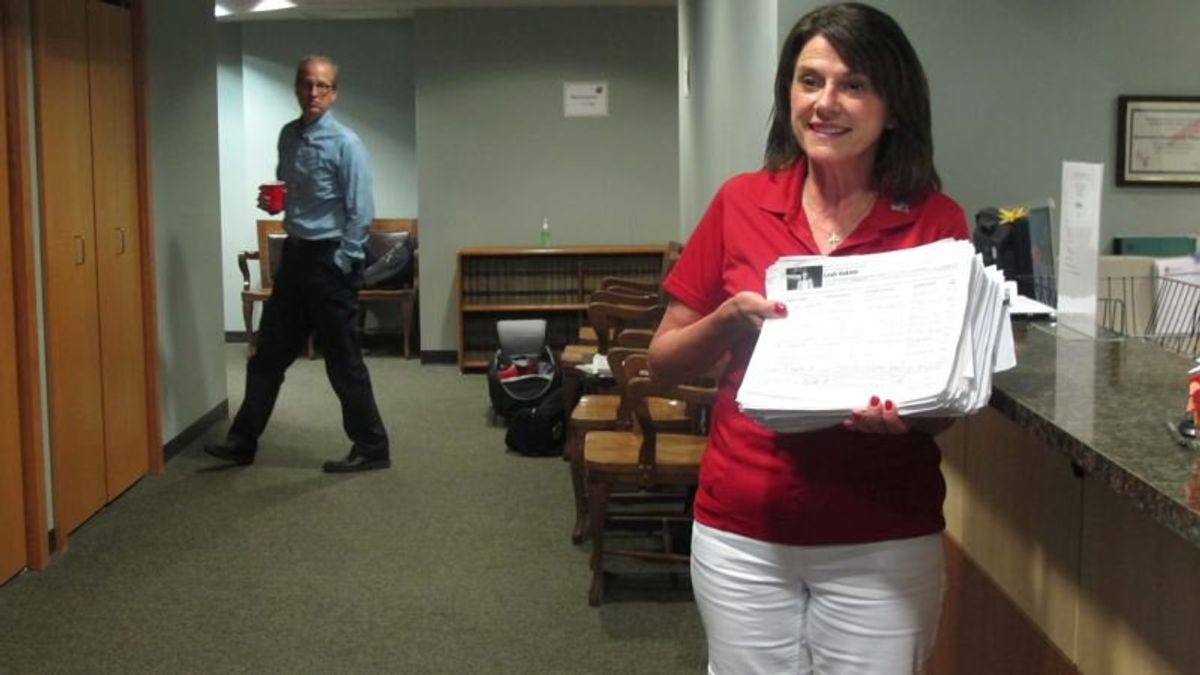 Key Midwestern US States Pick Candidates for November Election
Key Midwestern US States Pick Candidates for November Election
The races for U.S. political offices became further defined Tuesday with the latest round of primary elections setting up congressional battles in the battleground states of Wisconsin and Minnesota.
In Wisconsin, Republicans chose state lawmaker Leah Vukmir to go up against Democratic Senator Tammy Baldwin, who is trying to earn a second term in office.
Vukmir has the support of President Donald Trump, who just ahead of Tuesday's primaries also voiced approval for Governor Scott Walker in his re-election campaign. Democrat Tony Evers won the Democratic primary to face Walker in November.
Republican voters chose Bryan Steil, a former aide to House Speaker Paul Ryan, as their candidate to replace Ryan when he retires at the end of the current term. Steil will face Democratic candidate Randy Bryce to represent the congressional district in a suburb of Milwaukee.
Democrats seem to be particularly energized in Wisconsin, where Trump was the first Republican presidential candidate to win in 32 years, although by one percentage point, in the 2016 elections.
In the November election, all 435 House of Representatives seats, 35 of 100 Senate seats, and 36 of 50 governors' offices will be up for election. Democrats must win 23 seats in the House and two seats in the Senate to gain control of those chambers.
In Minnesota, former Governor Tim Pawlenty, who has been critical of Trump, saw his campaign to reclaim his old job end Tuesday as the one-time favorite in the race lost the Republican primary to county commissioner Jeff Johnson. Democrats chose Congressman Tim Walz as their candidate for governor.
Rep. Keith Ellison won the Democratic nomination for Minnesota's attorney general on Tuesday after his campaign was rocked by recent allegations of domestic violence.
Ellison is the first Muslim elected to Congress, and in the race to fill the seat he is vacating Democrats picked state representative Ilhan Omar, the nation's first Somali-American legislator as their candidate. She will go up against Republican Jennifer Zielinski for a seat Democrats have held since 1960.
Senator Tina Smith won the Democratic primary to seek her first full term after taking office to replace fellow Democrat Al Franked who resigned in December amid multiple allegations of unwanted sexual touching. Smith will face Republican state senator Karin Housley.
Primary contests were also held in the heavily Democratic northeastern states of Vermont and Connecticut.
Democrats selected Christine Hallquist as their nominee for governor in Vermont as he tries to become the nation's first transgender governor. She will face Republican incumbent Phil Scott, who has strong support in his re-election bid.
And Sen. Bernie Sanders, who ran for president in 2016, won the Democratic primary for his seat, but is expected to turn down that nomination and continue as an independent.