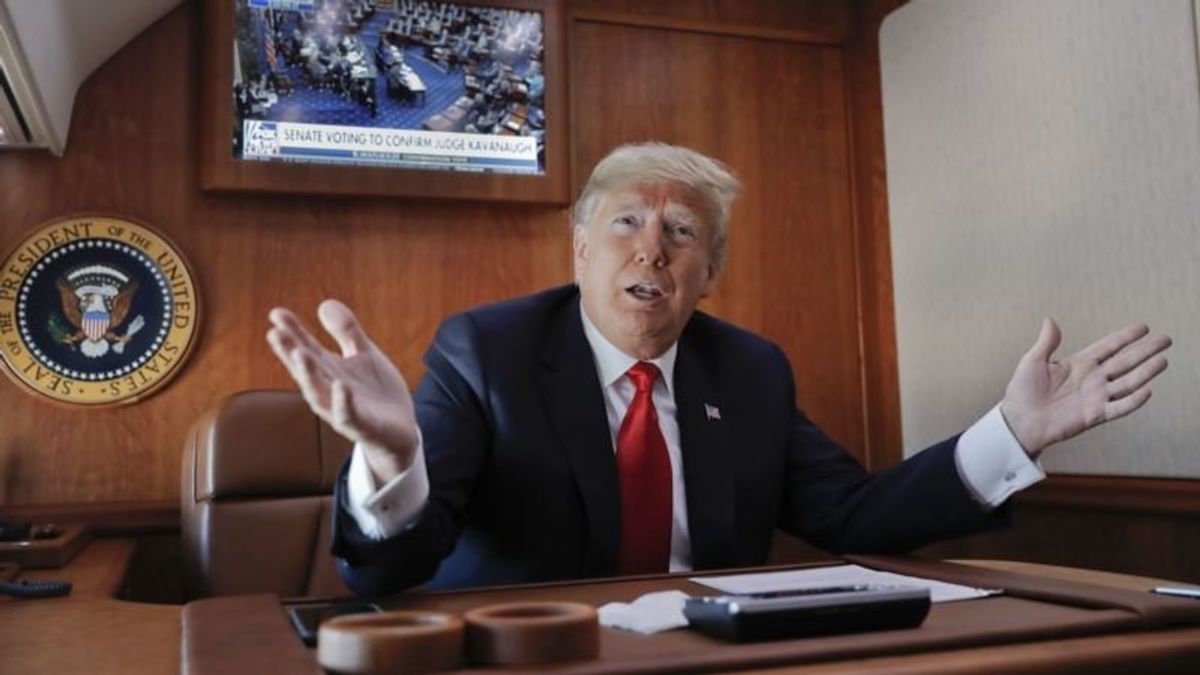 Kavanaugh Confirmation Provokes Sharp Reactions
Kavanaugh Confirmation Provokes Sharp Reactions
President Donald Trump, American lawmakers and a wide range of public policy groups on Saturday registered sharp reactions to judicial conservative Brett Kavanaugh's confirmation to the Supreme Court.
"I applaud and congratulate the U.S. Senate for confirming our GREAT NOMINEE, Judge Brett Kavanaugh, to the United States Supreme Court," Trump tweeted. "Later today, I will sign his Commission of Appointment, and he will be officially sworn in. Very exciting!"
"I couldn't be prouder of the Senate Republican conference," Majority Leader Mitch McConnell of Kentucky said in a news conference shortly after the chamber voted 50-48 to confirm Kavanaugh. "We stood up for the presumption of innocence. We refused to be intimidated by the mob of people that were coming after Republican members."
Democrats had a very different reaction.
"From start to finish, President Trump's nomination of Judge Brett Kavanaugh to the U.S. Supreme Court has been one of the saddest moments in the history of the Senate," Minority Leader Chuck Schumer of New York said. "Truly, Judge Kavanaugh's confirmation is a low moment for the Senate, for the court, for the country."
The Senate Judiciary Committee's top Democrat, Dianne Feinstein of California, said the Kavanaugh confirmation "shifts the court far to the right, putting women's reproductive rights, civil rights, environmental protections, workers' rights, the ability to implement gun safety rules and the ability to hold presidents accountable at risk for a generation."
At the White House, press secretary Sarah Sanders reacted with jubilation.
"Congratulations Judge Kavanaugh!" Sanders tweeted. "Instead of a 6-3 liberal Supreme Court under Hillary Clinton, we now have a 5-4 conservative Supreme Court under President @realDonaldTrump, cementing a tremendous legacy for the President and a better future for America."
A wide variety of organizations also weighed in.
"Kavanaugh's confirmation is devastating as unresolved questions remain about his human rights record, including in relation to the U.S. government's use of torture and other forms of ill treatment, such as during the CIA detention program," Daphne Eviatar, Amnesty International USA's director of security with human rights, said in a statement.
"Today the United States Supreme Court has gained an exceptional Justice in Brett Kavanaugh," Jeanne Mancini, president of March for Life, which opposes abortion, said in a statement. "We look forward to Justice Kavanaugh's tenure on the bench and the impact his dedicated public service will have towards creating a country where every human life is valued and protected equally under the law."
Many noted the acrimony surrounding the confirmation process.
"The road that led us here has been bitter, angry and partisan," Schumer said.
McConnell predicted the tempest would pass.
"The Senate and the country will get past this. We always do," the majority leader said.
JOIN US ON RUMBLE LIVE NOW!