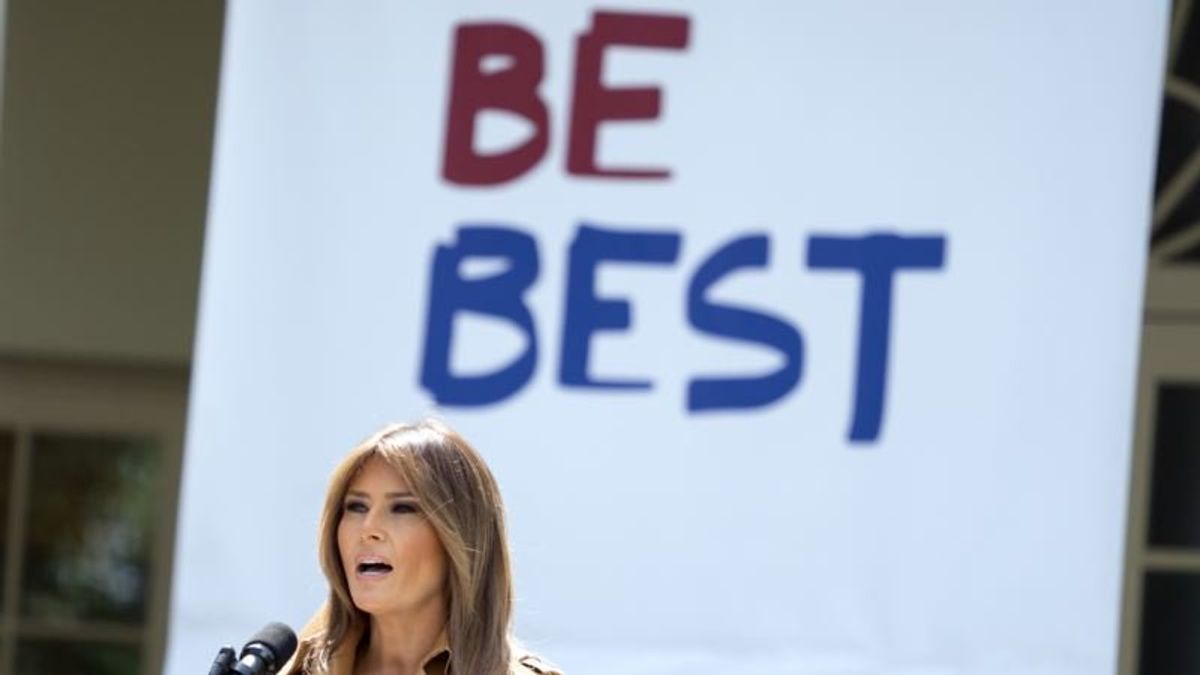 First Lady Going on Road for 'Be Best' Children's Campaign
First Lady Going on Road for 'Be Best' Children's Campaign
Melania Trump is going on the road to promote her "Be Best" campaign to help children.
The first lady planned to advocate for her campaign Tuesday in Tennessee during a visit to Monroe Carell Jr. Children's Hospital at Vanderbilt in Nashville on what will be her first domestic trip to highlight the initiative. Mrs. Trump was to participate in a discussion about babies born addicted to drugs, tour a neonatal intensive care unit and visit with patients.
She has done little personally to publicize the campaign around the country since she unveiled it at the White House in May.
A week after the announcement, the first lady was hospitalized for kidney surgery, stayed five nights, then spent several weeks out of the spotlight recuperating before resuming a public schedule. She has since made two trips to the U.S.-Mexico border to meet with adults and children affected by the president's policy of separating migrant families who cross into the U.S. illegally.
The first lady did promote "Be Best," which focuses on children's well-being, social media use and opioid abuse, when she accompanied the president to London this month. She has also discussed it during surprise visits in the Washington area, including an unannounced visit to Microsoft's Innovation and Policy Center in Washington last week.
Mrs. Trump visited with a group of students who help the computer software maker with its work on youth-centered online safety. Being good citizens online is one focus of the first lady's campaign, though her husband is routinely criticized for using Twitter against his foes.
"To see students taking action and being positive leaders in the digital world for youth is exactly what `Be Best' is focused on," the first lady said after visiting Microsoft.
The issue taking her to Tennessee is neonatal abstinence syndrome, which occurs when a baby withdraws from drugs _ usually an opioid painkiller _ that he or she was exposed to in the womb. Withdrawal causes such symptoms as irritability, muscle tremors, difficulty feeding and sleeping, and breathing problems, according to testimony that Dr. Stephen Patrick, a pediatrician and neonatologist at the children's hospital that the first lady is scheduled to visit, gave earlier this year to a Tennessee state legislative committee.
Opioids are fueling the deadliest drug overdose epidemic in U.S. history. About 70,000 Americans died of a drug overdose last year, according to preliminary numbers released this month by the federal Centers for Disease Control and Prevention. That's a 10 percent increase from the previous year.
The practice of first ladies using their positions of prominence to promote issues and causes they care about can be traced to Martha Washington, America's original first lady. She was an advocate for Revolutionary War veterans, said Anita McBride, executive-in-residence at American University's Center for Congressional and Presidential Studies.
"Every first lady has done something," said McBride, who was chief of staff to Laura Bush when she was first lady.
One of Mrs. Trump's trip to the border was overshadowed by a hooded jacket she wore that had the words, "I really don't care, do u?" scrawled on the back. The garment choice for her Texas trip ricocheted across the internet, spawning memes about what message the former model may have been trying to send.
Her spokeswoman said it was just a jacket with no hidden message. But the president undercut that by later tweeting that his wife was really saying she doesn't care about the "fake news" media.