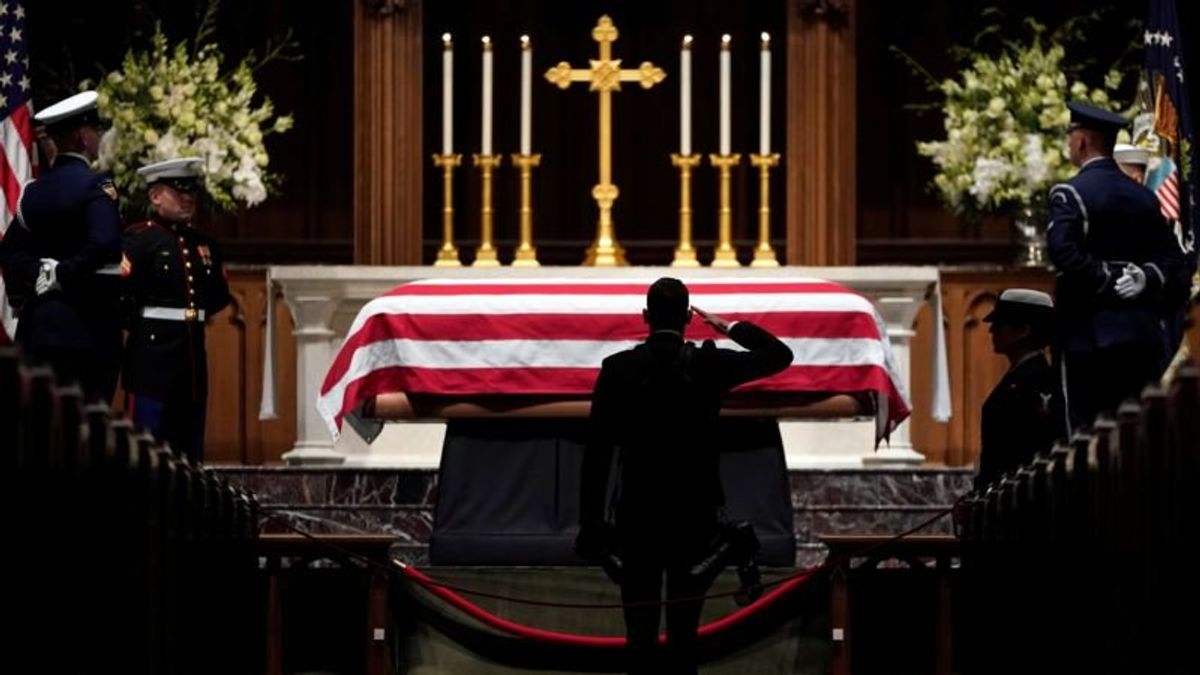 Final Eulogies Set for Former US President George HW Bush
Final Eulogies Set for Former US President George HW Bush
WASHINGTON —
The family of George Herbert Walker Bush will say their final goodbyes to the nation's 41st president in a private funeral service Thursday in his adopted hometown of Houston, Texas.
A plane carrying the late president from Washington arrived in Houston Wednesday evening and his flag-draped casket was taken to St. Martin's Episcopal Church, where his body was to lie in repose overnight so the public could file past and pay their respects.
After Thursday's private services, the former president will be taken by a train, pulled by an engine commissioned in his honor, 120 kilometers north to the city of College Station for burial at his presidential library on the grounds of Texas A&M University. He will be laid to rest alongside his wife of 73 years, Barbara, who died earlier this year, and their daughter, Robin, who succumbed to leukemia in childhood.
Five U.S. presidents assembled at the Washington National Cathedral for Wednesday's state funeral for George H.W. Bush, who died last Friday in Texas at the age of 94.
"He taught us public service was noble and necessary," his son and the 43rd president, George W. Bush, told the invited guests at Washington National Cathedral. "He had an enormous capacity to give of himself."
President Donald Trump had no speaking role during the Episcopalian service, a break from recent tradition and in accordance with George H.W. Bush's wishes.
Trump had tweeted before the service:
The current president, who has had a contentious public feud with the Bush family, earlier had declared Wednesday a national day of mourning, closing federal agencies, suspending regular mail delivery and closing stock markets.
Trump, the day before, spent 20 minutes visiting Bush family members, who were staying at Blair House, across the street from the White House. Blair House is also known as the President's Guest House.
Trump, accompanied by first lady Melania Trump, shook hands inside the cathedral with his immediate two-term predecessor, Barack Obama, and wife Michelle, but the tension between the Trumps and Obama was palpable in the pews, epitomizing the nation's political divide.
Also, in the front row was Democrat Bill Clinton, who defeated the elder incumbent Bush in 1992 to become president, and his wife, former Secretary of State Hillary Clinton, whom Trump defeated in the 2016 election. Sitting next to the Clintons was fellow Democrat Jimmy Carter and his wife, Rosalynn.
George H.W. Bush and Bill Clinton eventually became close friends and traveled together internationally.
Another close friend of the elder Bush, former U.S. Senator Alan Simpson, recalled that the 41st president was "a class act from birth to death … one of nature's noble men."
Bush was hailed by presidential historian Jon Meacham as "America's last great soldier-statesman," who "made our lives and the lives of nations freer, better, nobler and warmer."
Among the foreign dignitaries inside the cathedral were Britain's Prince Charles, Jordan's King Abdullah II and Queen Rania, German Chancellor Angela Merkel, Polish President Andrzej Duda and former presidents of Estonia, Mexico and Portugal, as well as former prime ministers of Britain, Canada, Japan and Kuwait.
Bells tolled 41 times as Bush's casket entered the cathedral after being transported in a family motorcade from the U.S. Capitol and past the White House for the first state funeral for a president in a dozen years.
Around the clock in the Rotunda over two days, thousands — many who had lined up in near-freezing temperatures for hours to enter the Capitol — paid their final respects to Bush, whose flag-draped coffin rested on the wooden catafalque built in 1865 for the casket of assassinated President Abraham Lincoln.
The four entrances to the Rotunda were draped in black as Bush's body lay in state, an honor bestowed to only 31 others in the history of the United States (Lincoln being the first president).
One of those who entered the Rotunda Tuesday was former Senator Bob Dole, a rival to Bush in the 1988 Republican presidential primary. Dole, who is 95, was helped from his wheelchair to stand and salute his fellow World War II veteran.
Bush was born into privilege and politics (his father a U.S. senator and grandfather a top industrialist). He served in Congress, as ambassador to the United Nations, chaired the Republican National Committee, was an envoy to China, director of the Central Intelligence Agency and vice president before being elected president in 1988.