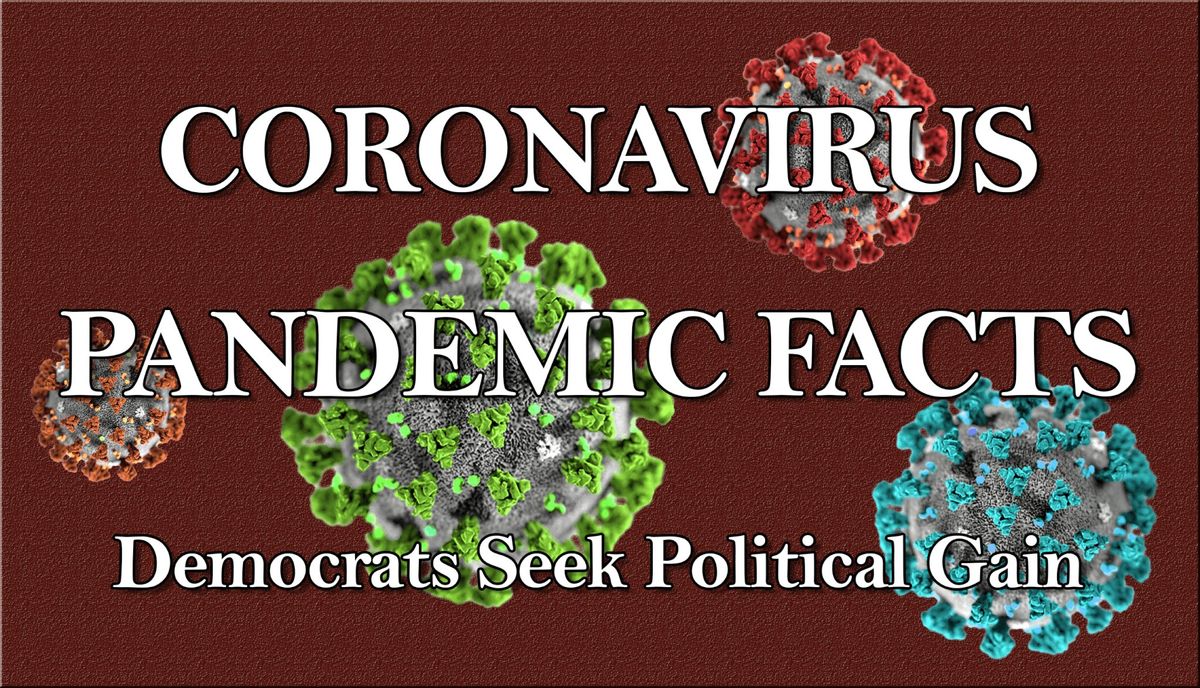 Facts of the Coronavirus & Democrats seeking Political Gain
COVID-19, also known as the Coronavirus, first appeared in Wuhan of Hubei Province in China in December 2019
The Coronavirus is a large family of flu viruses with 7 known types and can be transmitted among animals and people.  It is strongest and more rampant in the fall and winter seasons.
The prominent symptoms of coronaviruses are respiratory symptoms such as difficulty in breathing, cough, fever, and shortness of breath.  Severe case can lead to pneumonia, kidney failure, severe acute respiratory syndrome, and death.
The virus is spread by coughing or sneezing by an infected person or by contaminated objects or surfaces when touched and then touching your eyes and mouth.
The virus can live in the air for three hours and on a surface for three days.
The first case of the family of this virus surfaced from China in 2002, known as SARS Co-V, spreading to 24 countries through 2004.  It is suspected to originate from bats and spread to various animals that were brought to the Guangdong wet markets, Chinese markets where animals are slaughtered in front of customers.  Handlers and consumers got infected, further spreading the virus through human-to-human transmission.
January 30, 2020: President Trump is briefed on the spread of the Coronavirus and immediately set up a Coronavirus Task Force headed by Health and Human Services Secretary Alex Azar and coordinated through the National Security Council to monitor, maintain, and prevent the spread of the virus.  Trump then donated his 4th quarter salary to Health & Human Services.
In 2018, President Trump signed the National Biodefense Strategy, which improves the speed of action in situations such as this.  (https://www.whitehouse.gov/wp-content/uploads/2018/09/National-Biodefense-Strategy.pdf)
January 31, 2020:   President Trump issued an Executive Order to ban all foreign nationals who traveled to China or Iran, where the virus has spread, over the past two weeks from entering the US. 
Democrats responded to the travel ban by supporting measure to effectively strip President Trump of his authority to impose travel bans to protect American citizens.  The "No Ban Act" was introduced by Democrat Judy Chu and co-sponsored by 219 Democrats, including Josh Harder, to prevent Trump from implementing a travel ban on China and Iran, which would have allowed more travelers from Wuhan to continue to arrive in America.
Democrats also fought to keep the U.S. borders open to the world with both Bernie Sanders and Joe Biden both stating they would not close America's borders to protect Americans from the virus.
The Democrats and their media lapdogs went on to politicize the Coronavirus, which was just the same time of the end of the impeachment hearings.  The Democrats and media were trying to blame President Trump for his response and actions, which President Trump called it a "Hoax".  Mincing his words, they made it appear that President Trump called the virus a hoax, forgetting his immediate response and their immediate appeal to stop the travel ban.
During a South Carolina rally, President Trump explained how the perception from the Democrats and the media about Russia was a Hoax, the impeachment trial was a Hoax, and how they are making a hoax of his response to the virus.
March 11, 2020:  Since Europe did not take any action like President Trump's China travel ban, the Coronavirus spread throughout Europe forcing Trump to issue a new Executive Order to stop travel from Europe.  He made a series of proposals, which were echoed by Joe Biden, except the travel ban as Democrats continued to seek open borders.
While the world economy suffered from the worldwide epidemic, Democrats and the media cheered. NBC's Stephanie Ruhle and Dan Nathan gloated that a "global financial crisis" provides something "Dems can run on" in the fall.  Susan Daniels, a Democrat activist, tweeted, "For the record, if I do get the coronavirus I'm attending every MAGA rally I can." In response, Candi CdeBaca, a Democrat lawmaker, responded on her Twitter, "Yaaaas"!
Democrats love the hysteria and hope for more misery in America to twist this crisis into their political gain.
By Frank Aquila
###
Frank Aquila is president of the South San Joaquin Republicans and author of the book, "Sarah Palin Out of Nowhere.  He can be emailed at mantecarepublicans@yahoo.com