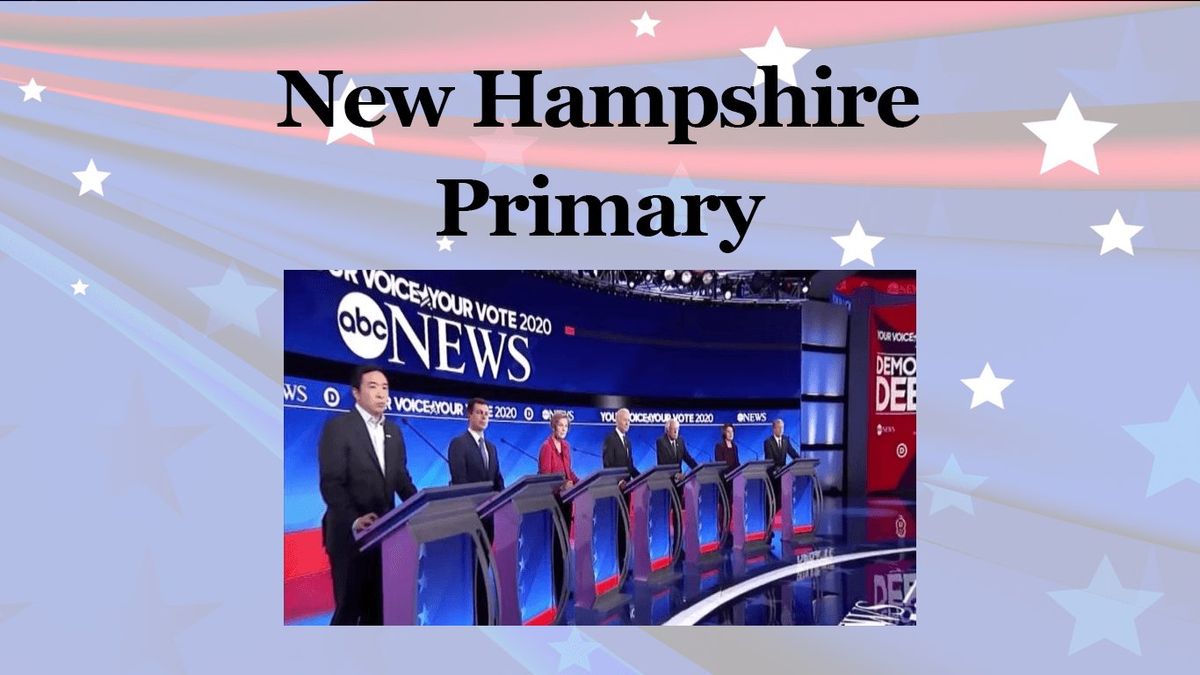 Disarray, Disappointment for Democrats in New Hampshire
February 12, 2020, 1:57 AM
President Trump delivered a victory lap speech in New Hampshire on Monday, serving as a strategic distraction to an already chaotic democratic primary as voters in that state prepared to go the polls today.
Speaking in front of a large, enthusiastic audience Trump wasted little time in getting under the skin of
Nancy Pelosi and Democrats. Referring to his State Of The Union speech he said, "I had somebody behind me who was mumbling terribly. Very distracting. Very distracting.
I'm speaking, and a woman is mumbling terribly behind me. There was a little anger back there. We're the ones who should be angry, not them." He then thanked Nancy Pelosi for giving Republicans their highest poll number approval ratings since 2005, according to Gallup.
Classic Trump he was both humorous and direct in his comments, "The Democratic Party wants to run your health care, but they can't even run a caucus in Iowa."
Meanwhile as democrats stumbled out of Iowa and into New Hampshire they were at odds with each other as to whether DNC Chairman Tom Perez should resign or not. As of now Perez says he is staying put.
Meanwhile, Mike Allen over at Axios is reporting that regardless of what transpires in New Hampshire, Democrats-
with a botched Iowa, Trump at an all-time popularity high, an internal ideological civil war over socialism- are now quietly coming to grips with the reality that they may not defeat Trump in 2020.
"There's a new fatalism in my conversations with Democrats", Allen writes, "with many telling me that what once seemed unthinkable — Trump's re-election in November — is now starting to look more likely than ever."
In New Hampshire where the candidates have vied for voter attention with rallies and campaign ads, there's now an underlying uneasiness among Democrats about being able to unify the party strong enough to get the kind of turnout needed to defeat Trump in November.
The New Hampshire primary turned into the battle of the B's: Bernie, Buttigieg, Bloomberg but not Biden. Bloomberg, who did not even compete in today's New Hampshire primary, received write-in votes, actually won in one community, some are calling a big winner. Interestingly, when Michael Bloomberg first announced his candidacy, Steve Bannon while appearing on Maria Bartiromo's TV show warned that Michael Bloomberg will be Donald Trump's biggest threat. Time will tell.
Of course the big news is also Bernie Sanders. Sanders finished a razor-thin close second in Iowa, now wins New Hampshire and has momentum on his side. The Democrat party leaders aren't feeling too good about this.
So what happens next? I expect Biden to eventually drop out (he's now performed poorly in both Iowa and New Hampshire), Buttilieg to drop out (a small town Mayor is not going to be nominated for President no matter who the party is) and Elizabeth Warren will drop out. It will come down to either to socialist Bernie Sanders, self-made Michael Bloomberg or a brokered convention- which means Hillary could emerge.
Democrats and the media like to taunt the President calling him a reality TV host. What we're watching now play out amongst the Democrats may be the most entertaining reality TV currently airing.
By Rick Amato
Television Host of 'Politics & Profits with Rick Amato'
AmatoTalk.com
###