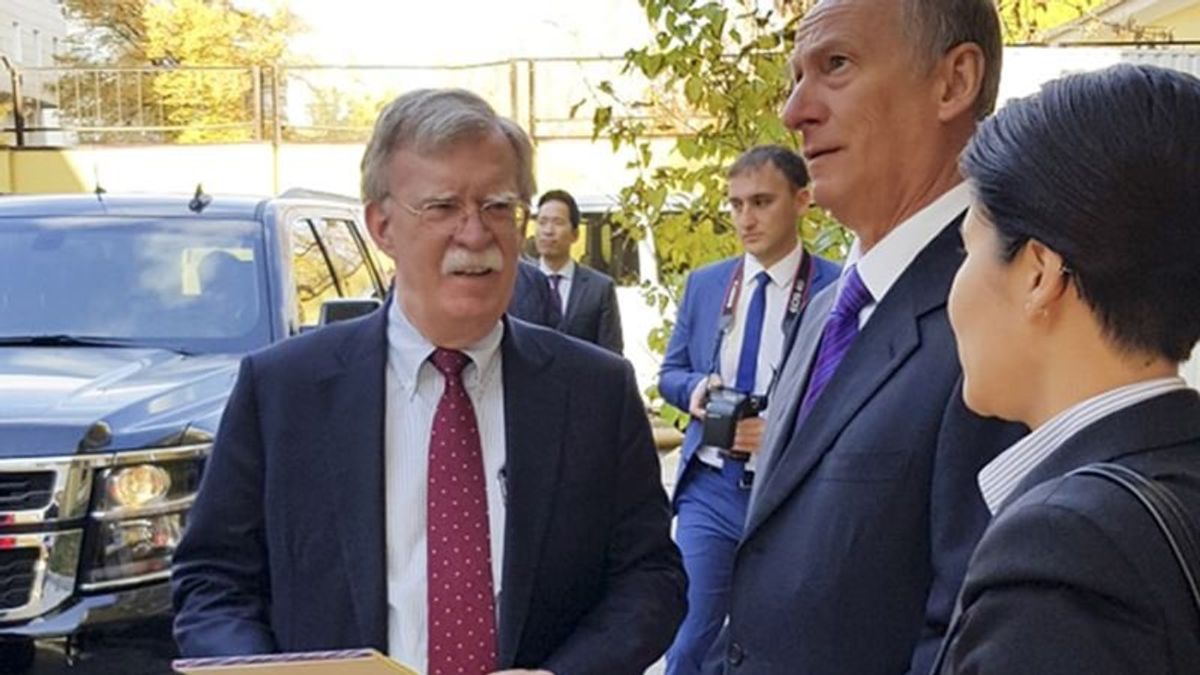 Bolton Meets with Russian Officials on Trump Plan to Withdraw from Arms Treaty
Bolton Meets with Russian Officials on Trump Plan to Withdraw from Arms Treaty
U.S. National Security Adviser John Bolton met Monday with top Russian officials about President Donald Trump's announced intention to pull out of a key Cold War arms deal with Moscow.
Bolton discussed the fate of the three-decade-old treaty in Moscow with Russian Security Council chief Nikolai Patrushev ahead of a meeting with Foreign Minister Sergey Lavrov. Bolton is set to meet with Russian President Vladimir Putin on Tuesday.
Putin spokesman Dmitry Peskov told reporters that the U.S. decision "will make the world more dangerous." He rebuffed the U.S. claim that Russia had violated terms of the agreement that bans the U.S. and Russia from building, testing, and stockpiling ground-launched nuclear missiles with a range from 500 to 5,000 kilometers.
"It is the United States that is eroding the foundations and main elements of this pact" with its missile defense systems and use of drones," Peskov said.
The Kremlin spokesman said that if the United States goes on to develop new missiles, then Russia would be forced to respond in kind. He said Russian officials want to get more information about the U.S. plans regarding the Intermediate-Range Nuclear Forces Treaty in their talks with Bolton.
Trump has accused Russia of building and testing missiles that violate the 1987 treaty.
Former Soviet President Mikhail Gorbachev signed the deal with the late U.S. president, Ronald Reagan, at the White House in 1987.
"Do they really not understand in Washington what this could lead to?" Russia's Interfax news agency quoted Gorbachev as saying. "Washington's desire to turn back politics cannot be supported. Not only Russia, but all those who cherish the world, especially a world without nuclear weapons, must declare this."
Without specifying how Russia violated the treaty, Trump Saturday appeared to say Moscow will not get away with it.
"Russia has violated the agreement. They have been violating it for many years. And we're not going to let them violate a nuclear agreement and go out and do weapons and we are not allowed to," he said.
U.S. officials going back to the Obama administration have accused Russia of deliberately deploying a land-based cruise missile to pose a threat to NATO.
Russia has denied violating the INF agreement and says U.S. missile defense systems are a violation.
Defense advocates in Washington say the INF treaty keeps the U.S. from developing a new generation of weapons in a world that faces new global security challenges.
Trump said, "We'll have to develop those weapons, unless Russia comes to us and China comes to us and they all come to us and say let's really get smart and let's none of us develop those weapons, but if Russia's doing it and if China's doing it, and we're adhering to the agreement, that's unacceptable."
China is not part of the INF agreement.
Beatrice Fihn, the executive director of the International Campaign to Abolish Nuclear Weapons — the coalition that won the 2017 Nobel Peace Prize — said, "By declaring he will leave the INF Treaty, President Trump has shown himself to be a demolition man who has no ability to build real security. Instead, by blowing up nuclear treaties, he is taking the U.S. down a trillion-dollar road to a new nuclear arms race."
Dmitry Oreshkin, an independent Russian political analyst, told the Associated Press, "We are slowly slipping back to the situation of Cold War, as it was at the end of the Soviet Union, with quite similar consequences, but now it could be worse because Putin belongs to a generation that had no war under its belt. These people aren't as much fearful of a war as people of [former Soviet leader Leonid] Brezhnev's epoch. They think if they threaten the West properly, it gets scared."
JOIN US ON RUMBLE LIVE NOW!