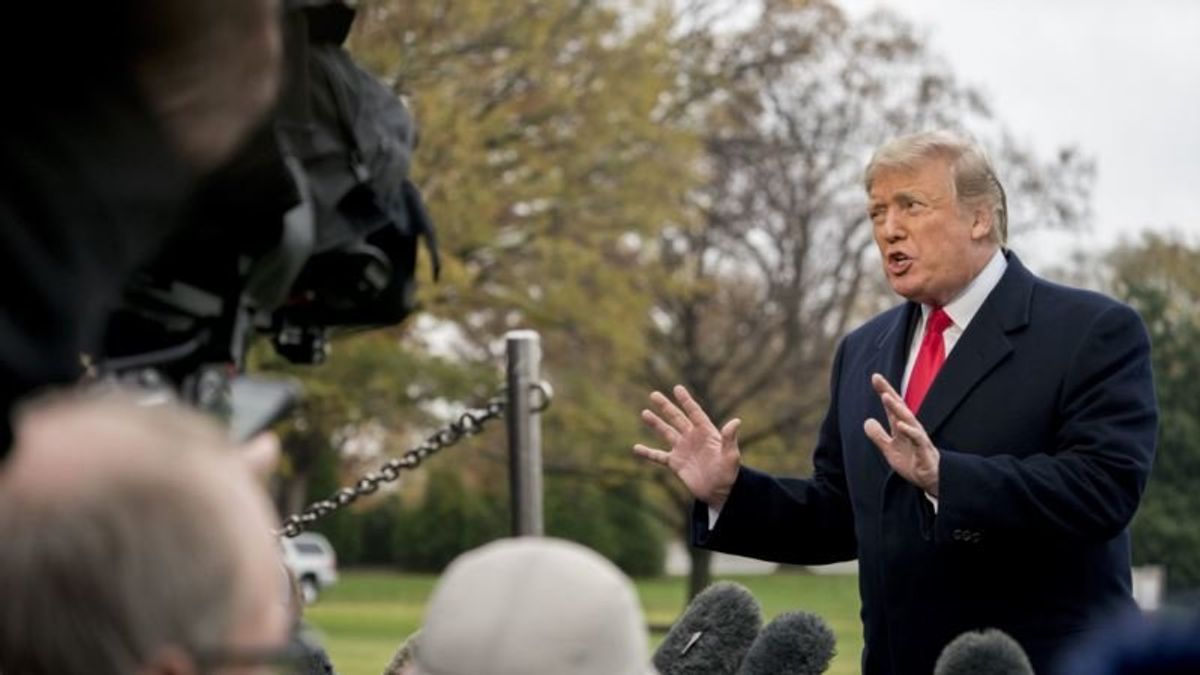 As Trump Renews Border Wall Demands, US Government Shutdown Looms
As Trump Renews Border Wall Demands, US Government Shutdown Looms
WASHINGTON —
President Donald Trump's renewed demand for U.S. taxpayer funding of his proposed U.S.-Mexico border wall was threatening again on Tuesday to bring on a budget standoff and a partial government shutdown, leaving Congress just 11 days to act.
With time running short, Trump and Republican leaders of the U.S. House of Representatives huddled at the White House. Border security was expected to be high on the agenda.
By Dec. 7, Congress must pass this spending bill, estimated at $312 billion, to keep some government agencies funded, including the Department of Homeland Security, which polices the border and immigration.
Secretary of State Mike Pompeo will meet with the incoming foreign minister of Mexico on Sunday to discuss immigration, a top White House official said.
"They will have a full conversation about all the issues in connection with the border," White House national security adviser John Bolton told reporters.
Washington's focus on the Mexican border coincides with televised images of U.S. border police lobbing tear gas canisters over a border fence in Southern California on Sunday into crowds of asylum seekers, mostly from Central America.
Even with the divisive Nov. 6 congressional elections over, Trump has continued to rail against thousands of migrants in a caravan traveling from violence-ridden Central American countries to seek asylum in the United States.
The latest border incident was unlikely to shift the partisan split in Congress over Trump's proposed, $23 billion wall, with many Republicans in favor and most Democrats against, Senator Marco Rubio told reporters in a Capitol hallway.
"People here are pretty dug in," said Rubio, a Republican.
Democratic Senator Jon Tester, who like Rubio is a member of the powerful Senate Appropriations Committee, predicted a border security deal would be struck in coming days.
​But a House Democratic aide familiar with the negotiations said in a telephone interview that, at least for now, talks over Homeland Security's budget were "a total mess."
House Republicans want $5 billion for Trump's wall, while the Senate wants $1.6 billion for this fiscal year. The Trump administration would like the entire $23 billion up front, fearing that a House run by Democrats next year would never fully fund the long-term costs of the wall.
Rubio said more "physical structures" are needed to reinforce the border. But, he said, "The ultimate border security is to help address … the causes of people leaving Guatemala and Honduras" and fleeing to the United States.
Under Republican control of the Senate and House in recent years, U.S. spending on programs to combat violence and promote the economies of El Salvador, Nicaragua, Guatemala and Honduras has declined sharply. At the same time, despite Trump's efforts to make immigration more difficult, the number of illegal crossings has risen.
According to U.S. Customs and Border Protection, in the fiscal year that ended on Sept. 30, apprehensions on the southwest border of unaccompanied children rose 21 percent from the previous year to 50,000, while family apprehensions were up 42 percent to more than 107,000.
As Trump gears up for his 2020 re-election bid, he is expected to hammer on his 2016 campaign pledge to stop illegal immigration, raising fears that he might not back down, as he has before, from a threat to close the government.
"Life is hard, but it's harder when you're stupid. A government shutdown would be stupid," said Republican Senator John Kennedy, also an Appropriations Committee member. "But if we can't agree on the budget, we can't agree on the budget," he added.