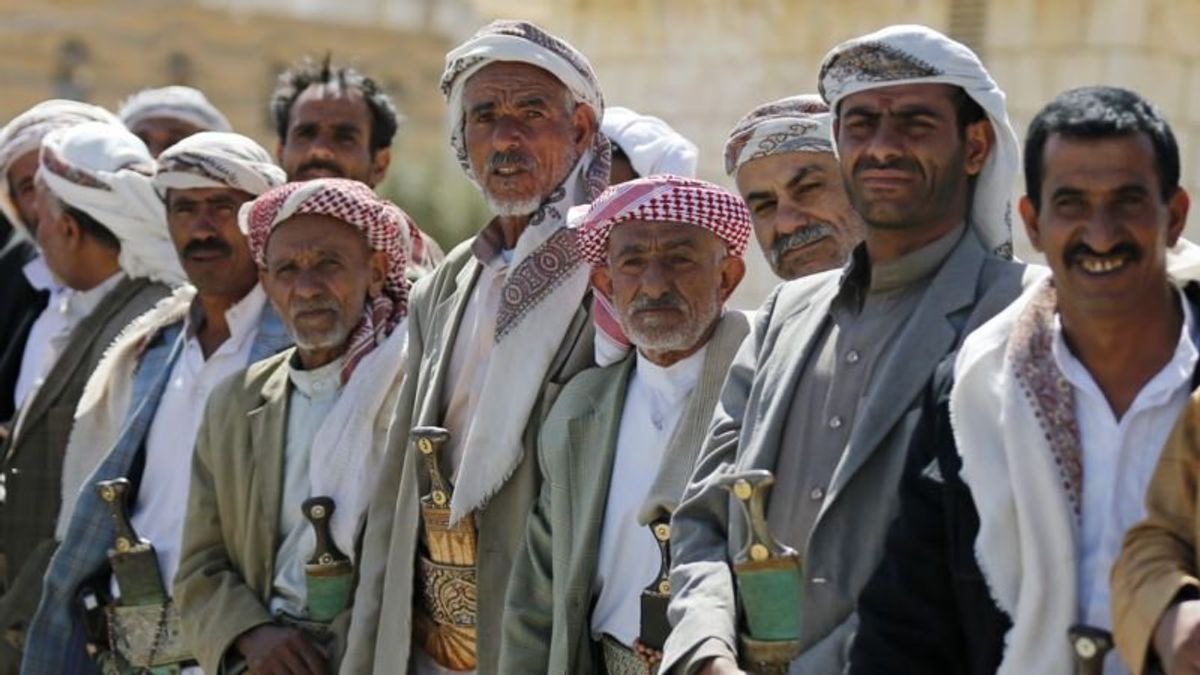 Yemen Tribal Leaders Support US-UN Peace Process
Yemen Tribal Leaders Support US-UN Peace Process
WASHINGTON —
As U.S. officials and members of U.S. Congress debae U.S. support for the Saudi-led military campaign in Yemen, some tribal leaders in Yemen are supporting the U.S and U.N. proposed political solution to end the war and urge an active role in the ongoing negotiations.
"Both the people and the tribes in Yemen support the American political solution to the conflict in Yemen as long as it welcomes the demands of the tribes and the Yemeni people," Abdurabuh Al-Shaif, a tribe leader from Daham tribe in al-Jawf province of Yemen, told VOA.
SEE ALSO:
Senate to Debate Ending US Military Support for Yemen War
On Wednesday, the U.S. Senate delivered a historic rebuke of Saudi Arabia and President Donald Trump's handling of the fallout over journalist Jamal Khashoggi's killing last month, as a majority of members voted to advance a measure to end U.S. military support for the Saudi-led war in Yemen.
President Trump and his administration have described Saudi Arabia as a vital ally and resisted calls for sanctions against the kingdom's leadership over Khashoggi's death.
Al-Shaif voiced concerns over the way U.S has approached the conflict.
"Any political solution that does not lead to the restoration of the state, disarming of the Houthi militias, and lead to democratic solution can't be called a political solution. It is rather a surrender to the militias … which we can't accept," Al-Shaif added.
Pompeo, Mattis brief lawmakers
Talking to U.S. lawmakers, U.S. Secretary of State Mike Pompeo and Defense Secretary Jim Mattis on Wednesday urged the preservation of Washington's support for the Saudi-led military campaign in Yemen.
The top U.S diplomat and the top defense official said a hasty U.S. withdrawal from Yemen would allow Iran to further strengthen its grip on the country, and that would be problematic for the region and the world.
Pompeo also strongly objected to the Senate resolution describing it as "poorly timed."
"Passing a resolution at this point undermines that [peace effort]. It would encourage the Houthis [Yemeni rebels]. It would encourage the Iranians," Pompeo said.
"The Houthis and the Republic of Yemen government have committed to attending consultations in Sweden in December, if that diplomacy starts to make breakthroughs our hopes are high that hostilities will soon stop entirely," Pompeo assured U.S. lawmakers.
Martin Griffiths, the U.N. special envoy to Yemen, is planning to convene a gathering of all parties to the Yemen conflict in Sweden in December to seek a political solution to the ongoing war.
"This is an opportunity at a crucial moment to pursue a comprehensive and inclusive political settlement to the conflict," Griffiths said.
The war in Yeman began in 2014 between the government of Abd-Rabbu Mansour Hadi, who has the support of a U.S.-backed Saudi coalition, and the Iranian-backed Houthi rebels. Since then the conflict become a humanitarian crisis, with tens of thousands of casualties and severe famine threatening the lives of millions of civilians including children.
​Tribes' role
Nadwa Al-Dawsari, the Yemen country director for the Center for Civilians in Conflict, a Washington-based organization working for the protection of civilians in armed conflict, told VOA that tribes could play a crucial role and are a fundamental pillar of Yemeni society and wrongfully depicted as lawless and anti-state.
"In reality, tribes operate according to customary rules that govern the relationship between individuals and their tribes, among tribes and between tribes and the state," Al-Dawsari said.
"In the absent of the state, customary law has helped maintain order and security, prevented and resolve conflicts. Yemeni tribes have always co-existed and even collaborated with the government," she added.
Some analysts like Khaled Fattah, an expert on Yemen and tribes in the Arab World, charge that ignoring tribes, specially their youths, could even be problematic.
"Tribal youth are locked in a harsh environment of deprivation and conflict, and lack of access to almost everything from political participation and education to sport and recreational facilities," Fattah said.
"Mobile phones and internet into tribal areas resulted not only in exposing tribal youth to the ideology of violent extremism, but also in creating a wide psychological distance between their offline and online lives," Fattah added.
Fattah said tribes are politically and military significant in Yemen as they have access to weapons.
"In these markets, all sorts of weapons from AK-47 to bazookas and anti-aircraft missiles are available. Prior to the Saudi-led military operations, it was estimated that Yemeni tribes have five times more small arms than the central government in Sanaa," Fattah added.
AQAP
However, Al- Dawsari said tribes have served as frontline defenders against terror groups like al-Qaida.
She did acknowledge that the presence of al-Qaida in the Arabian Peninsula (AQAP) is a challenge in the region, but said they have no havens among Yemeni tribes.
"It is the tribes that have denied AQAP the ability to expand territory. AQAP was only able to make significant influence in parts of Yemen where the tribal structure is weak or nonexistent," Al-Dawsari said.
"Some tribesmen joined AQAP but in doing so, they have acted independent of and against the wish and interest of their tribes," she added.
Houthis
Yemeni tribe leader, Al-Shaif said the Yemeni tribes see the Houthi movement, which has overthrown the government, as a terrorist movement as well.
"The Houthis committed unprecedented abuses against local tribes, including abduction, forced disappearance, torture, killing of tribal leaders, and blowing up homes of their opponents," Al-Shaif said.
Al-Shaif said that most of the tribes in Yemen do not trust the Saudi-led Arab coalition either because it failed to restore peace in provinces that are under government control.
"We don't trust the Arab coalition anymore. The Arab coalition did not help the state expand its influence and re-establish stability in many provinces," Al-Shaif said.