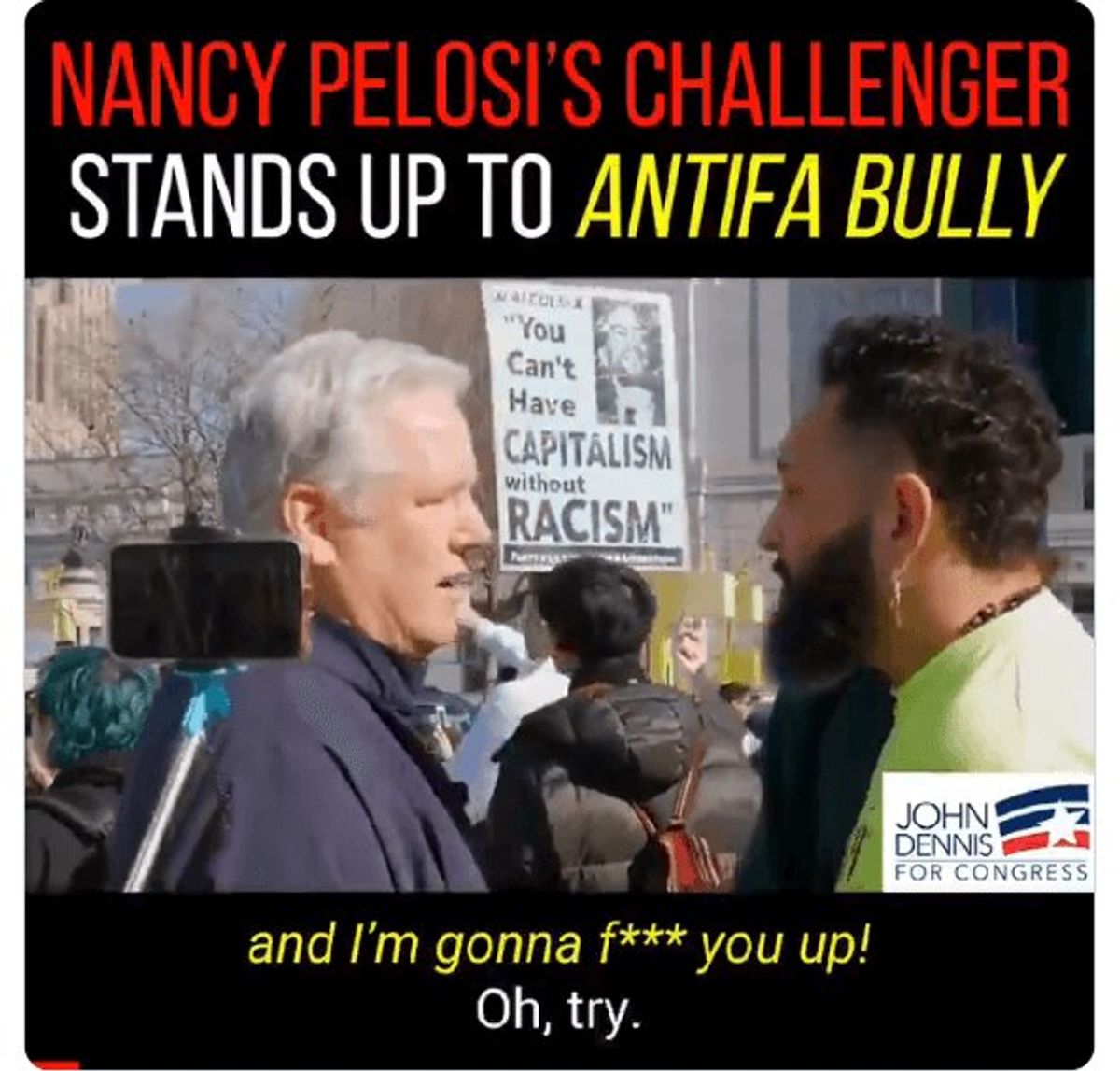 Watch Calif. Republican stand up to Antifa terrorist who threatens to "f*** you up"
On Tuesday, The Blaze reported that John Dennis, chairman of the San Francisco Republican Party and a congressional candidate running for the seat being held by Democrat Nancy Pelosi, faced off with an Antifa terrorist who threatened physical violence, called him a racist and said he wants Dennis dead.
"Bruh, I'ma gonna catch you when all the cameras aren't around, and I'm gonna f*** you up," the bearded terrorist said.
"I want you dead," he added.
When Dennis asked why, the terrorist responded: "Because you're a piece of s**t."
And how does this creature know Dennis is a "piece of s**t?"
"Because you're racist," he said.  And he claimed to know that simply by "looking" at Dennis.  Seriously.
Sounds like typical Pelosi-supporting left-wing terrorist "logic" to us.
Dennis, who was there to support a cleanup effort, stood up to the terrorist.
Here's the video as posted to Twitter:
This ANTIFA bully thought he could intimidate San Francisco Republicans.

Wrong! #SanFranciscoCleanup pic.twitter.com/XaBlUPkm4t

— John Dennis for Congress (@RealJohnDennis) February 3, 2020
The Blaze added:
Dennis posted a Periscope session Tuesday morning on Twitter and offered more insight on what happened between him and the Antifa fellow.

He explained that he learned 30 to 40 Antifa members showed up to protest the clean-up effort just because Republicans were involved — and the guy in the yellow shirt seemed to want to stand out from other Antifa members dressed in dark clothing. He also stood out for other reasons, Dennis added, after flipping over a canopy and threatening various individuals in the crowd. The yellow-shirted Antifa guy seemed to be "giving backbone" to the "rest of the lightweight Antifa," Dennis noted.

It was at that point that Dennis said he tried talking to the yellow-shirted guy, and then the threats happened.

The GOP candidate added that what's not seen on the clip is that he approached the Antifa agitator again and with some "rough language" informed him that he wasn't going to be intimidated — which is when Our Bearded Hero departed and "the crowd lost a lot of its fight."
"Violence is just unacceptable,"  he said, however, there are times when, "you gotta stand up to them."
We agree.
As we have said time and again, liberalism is an ideology of insane, bloodthirsty rage and hate.  Sadly, leftists prove that assertion correct on just about any given day.
It's enough to make one think they really do want a second, bloody civil war in America…
###
By Joe Newby
Joe Newby is a 10-year veteran of the U.S. Marine Corps, Joe ran for a city council position in Riverside, Calif., in 1991 and managed successful campaigns for the Idaho state legislature. Co-author of "Banned: How Facebook enables militant Islamic jihad," Joe wrote for Examiner.com from 2010 until it closed in 2016 and his work has been published at Newsbusters, Spokane Faith and Values and other sites. He now runs the Conservative Firing Line.