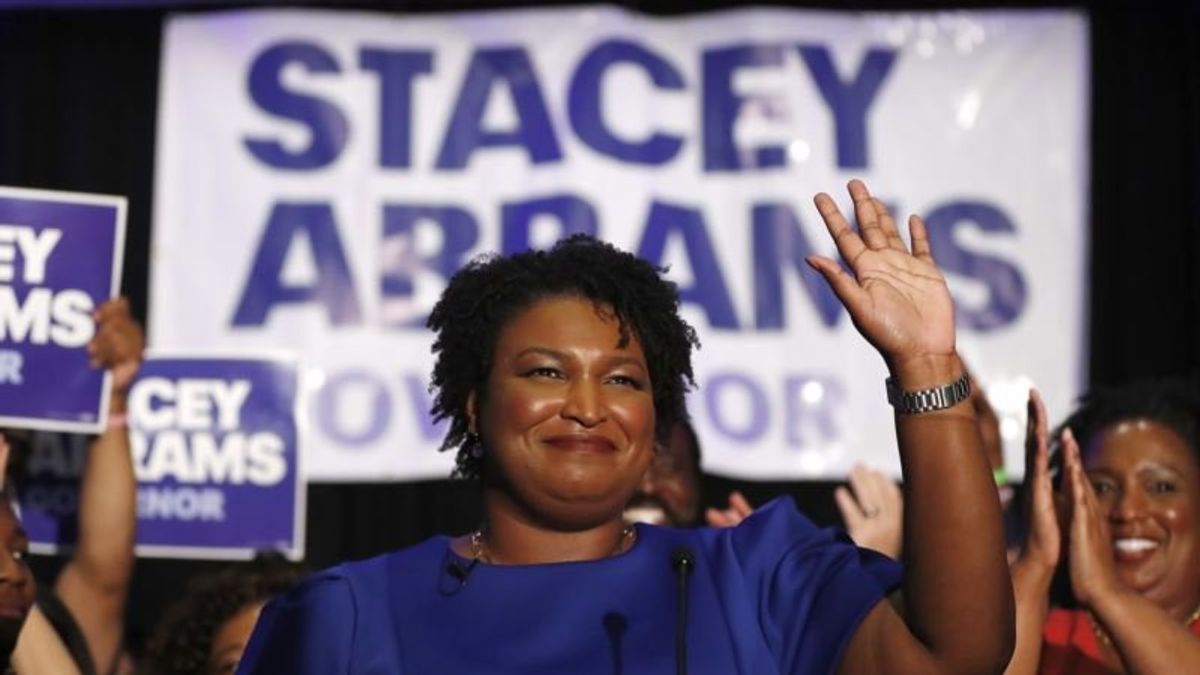 Voter Rights Take Center Stage in Georgia Gubernatorial Campaign
Voter Rights Take Center Stage in Georgia Gubernatorial Campaign
ATLANTA —
On a recent humid day in downtown Atlanta, dozens of voters gathered near the state capital to demand Brian Kemp step down as the state's top election official. "No voter suppression in Georgia!" a middle-aged woman in sunglasses shouts to passing cars. "We will not have it!"
Kemp serves as Georgia's Secretary of State and is charged with overseeing the state's elections. He's also running to be the next governor of Georgia, and is being accused of blocking minority voters. "Brian Kemp has a really long history of suppressing the vote in Georgia, and it's time that he needs to resign," Maggie Chambers said. "Especially for an election when he is top of the ticket."
Chambers is a Democrat and works for Kemp's opponent, Stacey Abrams. If elected, Abrams would be an historic choice: she would be the first black governor of Georgia, the first female governor of Georgia, and the first ever black, female governor to be elected in the United States.
Abrams, a Yale Law School graduate, is one of three African-American gubernatorial candidates running to make history in their states. Democrat Andrew Gillum, the mayor of Tallahassee, is fighting to become the first black governor of Florida. And Ben Jealous, the former president and CEO of the NAACP, is running to become the first black governor of Maryland.
"We have a chance to make history," Abrams said to a cheering crowd when she won the Democratic nomination for governor in April. "To make sure no one is unseen, or unheard."
Abrams formerly served in the Georgia legislature as a Democratic leader, and is running a campaign on issues such as expanding Medicaid and providing affordable education and earned income tax credits for low-income families. Kemp, however, calls Abrams "too extreme for Georgia" and is campaigning to cut state spending and crack down on crime and illegal immigration.
​"This is a fight for the soul of our state, a battle for our future," has become Kemp's campaign signature line. Kemp, a University of Georgia graduate, is a former small businessman who was involved in agriculture, financial services and real estate management.
Following an Associated Press report that revealed 53,000 Georgia voter registrations – most of them belonging to black voters – had been suspended under a controversial verification program, a coalition of civil rights groups sued Kemp in his official capacity as Secretary of State. Abram's campaign called for Kemp to resign his position and do away with the "exact match" program, which voting rights advocates say places an unnecessary burden on primarily minority voters.
"The Secretary of State's office must do away with the discriminatory 'exact match' program and process all voter registrations immediately," according to a statement from the Abrams campaign. "In addition, Brian Kemp needs to resign his position, so that Georgia voters can have confidence that their Secretary of State competently and impartially oversee this election."
Under the "exact match" program, residents wishing to vote must present identification that exactly matches that of their registration. The smallest mistake – a typo or a missing hyphen, for instance — means their registration is held up.
They can, however, still vote. As a "pending voter" at the polls, they would have to provide a photo identification that "substantially" reflects the name on the voter registration form, according to the American Civil Liberties Union of Georgia.
"My opponent manufactured a 'crisis' to fire up her supporters and fundraise from left wing radicals throughout the country," Kemp tweeted. "Her dark money voter registration group submitted sloppy forms. Now, they are faking outrage for political gain."
Abrams is credited with registering tens of thousands of new minority voters through her non-profit, the New Georgia Project. She has previously declined to identify the donors funding her initiative, according to local media.
JOIN US ON RUMBLE LIVE NOW!