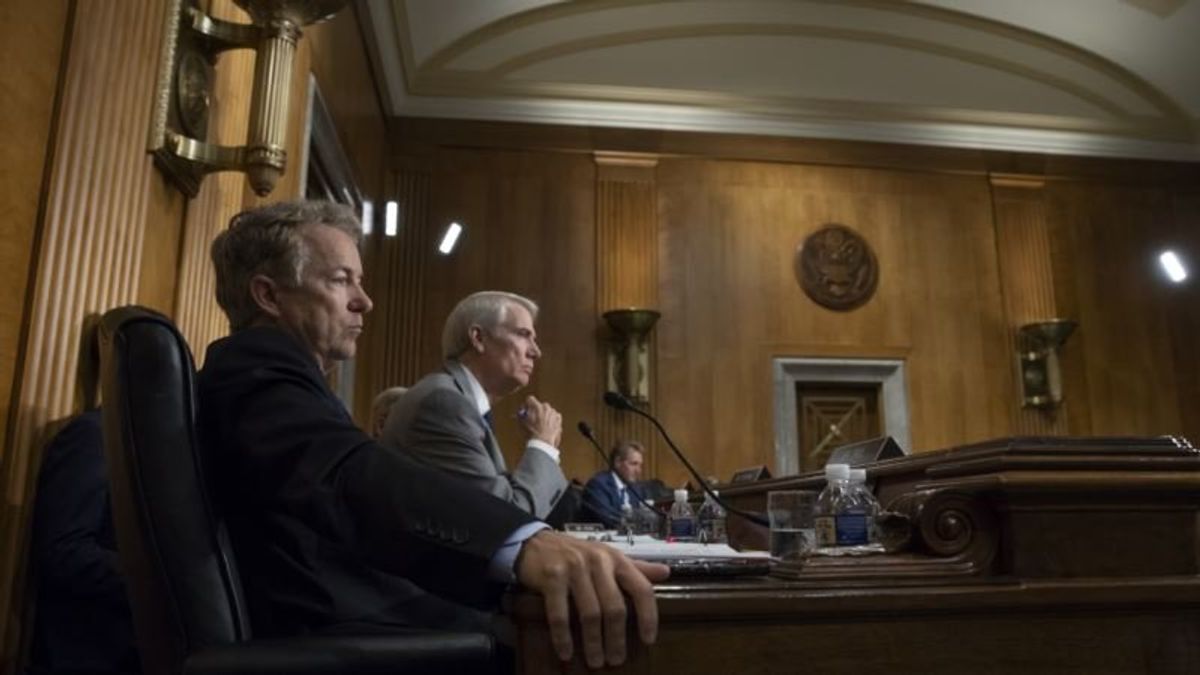 US Lawmakers Seek to Impose More Sanctions on 'Menace' Russia
US Lawmakers Seek to Impose More Sanctions on 'Menace' Russia
U.S. lawmakers pushed for more aggressive steps to counteract the Russian "menace" on Tuesday, despite Trump administration officials insisting current sanctions were having an effect and vowing to impose more economic pain if Moscow does not change its behavior.
President Donald Trump has repeatedly said he would like better ties with Moscow, but although he met Russian President Vladimir Putin last month, relations between the two countries have been further strained.
Members of Congress, where both chambers are controlled by Trump's fellow Republicans, have called for more action, including introducing new sanctions legislation "from hell," to punish Russia for its annexation of Crimea, involvement in Syria's civil war and cyberattacks seeking to influence U.S. elections.
They held three hearings related to Russia on Tuesday, in the Banking and Foreign Relations committees and a Judiciary counterterrorism subcommittee. Lawmakers chastised administration officials for doing too little to change Russian behavior.
Both Republicans and Democrats have criticized Trump, particularly after his Helsinki summit with Putin last month, for failing to stand up to Moscow and not fully enacting a sweeping sanctions law passed nearly unanimously a year ago.
"It's not often that Congress acts together in such a strong manner," said Republican Senator Mike Crapo, chairman of the Banking Committee, which oversees sanctions policy. "… But then, Russia is a menace on so many different levels, today, that Congress can be compelled to act with a single voice."
Senator Bob Menendez noted that the administration has not designated any new oligarchs for sanctions since April and has eased some sanctions.
"We're told to judge the administration by its actions and not the president's words, but these actions seem to be more aligned with the president's accommodating and disturbing rhetoric than a tougher approach to the Kremlin," Menendez said at the banking hearing.
Menendez vowed that Congress will act, with or without the administration.
Senate Majority Leader Mitch McConnell told reporters later Tuesday there was strong interest in legislation to punish Moscow, although he said chances were "probably pretty slim" such a measure would come up for a vote before the Nov. 6 congressional elections.
New cyberattacks
Microsoft said late Monday that hackers linked to the Kremlin sought to launch cyberattacks on the Senate and conservative American think tanks, warning of broader attacks ahead of the November vote.
The Kremlin rejected the Microsoft allegations.
Moscow has repeatedly denied attempting to influence U.S. elections, including the 2016 presidential vote that brought Trump into office.
U.S. intelligence agencies have concluded that Russia interfered in 2016, seeking to tilt the vote in Trump's favor, and, backed by lawmakers, warned that more would come in upcoming elections.
"America is under cyberattack. We're beginning to act, but not quick enough and not forcefully enough," Republican Senator Lindsey Graham said at the Judiciary subcommittee hearing.
'Economic pain'
Administration officials insisted existing sanctions were hitting Russia.
"Though Russia's malign activities continue, we believe its adventurism undoubtedly has been checked by the knowledge that we can bring much more economic pain to bear using our powerful range of authorities — and that we will not hesitate to do so if its conduct does not demonstrably and significantly change," senior Treasury official Sigal Mandelker told the banking panel.
The Treasury Department imposed new sanctions on two Russians, one Russian company and one Slovakian firm over actions it said helped another Russian company avoid penalties over cyber-related activities.
The United States also announced sanctions on Russian shipping over violations of U.N. restrictions on North Korea.
Assistant Secretary of State Wess Mitchell told Foreign Relations that concern about sanctions has cost Russia $8 to $10 billion in arms deals. Mitchell also said foreign direct investment in Russia has fallen by 80 percent since 2013, "which is a pretty stunning number."
"I think this administration has been clear that we are prepared to take additional steps," Mitchell said. "There is an escalatory ladder to sanctions. We are aware of what additional steps would be needed to make an even bigger point."
In an interview with Reuters on Monday, Trump said he would only consider lifting sanctions against Russia if it were to do something positive for the United States, for instance in Syria or in Ukraine.