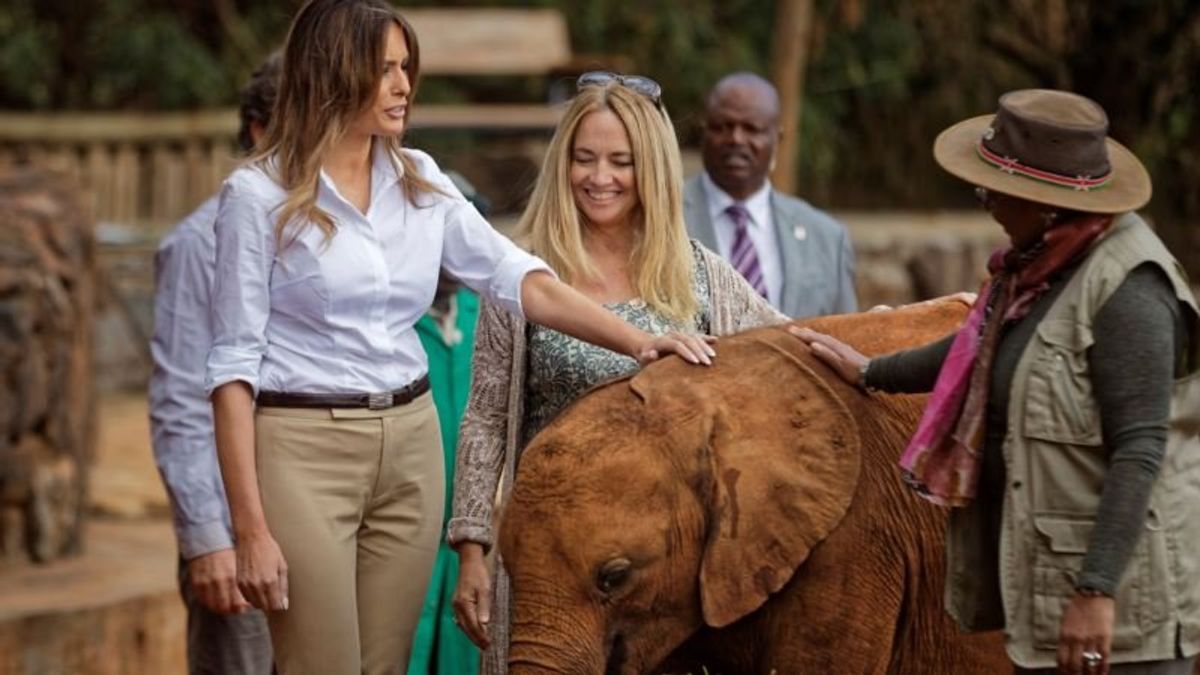 US First Lady in Kenya Highlights Conservation, Visits Orphanage 
US First Lady in Kenya Highlights Conservation, Visits Orphanage
Melania Trump continued her tour of Africa in Kenya Friday, highlighting animal conservation efforts.
The U.S. first lady visited Nairobi National Park to learn about steps the east African nation is taking to conserve elephants and rhinos and participated in a baby elephant feeding. She also went on a quick safari.
On the 90 minute safari, there were views of antelopes, impalas, rhinos, hippos, buffalo, and several zebra herds. At several points, Mrs. Trump pulled out a pair of green binoculars or her iPhone to take photos and video.
The first lady was escorted on the trip by the senior warden of the park, Nelly Palmeris, and a secret service agent. She smiled widely at the sight of a giraffe. She also spotted two of the so-called "Big Five" safari animals: rhino and buffalo.
Mrs. Trump also stopped to visit an ivory burn site, where the material has been destroyed to discourage the ivory trade. She bent down and scooped up some of the burned ivory, rubbing it lightly in her hands and spent several minutes asking the warden questions.
Mrs. Trump plans to visit with children at an orphanage and take in a children's performance later Friday at Nairobi National Theater.
WATCH: Melania Trump Brings "Be Best" to Lilongwe, Malawi
Embed share
Melania Trump Brings "Be Best" to Lilongwe, Malawi
Embed share The code has been copied to your clipboard. width px height px
Share on Facebook
Share on Twitter
The URL has been copied to your clipboard
No media source currently available
0:00 0:02:04 0:00 Direct link
270p | 6.0MB
360p | 10.5MB
720p | 59.4MB
1080p | 51.7MB
Trump's first-ever visit to Africa and her first extended solo international trip as first lady has included visits to Ghana and Malawi.
Egypt will be her final stop on the four-nation tour to highlight child welfare, education and tourism and conservation.
Mrs. Trump's visit includes promoting the work of the U.S. Agency for International Development (USAID), the funding of which President Donald Trump has twice proposed slashing by nearly a third. However, lawmakers have not approved those requests.
JOIN US ON RUMBLE LIVE NOW!