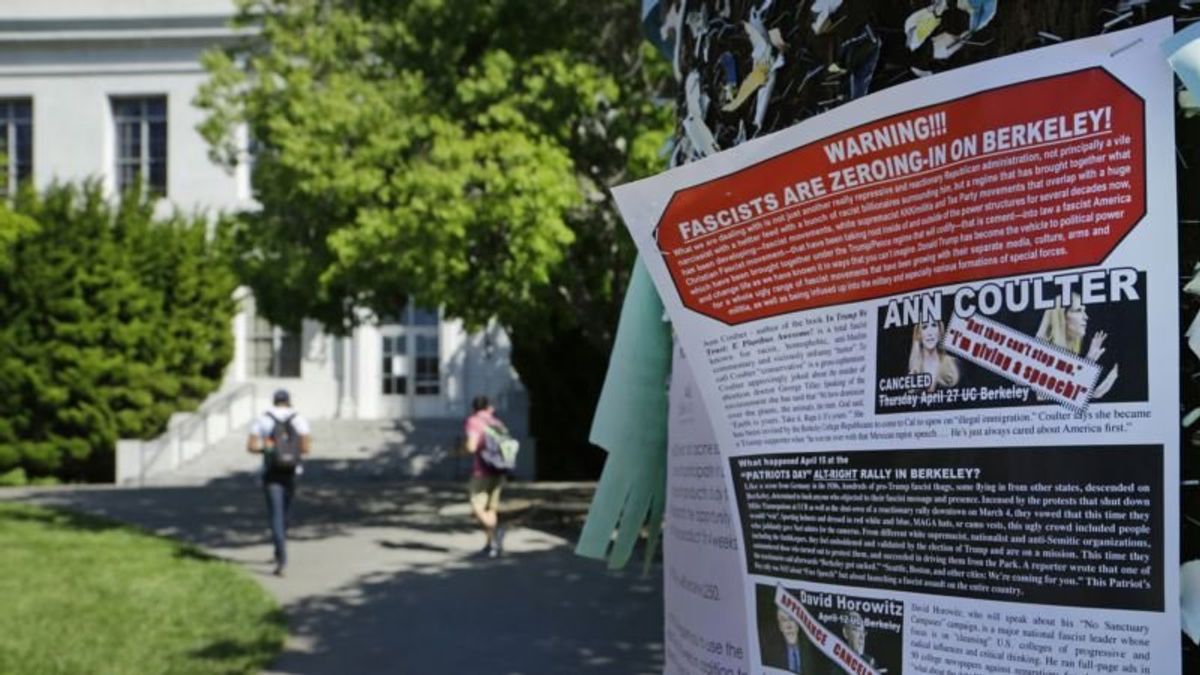 UC Berkeley Settles Lawsuit over Treatment of Conservative Speakers
December 4, 2018, 2:37 AM
UC Berkeley Settles Lawsuit over Treatment of Conservative Speakers
The University of California at Berkeley on Monday settled a free speech lawsuit accusing the school of discriminating against speakers with conservative views.
Under the settlement filed with the federal court in San Francisco, the university will modify its procedures for handling "major events," which typically draw hundreds of people, and agreed not to charge "security" fees for a variety of activities, including lectures and speeches.
It will also pay $70,000 to cover legal costs of the Berkeley College Republicans and the Tennessee-based Young America's Foundation, which filed the lawsuit in April 2017.
The settlement followed an April 27 decision by U.S. District Judge Maxine Chesney letting the plaintiffs challenge what they called the university's "secret" or unfairly restrictive policies toward conservative speakers.
She also let the plaintiffs pursue an equal protection claim over a security fee charged to host conservative commentator Ben Shapiro that was well above a fee for Supreme Court Justice Sonia Sotomayor, part of the court's liberal wing.
In a statement, the university said its new fee schedule is consistent with its treatment of other student groups, and called changes to its major events policy "non-substantive."
"It has been that very policy that has enabled the campus to work effectively with the Berkeley College Republicans as they hosted numerous events featuring prominent conservative speakers without incident or interruption," spokesman Dan Mogulof said.
Harmeet Dhillon, a lawyer for the plaintiffs, said the settlement addressed university policies that were "flatly unconstitutional" under the First Amendment.
"It is no longer able to tax speech on campus when it finds the speech to be disfavored or unpopular," she said in an interview. "The university has taken a very important liberty-enhancing step to cover these fees."
Dhillon added: "We wanted a settlement that doesn't benefit just conservative students, but all students."
The U.S. Department of Justice in January filed a "statement of interest" in the case, accusing the university of applying a "double standard" by imposing tougher rules on the Berkeley College Republicans.
Justice Department official Jesse Panuccio applauded the settlement in a statement on Monday, calling it a "win for protecting free speech on public college campuses."
The case is Young America's Foundation et al v Napolitano et al, U.S. District Court, Northern District of California, No. 17-02255.