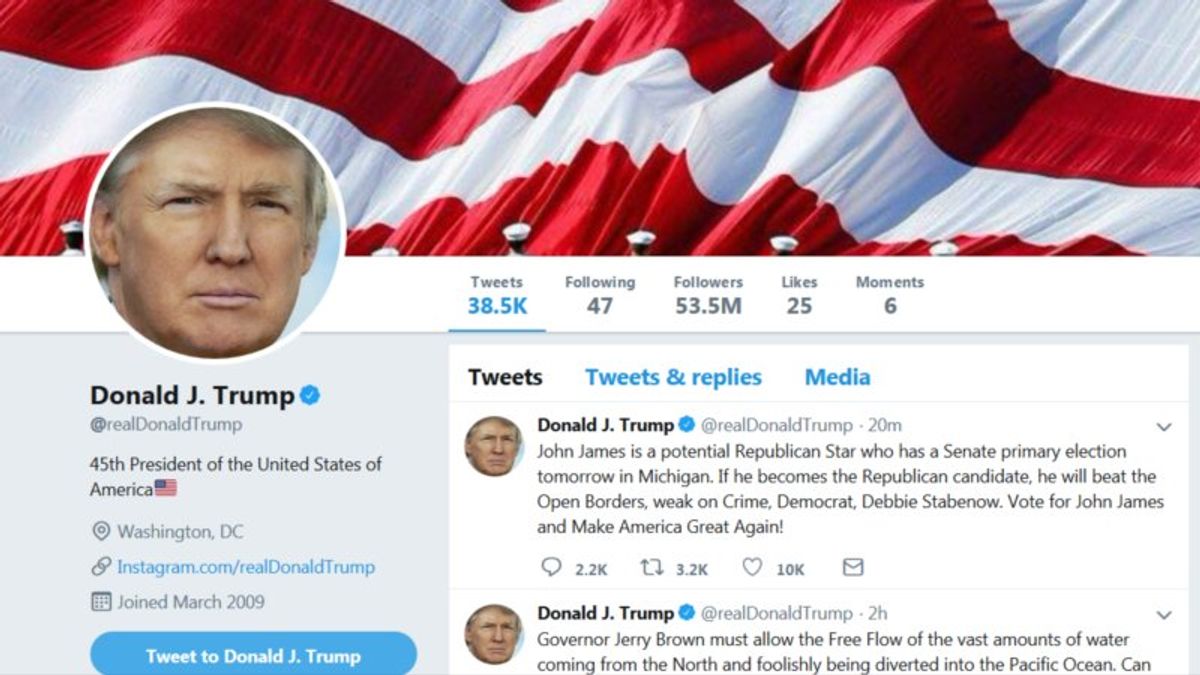 Trump's Twitter Attacks Threaten to Overshadow Economic Message
Trump's Twitter Attacks Threaten to Overshadow Economic Message
Buoyed by a strong economy, President Donald Trump has vowed to campaign extensively on behalf of Republican congressional candidates in advance of the November midterm elections.
But if recent days are any indication, it seems the president is also intent to blast away on Twitter on any number of other issues, potentially a major distraction from an economic message that most Republicans believe will help them the most in limiting Democratic gains in November.
Trump was in Ohio Saturday on behalf of Republican House candidate Troy Balderson, who is in a tough race with Democrat Danny O'Connor. Republicans have held this seat in the suburbs of Columbus for more than three decades, but a strong Democratic showing there on Tuesday in a special election would be evidence of a possible Democratic wave building for November.
Touting the economy
On the campaign trail in Florida recently, Trump was quick to boast about the strong economy and his standing among Republicans.
"We are doing well. We are doing well. And I'm happy you are doing well," Trump told a crowd in Tampa. "They just came out with a poll. Did you hear? The most popular person in the history of the Republican Party is Trump. Can you believe that?"
Polls show Trump continues to enjoy high levels of support from fellow Republicans. That is at least in part due to a surging economy, including the recent boost in quarterly economic growth to above four percent, more good news before the midterms in November.
"So if the president and other members of the Republican Party have been able to nudge growth, albeit temporarily, above the long term two percent trend level that in my mind is a success," said economist Mark Hamrick of Bankrate.com via Skype.
Attack by tweet
But as much as the president likes to highlight the economic numbers, he has also been busy on Twitter, blasting the Russia probe, threatening a government shutdown over his border wall and slamming what he calls the fake news media.
"They can make anything bad because they are the fake, fake, disgusting news," Trump said as he pointed at news cameras and journalists at a recent campaign rally in Pennsylvania.
Trump's Twitter blasts have been major distractions in the past and could prove to be so again, according to George Washington University political expert Michael Cornfield.
"The biggest pattern, of course, is that whatever Trump talks about dominates. He is the lord and master of political Twitter, if you will."
Jousting over Russia probe
In addition to being a distraction, the Twitter tirades can open up new lines of counterattack from Democrats. A Trump tweet last week urging Attorney General Jeff Sessions to "stop this Rigged Witch Hunt" drew sharp reactions from Democrats concerned the president was trying to force an end to the Russia probe.
"I hope my Republican colleagues have the strength to resist the president's interference because the American people want us to govern, not just to fight and yell with each other all day long," said Senate Democratic leader Chuck Schumer.
Trump center stage
If history is any guide, the strong economy should help Republicans in November, even as opposition Democrats are favored to make gains.
But some analysts believe the economy will be overshadowed by how voters see Trump's overall record and his controversial style of governing, highlighted by the constant stoking of his political base.
"He's the issue, there is no doubt about it," said Brookings Institution scholar Elaine Kamarck. "Everybody who is out there is telling me that absolutely he is the issue on both sides."
Trump reportedly remains frustrated the surging economy has not done much to boost his overall poll numbers. Monday's Gallup weekly poll has his approval at 41 percent, with 54 percent disapproving of his job performance.
WATCH: Trump on social media
Embed share
Trump's Twitter Attacks May Overshadow Economic Message
Embed share The code has been copied to your clipboard. width px height px
The URL has been copied to your clipboard
No media source currently available
0:00 0:02:45 0:00 Direct link
270p | 7.7MB
360p | 11.9MB
720p | 70.8MB
1080p | 59.6MB
​Trump hit a high of 45 percent approval in a Gallup poll in mid-June.
"For Trump, he's got a great economy, and yet the satisfaction level is not as high as we would predict it would be," said Gallup pollster Frank Newport. "It certainly has not translated into the kind of approval or satisfaction, right-track, wrong-track measures he would want."
The president has vowed to campaign extensively in the midterms and even appears to welcome the idea that he will be the central issue in the campaign. Many Republicans hope he will focus more on the surging economy and less on picking political fights as the midterm campaign heats up during the next several weeks.