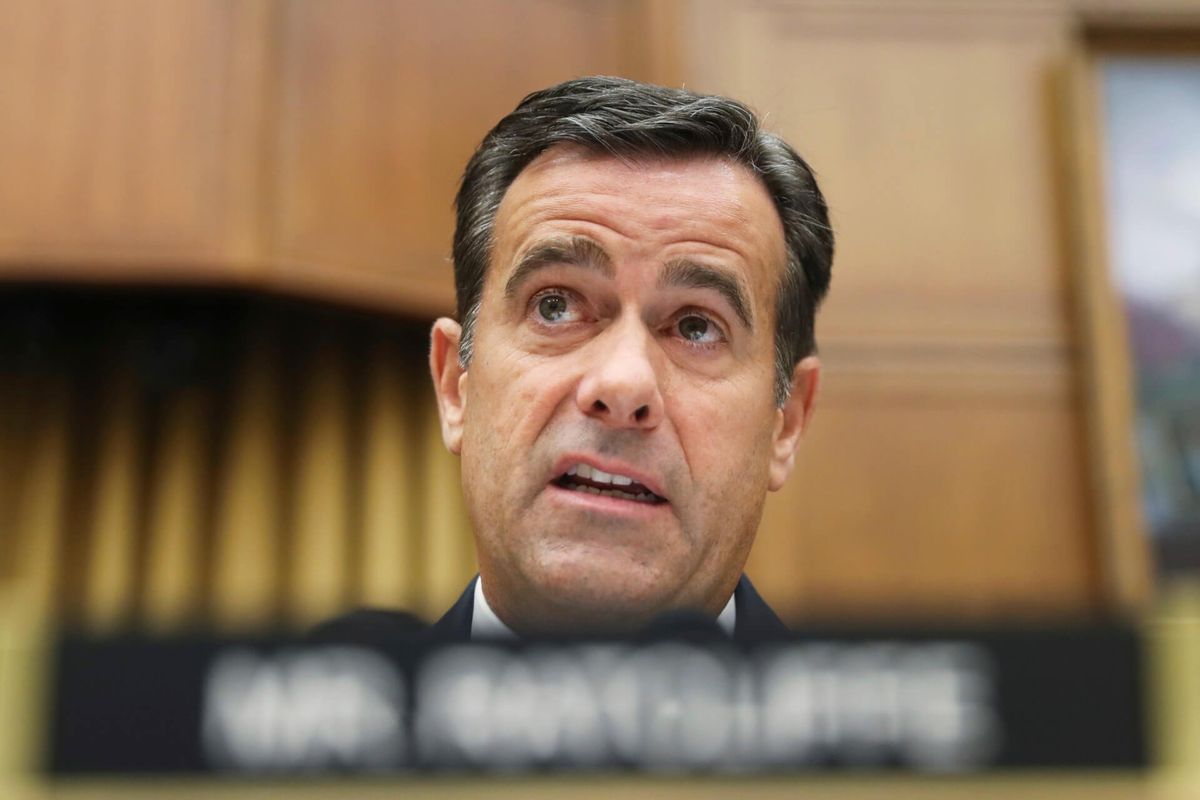 Trump's Pick for National Intelligence Director Withdraws
Updated at 8:00 p.m. Aug. 2.
U.S. President Donald Trump's pick for director of national intelligence withdrew his nomination following growing questions about his credentials and experience.
Representative John Ratcliffe "decided to stay in Congress where he has done such an outstanding job representing the people of Texas, and our Country," Trump wrote Friday on Twitter.
The president blamed recent media scrutiny for the decision, telling reporters Friday on the White House South Lawn that Ratcliffe had been treated unfairly by the press. He said the confirmation process for his nominee would have been a "long, hard slog."
The move came five days after Trump surprised many in Washington by selecting Ratcliffe, a Trump loyalist and the most junior member of the House Intelligence Committee.
Ratcliffe was facing growing scrutiny for exaggerating parts of his resume and for his lack of experience in the field of intelligence. Since Trump selected Ratcliffe, media outlets reported that Ratcliffe might have exaggerated his achievements as a federal prosecutor in Texas.
Trump said he would announce a new nominee "shortly" to succeed Dan Coats, who resigned last week. He said he would be reviewing three candidates this weekend.
The president told reporters that he would consider naming Sue Gordon, the No. 2 intelligence official, as acting director of national intelligence. However, some Republican allies expressed concern about Gordon, with the president's son, Donald Trump Jr., tweeting that if top Democrats supported Gordon, "the rumors about her being besties with [former CIA Director John] Brennan and the rest of the clown cadre must be 100% true."
Senate Democratic leader Chuck Schumer said Friday that Ratcliffe "never should have been considered in the first place."
"This is part of a pattern from President Trump: nomination on a whim without consultation or vetting, and then forced withdrawal when mess ensues," he added.
Ratcliffe explained his withdrawal on Twitter:
However, I do not wish for a national security and intelligence debate surrounding my confirmation, however untrue, to become a purely political and partisan issue. The country we all love deserves that it be treated as an American issue.

— John Ratcliffe (@RepRatcliffe) August 2, 2019
Ratcliffe was first elected to the House of Representatives in 2014 and sits on the House Judiciary Committee as well as the intelligence panel.
Coats, the outgoing director, resigned Sunday, effective Aug. 15. In his two years on the job, Coats had publicly broken with the president several times, including on issues involving North Korea, Iran and Syria.
The director of national intelligence oversees his own office and the other 16 agencies that make up the U.S. intelligence community. The post was created after the Sept. 11, 2001, terrorist attacks on the United States.