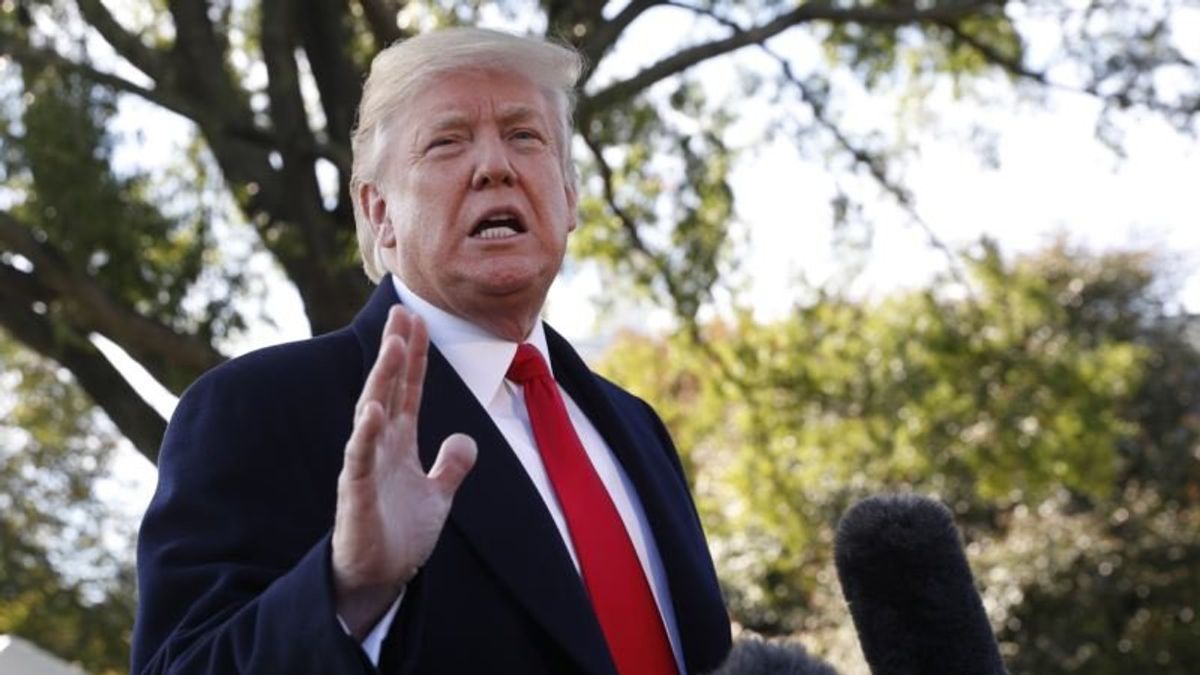 Trump Vows Crackdown on Asylum-Seekers 'Sometime Next Week'
Trump Vows Crackdown on Asylum-Seekers 'Sometime Next Week'
WHITE HOUSE —
U.S. President Donald Trump again stoked fears Thursday about undocumented immigrants and promised an executive order "sometime next week" that would severely restrict asylum-seekers who approach the southern U.S. border.
At a political rally Thursday night in Columbia, Missouri, the president stated his intention, several times, to change an amendment to the U.S. Constitution that guarantees U.S. citizenship to anyone born in the United States. The president said at the rally that he is against "birth tourism," where pregnant foreign women purportedly travel to the United States to give birth so that the babies can automatically be U.S. citizens.
Trump said he can make changes to the 14th Amendment with an executive order, but legal analysts vehemently disagree, saying it will take a lot more than an executive order to change the U.S. Constitution.
Also at the rally, the president reiterated his opposition to so-called "chain migration," in which new citizens bring their extended families into the United States.
WATCH: Trump: Migrant Caravan Should Turn Back
Embed share
Trump: Migrant Caravan Should Turn Back
Embed share The code has been copied to your clipboard. width px height px
Share on Facebook
Share on Twitter
The URL has been copied to your clipboard
No media source currently available
0:00 0:02:18 0:00 Direct link
270p | 6.6MB
360p | 10.3MB
720p | 63.1MB
810p | 40.3MB
Earlier at the White House, Trump said migrants attempting to seek asylum must make their requests at legal points of entry, and added he wants to increase the detention of asylum-seekers.
Immigration and midterms
It is the president's latest attempt to make immigration the central issue for Republicans ahead of Tuesday's midterm elections, when voters will determine which party will hold power in Congress and in statehouses across the country.
Earlier this week, Trump said he would send more than 5,000 additional active duty troops to the U.S. border with Mexico to block a caravan of several thousand migrants and said he might send thousands more troops. The migrants are still more than 1,000 kilometers (about 600 miles) from the United States, a distance that will likely take several weeks for them to walk.
The president said there would be a crackdown if migrants were to throw rocks at U.S. soldiers, saying the troops would "fight back," considering the rocks the same as a "rifle."
"We will consider that a firearm," Trump said, arguing there's "not much difference when you get hit in the face with a rock." He made the threat referring to a recent violent confrontation between migrants and the Mexican police at the Guatemala-Mexico border.
Speaking to VOA, former Department of Homeland Secretary Tom Ridge decried Trump's use of the U.S. military.
"They're not trained to deal potentially with a group of unarmed immigrants," Ridge said. "You put them and all law enforcement in a very difficult emotional, let alone security posture."
Former Chairman of the Joint Chiefs of Staff, ret. Gen. Martin Dempsey criticized Trump's assertion that troops should shoot if migrants throw rocks. He posted a message on Twitter:
​Homeland report
Trump has frequently referred to the migrants, many of them women and children, as a threat to the United States. The U.S. Department of Homeland Security issued a "Myth vs. Fact," question-and-answer report about the migrant caravan Thursday.
Among other things, the DHS said "over 270 individuals along the caravan route have criminal histories … examples include aggravated assault with a deadly weapon, armed robbery, sexual assault on a child and assault on a female." It said it also continues to see individuals from more than 20 countries, including from countries such as Somalia, India, Haiti, Afghanistan and Bangladesh.
The report says, "We know, for a fact, that some members of the caravan threatened [Mexican] Migration Institute personnel and we have images showing many of them preparing Molotov cocktails."
The DHS provided no evidence and did not cite U.S. intelligence as a basis for any of its claims, stating instead the information came from Mexican government officials and Mexican media.
Former DHS Secretary Ridge told VOA, "There are bigger threats" to the U.S. than the migrants.
"Opioids are a bigger threat. The terrorists that send pipe bombs to political figures and journalists is a serious threat. The gunman who assassinates people on the Sabbath," he said, speaking to several U.S. news outlets last week.