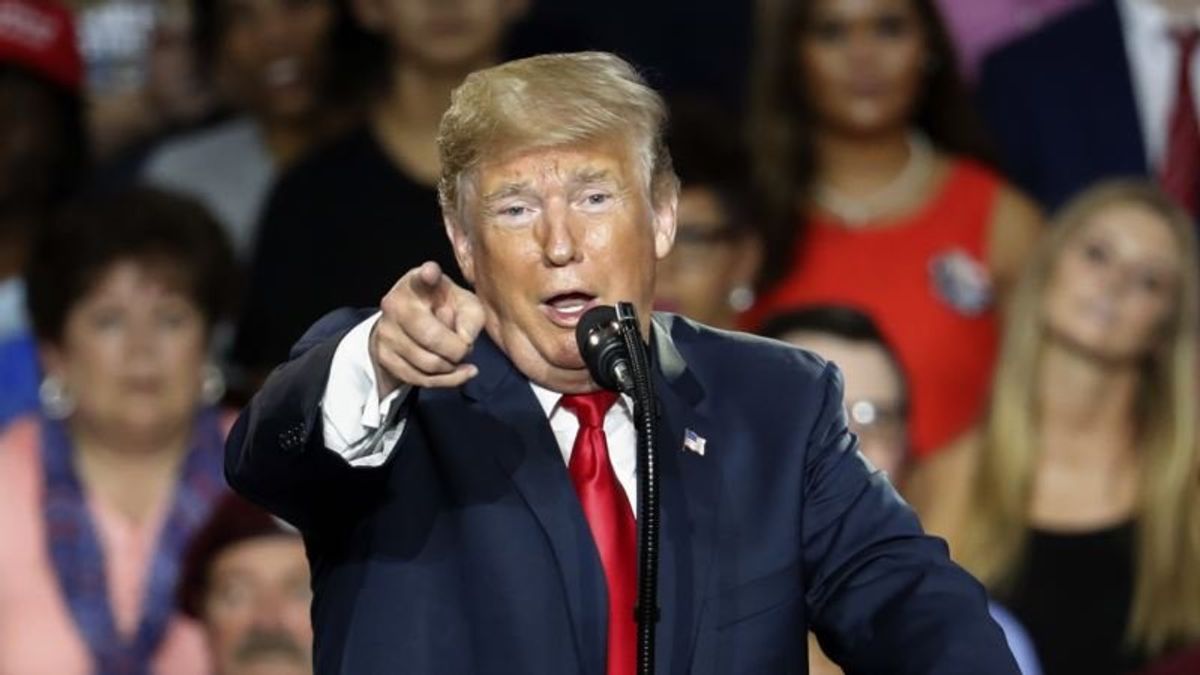 Trump: US Media 'Very Dangerous & Sick'
Trump: US Media 'Very Dangerous & Sick'
U.S. President Donald Trump, in the midst of a working vacation, unleashed a new barrage of attacks on the national news media Sunday, saying it was "very dangerous & sick!"
"The Fake News hates me saying that they are the Enemy of the People only because they know it's TRUE," Trump tweeted from his Bedminster golf resort in New Jersey. "I am providing a great service by explaining this to the American People. They purposely cause great division & distrust. They can also cause War!"
Trump called news accounts "a complete fabrication" that he was concerned about the legal liability his eldest son, Donald Trump Jr., could face for arranging a June 2016 meeting with a Russian lawyer said to have dirt on Trump's opponent, Democrat Hillary Clinton.
"This was a meeting to get information on an opponent, totally legal and done all the time in politics – and it went nowhere," Trump said on Twitter. "I did not know about it!"
The president has denied knowledge of the meeting at his Trump Tower campaign headquarters in New York in the face of news accounts saying his former personal attorney, Michael Cohen, is prepared to tell special counsel Robert Mueller that he heard Trump's son tell his father in advance about the meeting.
"Too bad a large portion of the Media refuses to report the lies and corruption having to do with the Rigged Witch Hunt – but that is why we call them FAKE NEWS!" Trump said.
Mueller is in the midst of a 15-month investigation of Russian meddling in the 2016 U.S. presidential election, Trump campaign ties to Russia and whether Trump, as president, obstructed justice by trying to thwart the investigation. Trump has repeatedly denied collusion with Russia or any other wrongdoing.
Trump railed again Sunday about Mueller's probe, calling it "the most one sided Witch Hunt in the history of our country. Fortunately, the facts are all coming out, and fast!"
Trump's latest offensive against stories he does not like about his 18-month presidency came hours after he rallied supporters in the midwestern state of Ohio. He campaigned for a Republican candidate facing a tough race Tuesday for a seat in the House of Representatives, the last special election before the nationwide November 6 voting, when the entire 435-member House is being contested and a third of the 100-member Senate.
Republicans have held the seat in a suburban enclave just outside the Ohio capital of Columbus for three decades, but fear losing it could presage loss of their majority House bloc in the November voting.
"They're talking about this blue wave," Trump said referring to way Democrats are depicted on electoral maps. Shaking his head, he added, "I don't think so. I don't think so."
Trump described the Republican candidate, state legislator Troy Balderson, as "really smart" and a "really hard worker," while disparaging his Democratic opponent, local official Danny O'Connor, as a would-be pawn of national Democratic officials and "a low-level person that did nothing."
On Sunday, Trump also defended tariffs he has imposed on imports into the U.S.
"Tariffs are working big time," he tweeted. "Every country on earth wants to take wealth out of the U.S., always to our detriment. I say, as they come,Tax them. If they don't want to be taxed, let them make or build the product in the U.S. In either event, it means jobs and great wealth."
He claimed that "because of Tariffs we will be able to start paying down large amounts of the $21 Trillion in debt that has been accumulated, much by the Obama Administration, while at the same time reducing taxes for our people. At minimum, we will make much better Trade Deals for our country."
​