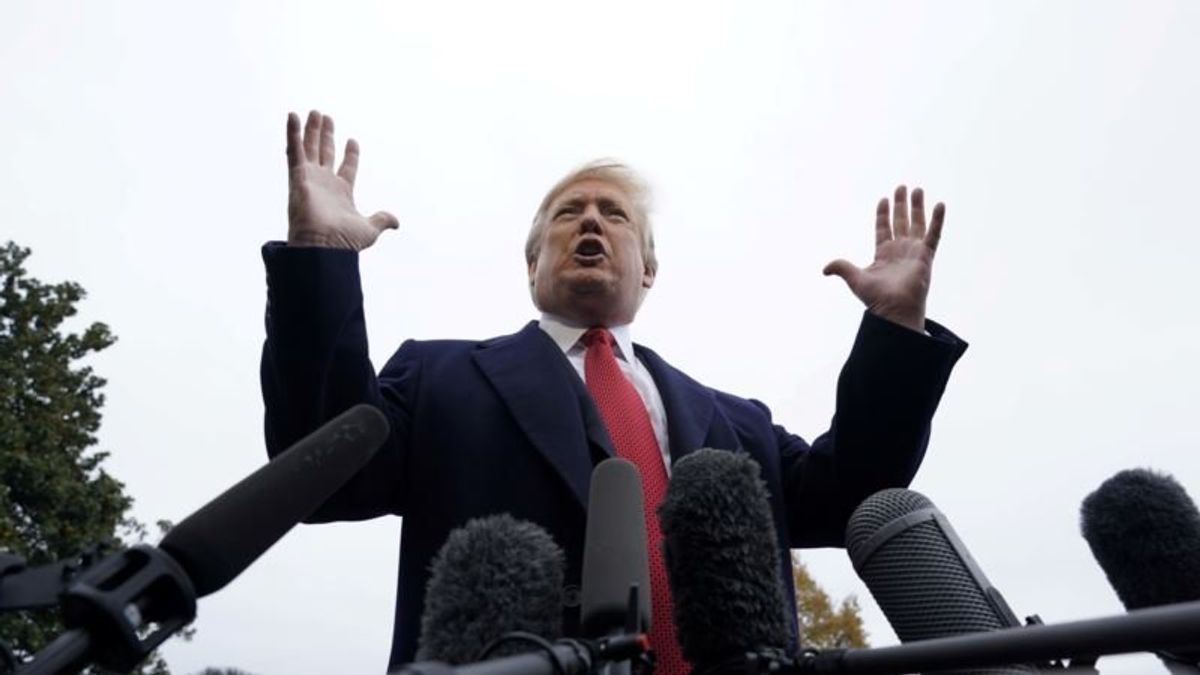 Trump: US Interests Outweigh Harshly Punishing Saudis for Killing Journalist
November 20, 2018, 7:35 PM
Trump: US Interests Outweigh Harshly Punishing Saudis for Killing Journalist
WHITE HOUSE —
Abandoning Saudi Arabia, despite its responsibility for killing a U.S.-based journalist, "would be a terrible mistake," President Donald Trump told reporters Tuesday.
Any human rights concerns are outweighed by U.S. national security and economic interests, the president said.
"We're staying with Saudi Arabia," Trump announced, noting the kingdom's mutual opposition to Iran and Riyadh's purchases of American military equipment that mean, according to the president, "hundreds of thousands of jobs and billions of dollars of investment."
Russia and China "are not going to get that gift," Trump told reporters on the White House South Lawn before departing for the Thanksgiving holiday.
"We've kept oil prices down," Trump said, claiming they would soar if the U.S.-Saudi relationship was broken up.
"I'm not going to destroy the world economy and destroy the economy for our country by being foolish with Saudi Arabia," he added.
​'Maybe he did, maybe he didn't'
Asked about a reported conclusion by the Central Intelligence Agency (CIA) that Saudi Crown Prince Mohammed bin Salman most likely knew about or ordered the plot to kill dissident journalist Jamal Khashoggi inside Riyadh's consulate in Istanbul, Trump replied: "Maybe he did, maybe he didn't" and stated, concerning the CIA's finding: "They have nothing definitive."
The president denied that his decision to avoid harshly punishing the Saudis for the Oct. 2 killing had anything to do with his personal business interests.
"I don't make deals with Saudi Arabia. I don't make money from Saudi Arabia," Trump said. "Being president has cost me a fortune."
Earlier in the day, in a statement issued by the White House, Trump said he understood that some lawmakers in Congress — who "for political or other reasons" — wanted to pursue sanctions against Riyadh for the killing. "They are free to do so," he said.
"I will consider whatever ideas are presented to me, but only if they are consistent with the absolute security and safety of America," Trump said.
Republican Sen. Lindsey Graham of South Carolina tweeted later, however, "While Saudi Arabia is a strategic ally, the behavior of the Crown Prince — in multiple ways — has shown disrespect for the relationship and made him, in my view, beyond toxic."
"I firmly believe there will be strong bipartisan support for serious sanctions against Saudi Arabia, including appropriate members of the royal family, for this barbaric act which defied all civilized norms," he added.
Republican Sen. Bob Corker of Tennessee, who serves on the Foreign Relations Committee, tweeted, "I never thought I'd see the day a White House would moonlight as a public relations firm for the Crown Prince of Saudi Arabia."
Democratic Rep. Adam Schiff of California, who in January will become the head of the House Intelligence Committee, said that while the U.S. relationship with Saudi Arabia must factor into any response, Trump's approach "undermines respect for the office of the presidency, the credibility of our intelligence community and America's standing as a champion of human rights."
Schiff added that Washington "should immediately end support to the Saudis in the war in Yemen and bring that conflict to an end, suspend arms sales to the kingdom, and diminish our reliance on Riyadh regarding other matters in the region."
Khashoggi lived in the United States, writing opinion articles for The Washington Post that were critical of the crown prince and Riyadh's involvement in the long-running Yemen conflict.
His editor at the newspaper, Karen Attiah, described Trump's statement as "full of lies and a blatant disregard for his own intelligence agencies. It also shows an unforgivable disregard for the lives of Saudis who dare criticize the regime. This is a new low."
U.S. intelligence community
Veterans of the U.S. intelligence community are also expressing their disdain with the president's stance.
Former CIA Director John Brennan, who has repeatedly clashed with Trump, after Tuesday's statement said on Twitter that Trump "excels in dishonesty," so now it is up to Congress to obtain and declassify the CIA findings on Khashoggi's death.
"No one in Saudi Arabia — most especially the Crown Prince — should escape accountability for such a heinous act," Brennan wrote.
Former CIA officer Ned Price said in the wake of the president's statement, which puts the agency's reported high confidence assessment on par with Saudi denials, "how appointed intelligence leaders could continue to serve after this betrayal is beyond me."
A Saudi prosecutor cleared the crown prince of wrongdoing last week while calling for the death penalty for five men, among the 11 indicted in the case. The prosecutor said a total of 21 people had been detained in connection with the killing.
Turkish officials concluded that Khashoggi was tortured and killed, with his body then dismembered.
Turkey Foreign Minister Mevlut Cavusoglu said Tuesday that Ankara might formally seek a U.N. investigation of the killing if cooperation with Riyadh reached an impasse.
VOA's Chris Hannas and Katherine Gypson contributed to this report.