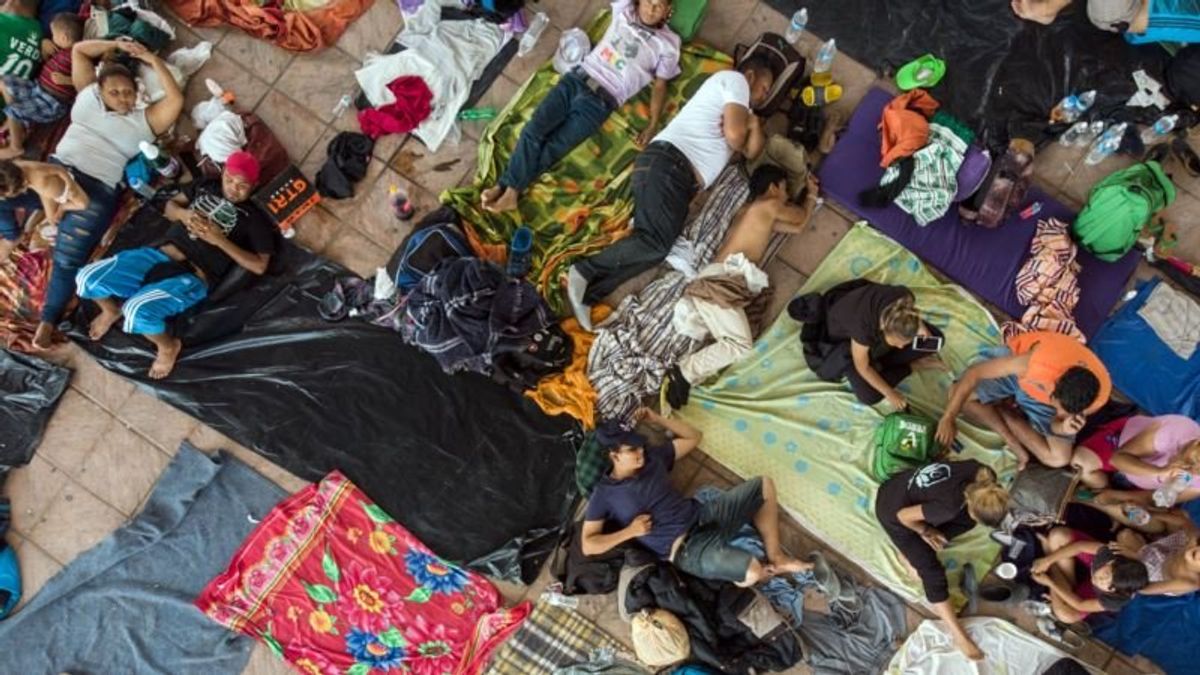 Trump to Migrant Caravan: 'Turn Around'
Trump to Migrant Caravan: 'Turn Around'
As a ragtag caravan of Central American migrants makes its way to Mexico's northern border, U.S. President Donald Trump has labeled their hopes of entering the United States a "national emergency."
More than 2,000 members of the National Guard have been deployed to the area. On Thursday, however, Donald Trump warned that he would deploy military troops to the border to prevent the caravan from entering the United States.
A U.S. official confirmed to VOA the Pentagon has received a request from the Department of Homeland Security for troops to assist border patrol agents. The official, speaking on condition of anonymity, said no troop numbers were included in the request because the number provided is determined by the Pentagon, based on how many people are needed to provide the desired capabilities.
Trump has blasted Honduras, El Salvador and Guatemala for not stopping their citizens from departing for the United States. He said Monday he would begin cutting off or reducing foreign aid to those countries and threatened last week to use military troops to close the border.
President Trump also posted a terse message to the caravan members on Twitter Thursday.
"To those in the Caravan, turnaround," he posted. "We are not letting people into the United States illegally. Go back to your country and if you want, apply for citizenship like millions of others are doing."
​Poor of Chiapas aid migrants
The migrants are making their way through Mexico's Chiapas, a state that is home to some of the country's poorest communities.
Dr. Jesus Miravete treated more than 120 people in four hours Thursday. Many of them suffering with burns on their feet from walking in plastic sandals on the steaming highway.
"I feel overwhelmed, above all by the number of dehydrated children I have seen," Miravete said.
Chiapas residents have turned out to help the migrants, offering food, water, shelter and rides.
"They are human beings. You have to do something to help them," Cesar Cabuqui, told the Associated Press, as he handed out homemade bean and cheese sandwiches and bags of water to members of the caravan.
​Dwindling numbers
Illness, police harassment and fear are taking their toll on the migrants, who now number between 4,000 and 5,000 people, a sharp decrease from the estimated 7,000 just days earlier.
Officials say nearly 1,700 migrants have dropped out and applied for asylum in Mexico. A few hundred weary migrants have accepted Mexican government offers to transport them back to their home countries.
The Mexican government has declined to give the migrants food, water or even access to bathroom facilities, leaving it to private citizens, church groups or sympathetic local officials to provide essential goods, according to Associated Press.
The Mexican government has, instead, reserved these basic items only for migrants who turn themselves in at immigration centers to apply for visas or to be deported.
Sometimes Mexico's federal police have interfered with the caravan of migrants, who are mostly from Honduras, according to Associated Press.
​For their children
Parents who have remained in the caravan say they are doing so for their children's futures, and out of fear of the potential dangers that would await them upon return to gang-dominated Honduras.
Honduras' homicide rate is about 43 per 100,000 inhabitants, among the world's highest for a country not at war.
Such caravans have been routine over the years without much attention, but President Trump has used the caravan to rally his Republican base before the Nov. 6 midterm elections.
Trump fueled the controversy in a series of tweets Monday, saying without evidence that "criminals and unknown Middle Easterners" were among the caravan of Central American migrants bound for the United States.
Many in the caravan may not qualify for asylum even if they reach the border, as the United States does not consider escaping poverty and certain types of violence as qualifying factors.
​International asylum law
International law requires that individuals fleeing violence and persecution must be allowed access to the country where they are seeking asylum and the right to apply for it.
Staff from the United Nations High Commissioner for Refugees arrived earlier this week in the Mexican town of Tapachulas, which is near the Guatemalan border, to help stabilize the migrant caravan's chaotic situation and to register asylum seekers.
UNHCR spokesman Adrian Edwards told VOA that its staffers are also safeguarding migrants' rights.
"All countries have a right to be able to manage their own immigration and manage their own borders," Edwards said. "What is important for us is that those borders are managed in an asylum-sensitive way, which means giving people access, assessing their claims and then dealing with them accordingly in line with international law."
Candy Guillermo, a 37-year-old single mother of four, says she is baffled that Trump would find her and other people in the caravan a threat to the United States.
"It surprises me because there are children here." Guillermo said. "We only want to give our kids a better future."
VOA's Fern Robinson contributed to this report.
JOIN US ON RUMBLE LIVE NOW!