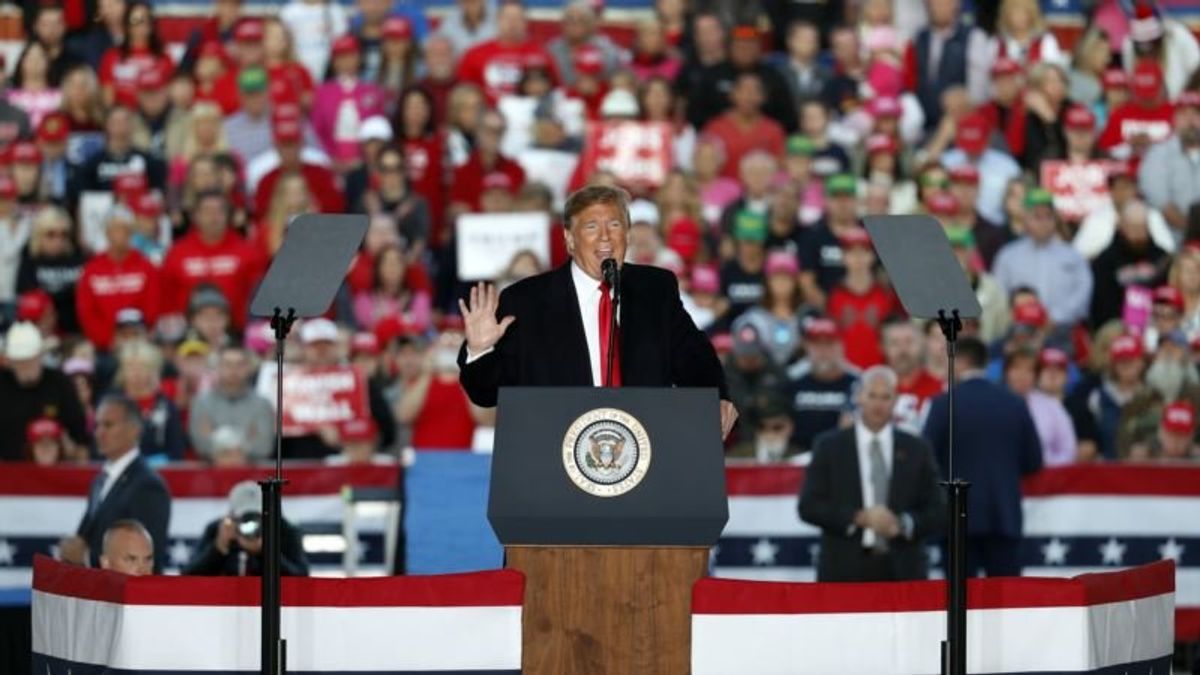 Trump Stages 11 Rallies Heading Into Midterms
Trump Stages 11 Rallies Heading Into Midterms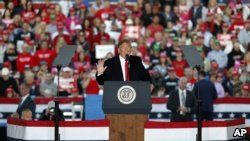 U.S. President Donald Trump is embarking on an eight-state campaign swing over the next six days, staging 11 political rallies in a last-minute effort to boost Republican chances in next Tuesday's national congressional elections.
The first stop for Trump is a rally in Estero, Florida, supporting the candidacies of Florida Governor Rick Scott in his Senate race against incumbent Democratic Senator Bill Nelson, and Congressman Ron DeSantis in his contest against Democrat Andrew Gillum, now the Tallahassee mayor, to succeed Scott as governor of the country's third biggest state.
Independent political analysts are describing both contests as toss-ups, although the most recent statewide pre-election surveys show both Democrats with narrow edges. With the rally Wednesday and another one Saturday in Florida, the president is hoping to swing both elections in the state where he maintains his palatial Mar-a-Lago estate along the Atlantic Ocean, often his weekend retreat in winter months.
As in Florida, several of Trump's campaign stops in the coming days are aimed at ousting incumbent Democratic senators, in an effort to increase the Republicans' narrow 51-49 majority in the Senate.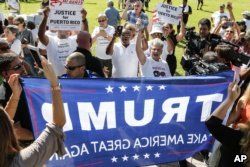 Trump is not on any ballots in Tuesday's elections, but he told a rally earlier in October, "I'm not on the ticket, but I am on the ticket because this is also a referendum about me. I want you to vote. Pretend I'm on the ballot."
As he heads to Election Day, Trump has ramped up his anti-immigration rhetoric in an effort to rally his most fervent supporters, the Republican base of voters. It was a winning issue for him in the 2016 presidential election, although he has failed to win congressional funding for the wall he wants to build along the U.S.-Mexican border to thwart further illegal immigration.
But Trump is dispatching more than 5,000 U.S. troops to the border to block what he says is a dangerous caravan of several thousand Central American migrants heading north through Mexico toward the U.S. border. At the moment, the advance group of migrants is still 1,400 kilometers (870 miles) from a U.S. entry point in McAllen, Texas, but Trump assailed Mexico on Wednesday for not blocking their march northward.
In addition, Trump said he would soon sign an executive order in an attempt to overturn a constitutional mandate that babies born in the United States, including to those of undocumented immigrants, are automatically U.S. citizens, a controversial move sure to draw a legal challenge.
Independent political analysts in the United States are predicting Republicans will retain their Senate majority, perhaps increasing it by a seat or two, while Democrats will pick up at least the 23 seats they need to take control of the House of Representatives.
A Democratic takeover of the House would end Republican control of the White House and both branches of Congress. It also would complicate Trump's next two years in the lead-up to his 2020 re-election campaign, with Democratic lawmakers already vowing to launch numerous investigations of Trump and his administration and possibly start impeachment hearings against him.
Other Trump rallies
Trump is headed back to the western state of Montana for a weekend rally for Republican challenger Matt Rosendale, who is trying to oust two-term Democratic Senator Jon Tester, who drew Trump's ire for helping to derail his one-time choice as chief of the Veterans Affairs agency, White House doctor Ronny Jackson.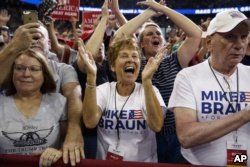 In addition to two stops in Florida, Trump is also headed twice before the election to the Midwestern state of Indiana to campaign for Republican businessman Mike Braun in his close contest against the first-term incumbent senator, Democrat Joe Donnelly.
The U.S. leader is also making a pair of campaign stops in the Midwestern state of Missouri, where polls show the Republican challenger, Josh Hawley, the state's attorney general, with a narrow edge over incumbent Democratic Senator Claire McCaskill.
In addition, Trump is visiting West Virginia, where polls show incumbent Democratic Senator Joe Manchin with a substantial lead over Republican Patrick Morrisey, the state attorney general.
Trump is also holding rallies in Ohio, Tennessee and Georgia, all three with competitive contests for governor or the Senate. All of Trump's last-week visits before the election are in states he carried in the 2016 presidential election and would be crucial to his re-election chances in 2020.
JOIN US ON RUMBLE LIVE NOW!