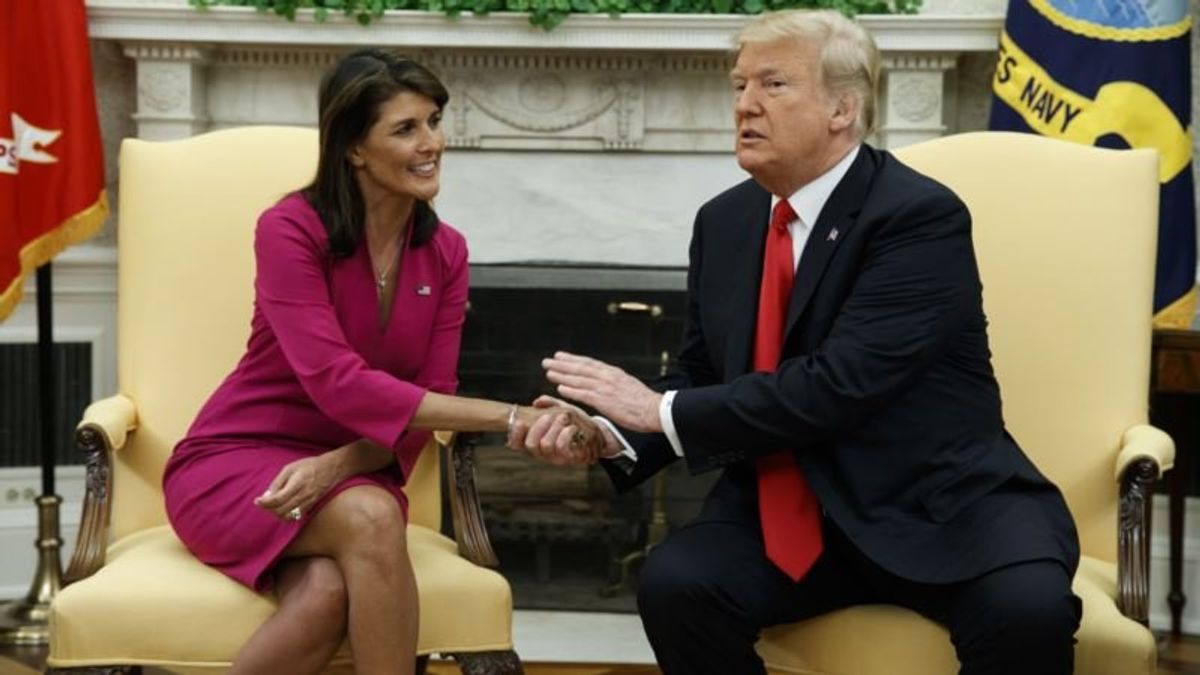 Trump Says he May Pick New UN Ambassador This Month
Trump Says he May Pick New UN Ambassador This Month
WASHINGTON —
In the latest shake-up for President Donald Trump's turbulent administration, U.N. Ambassador Nikki Haley abruptly announced she is resigning at the end of the year, raising questions about who will fill the key national security post and about the outspoken diplomat's own political ambitions.
Trump later told reporters he was considering five candidates for Haley's job, and that a successor would be named in two to three weeks — or maybe sooner.
Among those under consideration, Trump said, is former deputy national security adviser Dina Powell. The Goldman Sachs executive and former Bush administration official is a close ally of Trump's daughter Ivanka Trump and son-in-law, Jared Kushner — both senior White House aides.
The news of Haley's departure blindsided some key U.S. allies and many congressional Republicans involved in foreign policy matters. And it came less than a month before congressional elections, thwarting White House efforts to project an image of stability, with the loss of one of the highest-profile women in the administration at a time when women's votes are being vigorously pursued.
But Haley, the first female governor of South Carolina, has often been an unpredictable and independent force in the Trump administration. At times she has offered strikingly different perspectives on world events from her more isolationist-minded boss.
A smiling Haley announced her decision at an Oval Office meeting alongside the president, bringing up her own political prospects even as she underscored her continued support for Trump. Without prompting from reporters, she said she had no plans to run for president "in 2020" and would campaign for Trump.
Trump told reporters that he has heard Ivanka Trump's name discussed for the post, adding she'd be "incredible," but said if he selected her he'd be accused of nepotism.
In a tweet, the presidential senior adviser praised Haley, saying Trump will "nominate a formidable replacement for Ambassador." She added: "That replacement will not be me."
U.S. Ambassador to Germany Richard Grenell's name has also been floated for the post, but Trump suggested he'd rather keep him in his current post "because he's doing such a good job."
Haley, who is 46 and not personally wealthy, hinted in her resignation letter to Trump that she is headed to the private sector. She has one child in college and another approaching college age, and she has the potential to make much more money in the business world.
"I have given everything I've got these last eight years," she said, referring to her six years as governor as well as her time at the U.N. "And I do think it's good to rotate in other people who can put that same energy and power into it."
White House officials had sought to put a hold on Trump's record-setting turnover in the run-up to the Nov. 6 elections, with aides being asked months ago to step down or commit to stay through Election Day to avoid adding to a sense of turmoil.
The prospect of post-midterm changes continues to hang over the West Wing, and Haley's exit was one that has been discussed, according to a senior administration official not authorized to publicly discuss private conversations.
A number of officials speculated that the timing was meant to preserve the ambassador's own political future. A post in the Trump administration has proven to be a rickety stepping-stone to either lucrative private sector work or hopes for higher office, and the risk to those ambitions might only increase after the elections if Democrats make significant gains in Congress.
Trump said Haley first discussed leaving with him six months ago. The senior official noted that their conversation coincided with the appointments of Mike Pompeo as secretary of state and John Bolton as national security adviser in an earlier upending of top foreign policy officials. Haley had expressed some frustration that her voice had been diminished as the two men became the aggressive new faces of Trump's international policy, the official said.
More recently, there was the awkward moment at the U.N., when Trump's boasting of American economic strength under his leadership brought laughter at a General Assembly session. He insisted later that the delegates were laughing with him, not at him.
The six-month timeline also coincides with a high-profile spat between Haley and the White House in April, when she drew the president's ire for previewing in a television appearance the administration's planned imposition of a new round of sanctions on Russia. When the sanctions never materialized, White House officials said the plans had changed without Haley being briefed, and economic adviser Larry Kudlow suggested she was confused.
"I don't get confused," Haley said in a sharply worded response to the West Wing.
Haley was appointed to the U.N. post in November 2016 and last month coordinated Trump's second trip to the United Nations, including his first time chairing the Security Council.
At the U.N., she helped spearhead the administration's efforts to combat what it alleged to be anti-American and anti-Israel actions by the international body, including the U.S. decision to leave the Human Rights Council and to stop funding the U.N. agency for Palestinian Refugees.
Haley also secured three successively tougher Security Council sanction resolutions against North Korea — which the administration has credited with bringing Kim Jong Un to the negotiating table — and an arms embargo against South Sudan. But under Haley's tenure at the U.N., the U.S. has faced strong opposition from Russia when it comes to addressing the 7-year-old war in Syria, and frustration from European allies over reimposing nuclear sanctions against Iran.
JOIN US ON RUMBLE LIVE NOW!