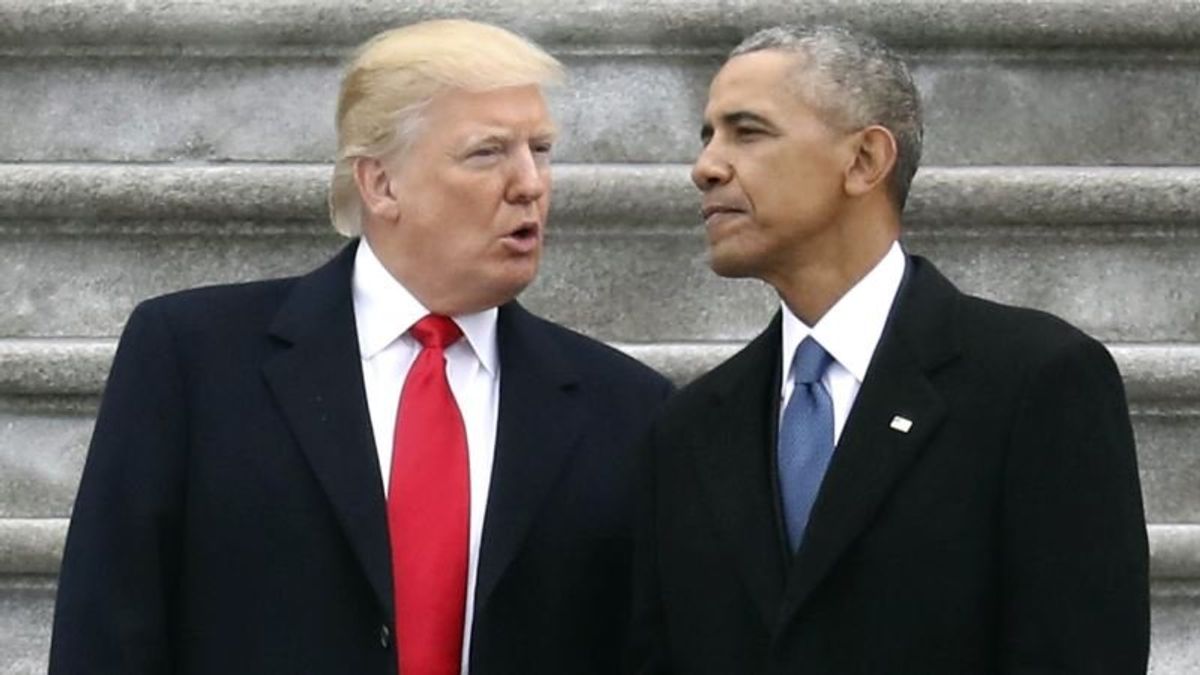 Trump Rebuts Report He Mulled Denying Obama Intel Access
Trump Rebuts Report He Mulled Denying Obama Intel Access
U.S. President Donald Trump denied a report Tuesday that said he considered denying former president Barack Obama access to intelligence briefings in response to perceived threats from Obama and other members of his administration.
"Fake News, of which there is soooo much (this time the very tired New Yorker) falsely reported that I was going to take the extraordinary step of denying Intelligence Briefings to President Obama," Trump wrote on Twitter. "Never discussed or thought of!"
The New Yorker said Trump's most ardent advocates viewed former Obama administration officials as threats to the newly sworn-in Trump and pushed to revoke their security clearances. Living former presidents, who often meet with foreign leaders, are given access to intelligence briefings.
The report said as Trump's attacks on Obama became more frequent, including in a March 4, 2017, tweet in which he called Obama a "Bad (or sick) guy!" after falsely accusing Obama of tapping his phones at Trump Tower during the 2016 election campaign, some of Trump's advisers felt Trump should deny Obama access to the briefings. The report said Trump eventually decided against it at the urging of then-national security advisor H.R. McMaster.
In an earlier tweet, Trump again disparaged former CIA director John Brennan after revoking Brennan's security clearance last week, a move that was widely considered a retaliatory move against critics of Trump's administration.
Brennan, who worked in the Obama administration for eight years, has repeatedly criticized Trump and accused him of "treasonous" behavior alongside Russian President Vladimir Putin at a summit in Helsinki last month. Such criticism has been considered unwarranted, even among some of Brennan's allies, including former national intelligence director James Clapper, himself a frequent Trump critic.
"John and his rhetoric have become an issue in and of itself. John is subtle like a freight train, and he's going to say what's on his mind," Clapper said Sunday on CNN's "State of the Union."
Trump tweeted, "Even James Clapper has admonished John Brennan for having gone totally off the rails. Maybe Clapper is being nice to me so he doesn't lose his Security Clearance for lying to Congress!"
Trump's revocation of Brennan's clearance prompted 175 national security professionals to join 75 others in signing an open letter protesting Trump's action.
Trump's battle with Brennan comes as special counsel Robert Mueller investigates Russia's meddling in the 2016 presidential election with the intent of helping Trump win, and whether the Trump campaign colluded with the Russians.
Trump is considering revoking the clearances of other current and former national security professionals who have criticized him or played a part in the early stages of the federal probe of potential collusion between Trump's campaign and Russian government agents. Trump has often referred to the investigation as a "witch hunt."