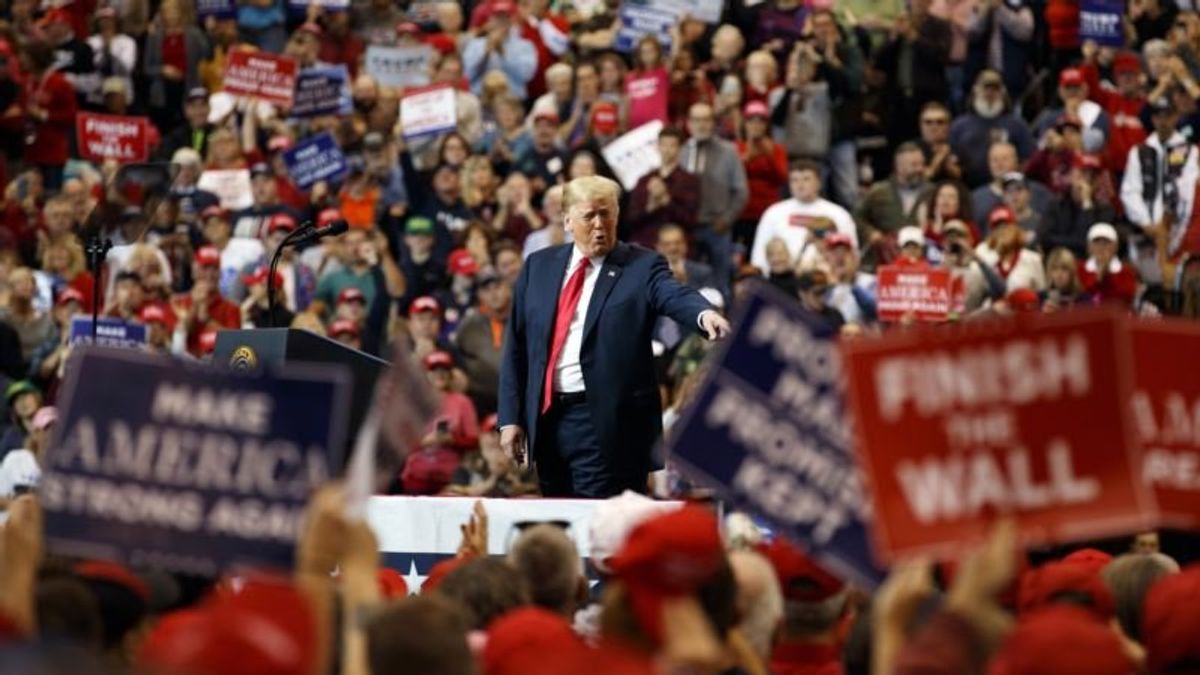 Trump Rallies on Eve of Midterm Referendum on His Presidency
Trump Rallies on Eve of Midterm Referendum on His Presidency
WHITE HOUSE —
Using Air Force One as a campaign shuttle, U.S. President Donald Trump headed to Ohio, Indiana and Missouri on Monday, the eve of midterm balloting that is being perceived as the biggest referendum yet on his presidency.
Trump acknowledged as much earlier in the day on a conference call with supporters, saying the media views Tuesday's election as a referendum on him.
"If we don't have a good day, they will make it like it's the end of the world," Trump said. "Don't worry. If we do have a good day, they won't give us any credit."
There were 200,000 people listening on the call, according to Brad Parscale, the Trump/Pence campaign manager.
"There's a great electricity in the air," Trump told reporters just before boarding Air Force One for the flight to Cleveland. "I think we're going to do very well."
The president, who himself is not up for re-election until 2020, has been intensively campaigning in past weeks on behalf of Republican candidates in an effort to preserve his party's control of Congress.
"It really is unprecedented," said political science professor David Cohen at the University of Akron in Ohio. "No president has ever campaigned as much in the midterms as Trump has."
Cohen told VOA that Trump's strategy is unwise.
"His controversial remarks — all it does is energize the base of the Democrats and the independents to get out there and vote against him," Cohen said.
Others see the Trump events — where Air Force One serves as the backdrop for appearances in airport hangars — of significant value to the governing party.
"The kind of people that come to them are not typical Republicans. They are Trumpsters. Getting that segment of the electorate out in 2016 was critical to Trump's win in 2016, and getting them out to vote in 2018 can only help Republicans," said University of New Hampshire political science professor Andrew Smith.
"Midterm elections are all about differential turnout," Smith, who is also director of the UNH Survey Center, told VOA. "Democrats have been motivated to vote ever since Trump won in 2016, while Republicans have been far less motivated. Anytime Trump goes anywhere, he commands media attention and is therefore driving the news cycle."
Obama appearances
Trump has been getting some competition for media attention in recent days from his predecessor, Barack Obama.
The two-term Democrat has been making campaign appearances on behalf of state and congressional candidates, a break with tradition where former presidents are rarely active in midterm elections so soon after leaving office.
"President George W. Bush has been largely absent from all politics, as was his father. And Bill Clinton waited some time after he left office before he got on the campaign trail. And when he did, it had the additional benefit of helping his wife's campaign," Smith noted. "Obama's barnstorming is something that we have not seen, and I think it is an indication that he takes the Trump presidency as a rebuff of his own performance as president."
In northern Virginia on Monday, Obama said "how we conduct ourselves in public life is on the ballot," a lightly veiled criticism of Trump and some prominent Republican candidates.
"What I'm seeing all across the country is this great awakening," Obama added, standing alongside incumbent Senator Tim Kaine and congressional nominee Jennifer Wexton in a campaign office. "In that great awakening, I feel hopeful."
Predictions
Prominent pollsters predict the Republicans will retain control of the Senate. While cautioning some key congressional races are statistical dead heats, pollsters note more House districts trending toward the Democrats in recent days and expect Republicans will lose their majority in that chamber.
Such an outcome would halt the president's ability to get key legislation approved, and would put the chairpersons' gavels of committees in the hands of Democrats certain to launch an array of investigations into the Trump administration.
While Obama will deserve some of the credit for helping to drive turnout for the Democrats, according to Cohen, "it was going to be a bad election, anyway, for the president just based on his unpopularity throughout the country."
Thus, if Republicans lose control of the House on Tuesday, Cohen contends, "the blame should fall squarely on Trump's shoulders."