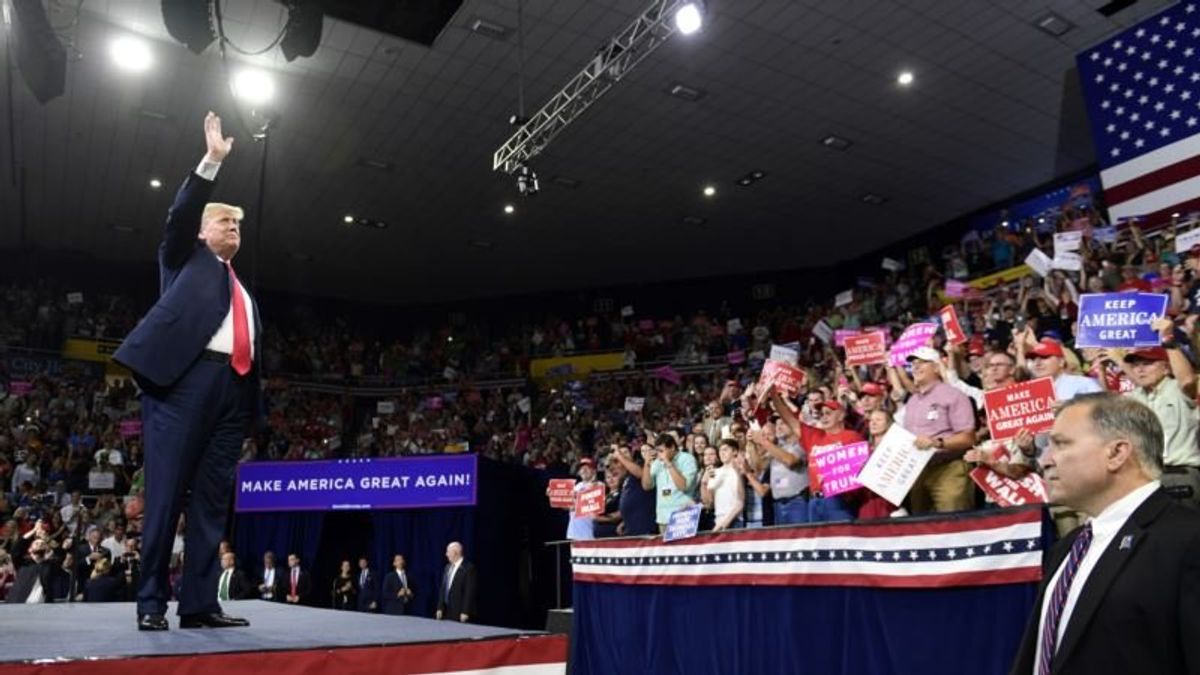 Trump Rallies in Tennessee to Boost Senate Hopeful Blackburn
Trump Rallies in Tennessee to Boost Senate Hopeful Blackburn
JOHNSON CITY, TENN. —
President Donald Trump is back in Tennessee, trying to push U.S. Rep. Marsha Blackburn's Senate bid over the finish line.
Trump headlined a high-dollar, closed-door fundraiser for Blackburn in Johnson City before appearing at a packed rally at the Freedom Hall Civic Center.
Blackburn is in a tight race against the state's Democratic ex-Gov. Phil Bredesen, who, like other Democratic candidates across Trump country, has painted himself as a pragmatist willing to work with the president on certain issues. The Tennessee campaign is among several closely watched races expected to determine control of the Senate, and Republicans are desperate to defend a narrow two-seat majority in the face of surging Democratic enthusiasm.
And the stakes couldn't be clearer. The rally comes as the FBI is continuing to investigate sexual misconduct allegations against Trump's Supreme Court nominee, Brett Kavanaugh — an FBI investigation that was forced by a small group of undecided senators who could sink the nomination. Trump earlier Monday disputed reports that his White House has tried to narrow the scope of the investigation and limit which witnesses the FBI could interview, saying he wants them "to do a very comprehensive investigation, whatever that means."
Trump is planning a busy week of campaign travel, with trips to a handful of states including Mississippi, Minnesota and Kansas as he tries to boost Republican turnout for the midterm elections.
Blackburn's contest, in a state that Trump won by 26 points, has drawn especially heavy interest from the White House, with repeat visits by both Trump and Vice President Mike Pence.
Bredesen has tried to distance himself from the national Democratic Party, presenting himself as an independent thinker who will support Trump's policies when they're beneficial to the state.
"I need to make clear to everybody my independence from all of the national Democratic stuff," the former two-term governor recently told The Associated Press.
Blackburn and Bredesen are seeking the seat of Republican Sen. Bob Corker, who is retiring.
Bredesen, who would be the first Democrat to win a Senate campaign in Tennessee since Al Gore in 1990 if he's victorious, has run TV ads in which he says that he's "not running against Donald Trump" and learned long ago to "separate the message from the messenger." He was holding an event in Chattanooga on Monday night that he'd hoped would be a debate with Blackburn, and he has been needling her for not agreeing to one.
Trump, as he has in other states, is expected to argue Bredesen is not the centrist he says he is and will wind up voting with Democratic leaders including Chuck Schumer and Nancy Pelosi if he gets to Washington.
Blackburn, meanwhile, has stressed her ties to Trump, running ads that feature footage of his last rally in the state in May.
"Phil, whatever the hell his name is, this guy will 100 percent vote against us every single time," Trump said at the time.
Trump offered an early endorsement of Blackburn in April, tweeting that she is "a wonderful woman who has always been there when we have needed her. Great on the Military, Border Security and Crime."
JOIN US ON RUMBLE LIVE NOW!