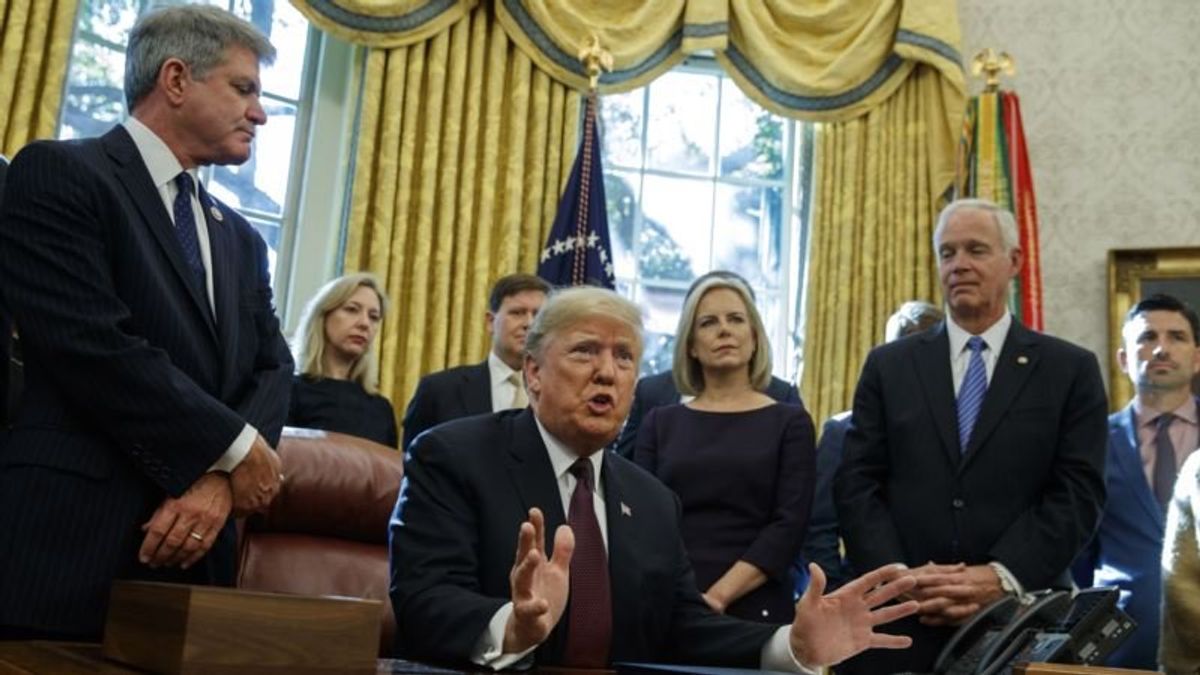 Trump: 'Probably' Won't Sit for Interview in Russia Investigation
Trump: 'Probably' Won't Sit for Interview in Russia Investigation
WASHINGTON —
U.S. President Donald Trump is declaring that he "probably" won't sit for an in-person interview with special counsel Robert Mueller probing links between his 2016 campaign and Russia, suggesting that his written answers to the prosecutor's questions will be his final response.
Trump told Fox News Sunday host Chris Wallace that in recent days he gave "very, very complete answers to questions I shouldn't have been asked. Probably this is the end."
In an interview at the White House taped Friday and broadcast Sunday, Trump said his lawyers are completing answers to Mueller's two dozen or so questions, but that, "They're writing what I tell them. It wasn't a big deal."
Trump's lawyers are expected to turn over his written responses in the coming days, although Trump attorney Rudy Giuliani said last week some of the questions created "more issues for us legally than others." Giuliani described some of the questions as "unnecessary," some were "possible traps" and that "we might consider some as irrelevant."
The questions concerned events leading up to the November 2016 national election, not the two-plus months while Trump was the president-elect, or of events during Trump's presidency, where Mueller is investigating whether Trump obstructed justice by trying to thwart the probe.
Trump, in the Fox interview, renewed his long-standing attacks on the 18-month Mueller investigation.
"It's a scam," he said. "There was no collusion."
A day after the nationwide congressional elections earlier this month, Trump ousted Attorney General Jeff Sessions, who had long drawn Trump's ire for removing himself from oversight of Mueller's investigation. Trump replaced him with a loyalist, acting Attorney General Matthew Whitaker, who had, before becoming Sessions's chief of staff more than a year ago, suggested that a replacement attorney, such as he is now, could cut funding for Mueller's probe so that it "grinds almost to a halt."
Trump said he was unaware of Whitaker's commentary on news network CNN opposing the Mueller investigation before naming him as the country's top law enforcement official, but dismissed concerns about he will deal with the Mueller investigation.
"He happened to be right," Trump said. "He said there was no collusion, he's right."
But Trump he would leave it up to Whitaker, whom he described as an "astute politician," in how he oversees Mueller's probe, after Sessions had delegated Mueller oversight to Deputy Attorney General Rod Rosenstein.
"It's going to be up to him," Trump said of Whitaker. "I really believe he's going to do what's right."
Some lawmakers, Democrats and Republicans alike, have demanded that Whitaker, because of his past attacks on the Mueller investigation, recuse himself from oversight, just as Sessions did. The former attorney general adhered to Justice Department rules requiring officials to recuse themselves from involvement in cases in which they might have a conflict of interest. Sessions was the first major political figure to support Trump in the 2016 election, but also had met with Russia's then-ambassador to Washington in the run-up to the voting two years ago.
Democratic Congressman Adam Schiff, likely to head the House Intelligence Committee when Democrats take control of the House of Representatives in January, told ABC News, "The biggest flaw from my point of view is that [Whitaker] was chosen for the purpose of interfering with the Mueller investigation."
Whitaker has not publicly commented on his role in overseeing the Mueller investigation, although the Justice Department has said that he is consulting ethics officials about any concerns they may have.