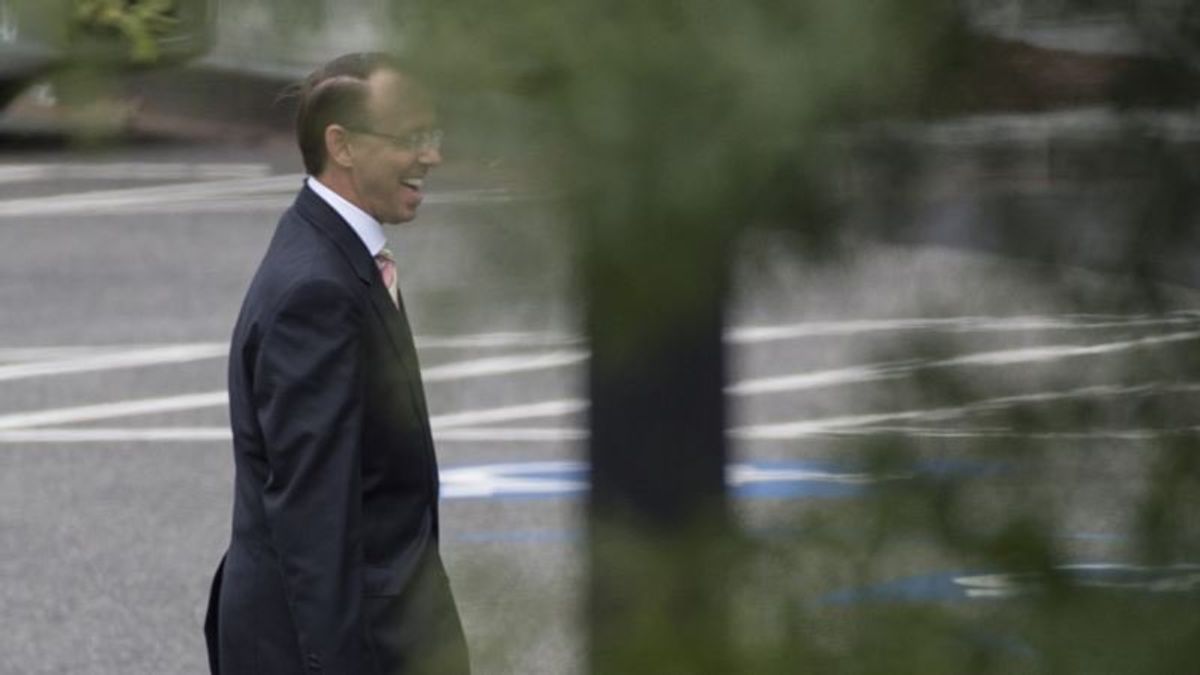 Trump May Delay Rosenstein Meeting to Focus on Kavanaugh
Trump May Delay Rosenstein Meeting to Focus on Kavanaugh
WHITE HOUSE —
The fate of the man overseeing the special investigation into Russia's interference in the 2016 presidential election could be on hold because of another political drama involving President Donald Trump's Supreme Court nominee.
Thursday morning, Counselor to the president Kellyanne Conway hinted that Trump's meeting with Deputy Attorney General Rod Rosenstein, scheduled for later that day, may be delayed. "If it needs to get pushed a few hours or to the next day, maybe it will," she said on Fox & Friends. "But they are both committed to speaking with each other and resolving this once and for all."
The president himself suggested in a news conference at the U.N. General Assembly Wednesday evening that the meeting may not happen Thursday. "I may call Rod tonight or tomorrow and ask for a little bit of a delay to the meeting," Trump said, adding that he wants to focus on the Senate hearing over his Supreme Court nominee Brett M. Kavanaugh, currently facing allegations of sexual assault.
Trump and Rosenstein were set to meet at the White House to discuss last week's story in The New York Times that Rosenstein had suggested secretly recording Trump to obtain evidence to have him removed from office for being unfit to govern.
But Thursday is also when the Senate Judicial Committee is hearing separate testimony from Judge Brett Kavanaugh and Dr. Christine Blasey Ford, a woman who alleges Kavanaugh sexually assaulted her when they were teenagers in the early 1980s.
Republicans calling for testimony
The president's Republican allies are calling for Rosenstein to testify before Congress about his alleged suggestion to secretly record the president and his comments on the 25th amendment, a constitutional provision that lays out a process for removing a sitting president from office. Rosenstein has issued two statements flatly denying the allegations.
Via Twitter, Congressman Mark Meadows, chair of the Freedom Caucus said that the failure to question Rosenstein over the issue would amount to a "dereliction of duty."
House Republicans Wednesday began the process to subpoena Justice Department memos that allegedly contain information about Rosenstein's comments.
Rosenstein and the Mueller probe
Rosenstein oversees the independent investigation into Russian interference in the U.S. 2016 election led by special counsel Robert Mueller.
Although several high-ranking officials of Trump's campaign have pleaded guilty to various charges in connection with Mueller's investigation, the president maintains the entire investigation is a "witch hunt" without merit.
Democrats and some Republicans in Congress are worried the president will fire Rosenstein in a bid to shut down the special counsel's investigation. Earlier this week, Democrats renewed their calls for Republicans to pass legislation to protect Mueller's probe.
A bill, introduced by two Republican and two Democratic senators, has passed out of committee with Republican support, but it's stalled on its way to the floor.
Trump told reporters in New York Wednesday that he prefers leaving Rosenstein in his post "and let him finish up."