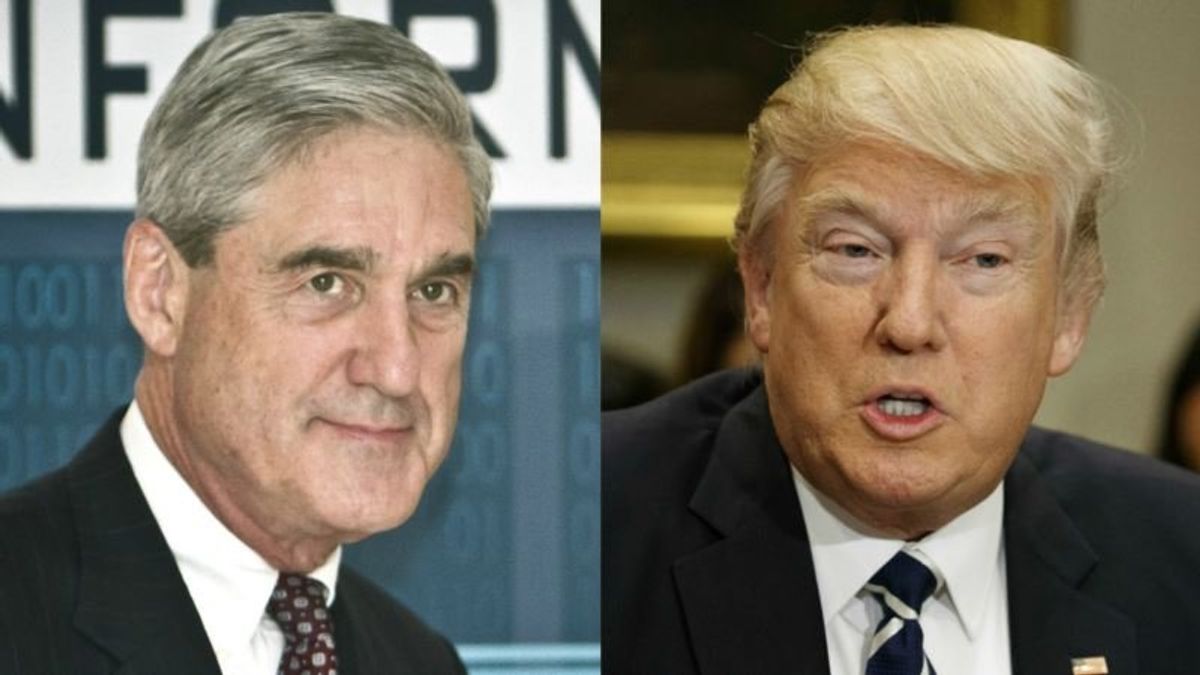 Trump Fears Mueller May Use Interview to Charge Him with Perjury
Trump Fears Mueller May Use Interview to Charge Him with Perjury
WASHINGTON —
President Donald Trump says he fears any statements he would give to special counsel Robert Mueller could be used to charge him with perjury.
Mueller is investigating alleged collusion between Trump's 2016 campaign and Russian meddling in the presidential election.
He is also looking into whether Trump obstructed justice by trying to derail the probe.
In an interview with Reuters Monday, Trump said Mueller could compare whatever he tells him to statements made by others Mueller has already spoken to, including fired FBI Director James Comey.
"So if I say something and he (Comey) says something and it's my word against his and he's best friends with Mueller, so Mueller might say, 'Well, I believe Comey.' And even if I'm telling the truth, that makes me a liar. That's no good," Trump told Reuters.
Trump's comments to Reuters clarifies what his personal lawyer, Rudy Giuliani, said on NBC television Sunday — Giuliani's already infamous "truth isn't truth" statement when he explained that Trump is in no hurry to talk to Mueller because Mueller could hear two versions of the same story about alleged obstruction.
Trump declined to say whether he would agree to sit down with Mueller, or if he would strip Mueller of his security clearance. He also said he has the power to step in and run the special investigation himself.
"I've decided to stay out. Now, I don't have to stay out. I could go in and do whatever. I could run it if I want…I'm totally allowed to be involved if I wanted to be. So far, I haven't chosen to be involved, I'll stay out," he claimed.
Earlier Monday, Trump called the Mueller investigation "a national disgrace" and tweeting that Mueller "is just someone looking for trouble."
"Where's the Collusion?" Trump asked. "They made up a phony crime called Collusion, and when there was no Collusion they say there was Obstruction (of a phony crime that never existed). If you FIGHT BACK or say anything bad about the Rigged Witch Hunt, they scream Obstruction!
Mueller's investigators have uncovered several instances of Trump campaign contacts with Russia, including a 2016 meeting at Trump Tower in New York where Donald Trump Jr. met with a woman said to be a Russian government attorney who promised incriminating information on Trump's challenger, Democrat Hillary Clinton. No such anti-Clinton information came out of the meeting.
When news of the meeting surfaced after Trump became president, he dictated a misleading statement about the talks, claiming they were about adoption of Russian children.
He then said the meeting was a routine political meeting and he did not know about it in advance.
Trump is also keeping up his attacks on former Central Intelligence Agency Director John Brennan, after revoking Brennan's national security clearance last week. Trump called Brennan a "political hack" and "the worst CIA director in our country's history."
Trump said he hopes Brennan carries through on his threat to file a lawsuit to protect others from losing their security clearances because, "It will then be very easy to get all of his records, texts, emails and documents to show not only the poor job he did, but how he was involved with the Mueller Rigged Witch Hunt. He won't sue!"
Nearly 200 former U.S. national security officers, Pentagon, and State Department have come to Brennan's defense, saying while they may not totally agree with Brennan's sharp criticism of Trump, they believe "strongly that former government officials have the right to express their unclassified views on what they see as critical national security issues without fear of being punished for doing so."
Kenneth Schwartz and Ken Bredemeier contributed to this report.
JOIN US ON RUMBLE LIVE NOW!