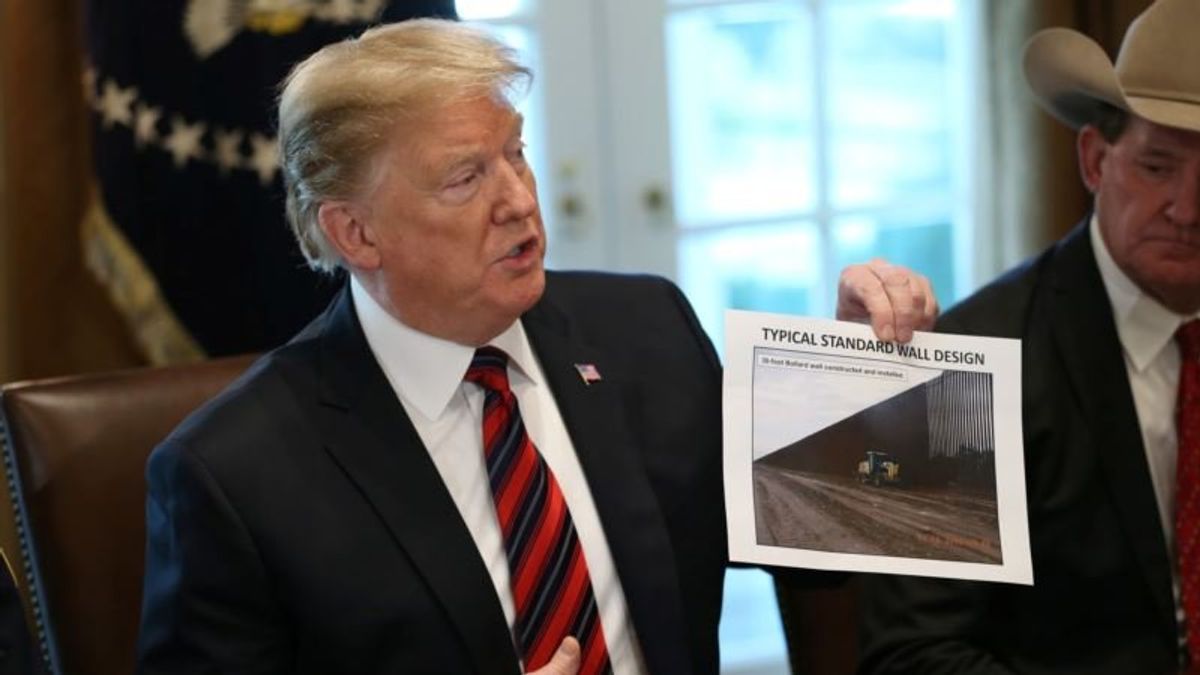 Trump Edges Toward Signing Border Barrier Deal
February 13, 2019, 11:46 AM
Trump Edges Toward Signing Border Barrier Deal
U.S. President Donald Trump appears set to sign legislation for limited new barrier construction along the U.S.-Mexico border in order to avert another partial government shutdown Friday over the dispute.
Trump said Tuesday he was "not happy" with the bipartisan agreement reached by lawmakers to give him less than a quarter of the $5.7 billion he has been demanding for wall construction. But he also said he does not want another closure affecting about a fourth of government operations after a record 35-day shutdown was ended last month.
"We want to see what the final piece of legislation looks like," White House spokeswoman Sarah Sanders said Wednesday. "It's hard to say definitively whether or not the president's going to sign it until we know everything that's in it."
But Sanders said "there are some positive pieces" in the proposal. Trump seemed to signal acceptance of the deal, saying the $1.375 billion in barrier funding called for in the congressional compromise "will be hooked up with lots of money from other sources" for more border security.
Sanders reiterated that Trump does not want another government shutdown, but that "at the end of the day, the president is going to build the wall. He said he's going to get it done, and he will."
Trump suggested Tuesday that he would tap other government funds for wall construction without express authorization from Congress. Such a move would invite a legal challenge from opposition Democrats and other groups.
Neither the Senate nor the House of Representatives has voted yet on the legislation as aides continue to craft final language in the measure. To avert a new shutdown, both chambers have to approve the legislation, and Trump has to sign it before Friday midnight, when numerous federal agencies, including Homeland Security — which controls border operations — again run out of money.
"I can't say I'm happy. I can't say I'm thrilled," Trump said Tuesday of the deal agreed to by a 17-member bipartisan group of lawmakers. "It's not doing the trick."
Later, however, he thanked Republican on Twitter for their work on the wall.
Under Trump, Congress has not authorized any funding for a wall, one of Trump's prime pledges during his successful 2016 campaign for the White House. But wall repairs and replacements for deteriorating sections along the 3,200-kilometer border have been ongoing.
"I don't think you're going to see a shutdown," Trump said. "I don't think it's going to happen. We don't want to see a shutdown."
The top leaders in the Senate, Republican Mitch McConnell and Democrat Chuck Schumer, both called on Trump to sign the compromise barrier funding legislation.
"I strongly urge the president to sign this agreement," Schumer said. "No one gets everything they want in these agreements. But the president must sign it and not, not, not cause another shutdown."
The package calls for new barriers in the Rio Grande Valley in southern Texas, as well as technology upgrades for screening at border entry points, more customs officers and humanitarian aid.