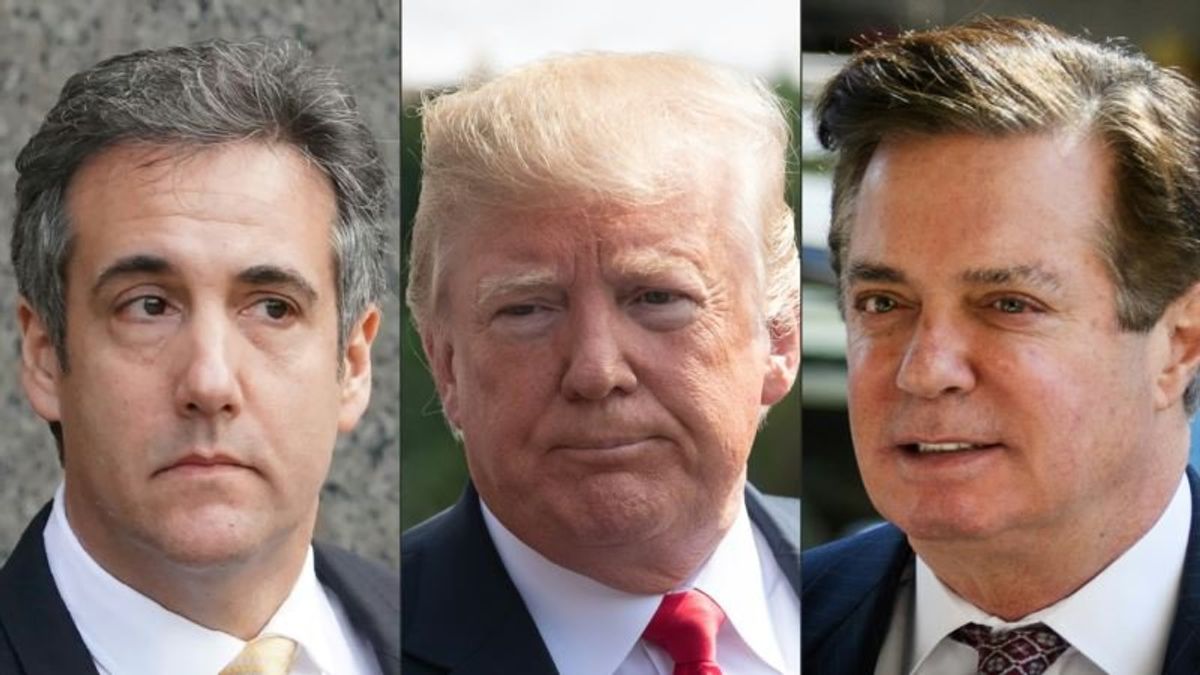 Trump Downplays Ex-Campaign Manager, Personal Lawyer Becoming Felons
Trump Downplays Ex-Campaign Manager, Personal Lawyer Becoming Felons
WHITE HOUSE —
U.S. President Donald Trump is publicly downplaying the significance of his former campaign manager and a longtime trusted lawyer becoming felons.
In a series of Wednesday morning tweets, Trump again assailed his own Justice Department for carrying out a "witch hunt" and praised Paul Manafort, who the president said refused to break and make up stories to get a deal as did Michael Cohen.
​Manafort, who ran Trump's 2016 election campaign for three pivotal months, is likely to be sentenced to years, if not decades, of prison time after his conviction on eight fraud charges. Manafort also faces a second trial on a different set of charges next month in Washington.
Trump noted that 10 of the 18 charges could not be decided in Manafort's case, for which the judge yesterday in Alexandria, Virginia, declared a mistrial. But veteran federal prosecutors say the eight convictions for financial crimes validate the special counsel established to investigate ties between Trump's campaign and Russia.
Many legal and political observers expect Trump to eventually pardon Manafort, whose case was the first to be brought to trial by Robert Mueller, the former director of the FBI, whose team repeatedly has been heavily criticized by the president.
"Fake news and the Russian witch hunt," said the president on stage at a political rally Tuesday night in the state of West Virginia. "Where is the collusion?"
A more serious potential legal development for Trump is his former lawyer, Cohen, telling a federal judge earlier Tuesday in New York City that he made hush money payments to two women "for the principal purpose of influencing the election" of Trump and that the presidential candidate ordered him to do so.
Legal filings released allege Trump's real estate company authorized paying $420,000 to Cohen for the effort to silence two women who claimed they had affairs with the Republican candidate. Bogus invoices that allegedly concealed the nature of the payments could further focus direct prosecutorial scrutiny on both Trump's company and his campaign.
Cohen's lawyer, Lanny Davis, in a series of media interviews Wednesday, indicated his client would cooperate with the Mueller investigation and could implicate Trump in other wrongdoing.
Cohen's plea did not include an agreement to cooperate with prosecutors, but Davis, on Twitter, said he "would tell the truth about Donald Trump."
Three other men who worked for Trump also have pleaded guilty to crimes: former national security adviser Michael Flynn, former deputy campaign manager Rick Gates and a campaign foreign policy adviser, George Papadopoulos.
The growing legal storm buffeting the unconventional president is increasing speculation that opposition Democrats will commence impeachment proceedings should they capture a majority in the House of Representatives in the midterm elections less than three months away.
White House press officials are not commenting on Tuesday's federal courtroom developments, referring reporters to Trump's own comments on Twitter about Manafort and Cohen.