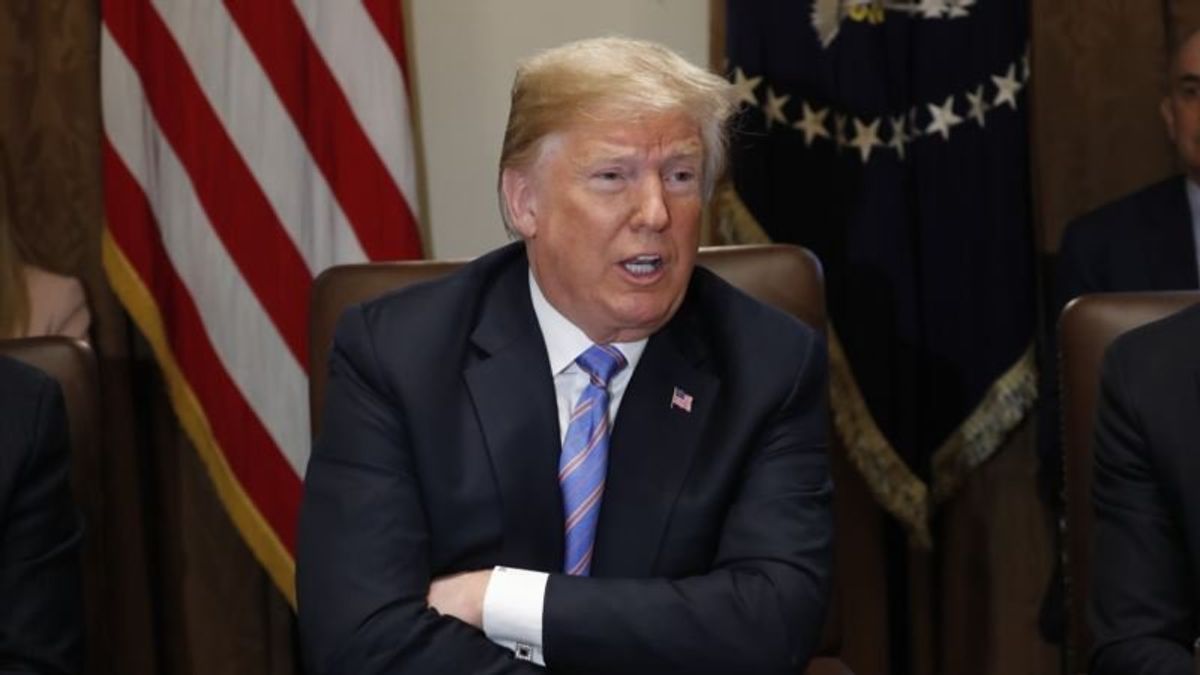 Trump Disputes Intel Chief on Russian Cyberattacks
Trump Disputes Intel Chief on Russian Cyberattacks
U.S. President Donald Trump said Wednesday he does not believe Russia is continuing to target the United States with cyberattacks, a direct contradiction of an assessment last week by Dan Coats, his director of national intelligence.
Trump, meeting with his cabinet at the White House, shook his head and said "no" when asked whether Russia was still attempting to interfere in U.S. elections.
Coats had told a Washington think tank that "the digital infrastructure that serves this country is literally under attack," and singled out Russia as the "most aggressive foreign actor, no question."
Republican Senator Lindsey Graham immediately cited the wide gap between Trump's and Coats' views of Russia.
He said "a BIG discrepancy between President Trump's statement and DNI Coates' warning. It's imperative we get to the bottom of what is going on so we can be prepared to protect ourselves in advance of the 2018 elections. My personal view: the Russians are at [it] again."
Trump told reporters, "We're doing very well, probably as well as anybody has ever done with Russia. And there's been no president ever as tough as I have been on Russia."
Earlier, in a string of predawn Twitter comments, Trump boasted again about his Monday summit with Russian President Vladimir Putin.
The president's Twitter comments came hours after he said he accepted the U.S. intelligence community's conclusion that Russia meddled in the 2016 presidential election, walking back his Monday comments embracing Putin's denial that Moscow had interfered.
"I accept our intelligence community's conclusion that Russia's meddling in the 2016 election took place," Trump told reporters at the White House Tuesday.
But he then added: "Could be other people also. A lot of people out there," an assessment of the possibility that other countries tried to interfere in the U.S. election that was not part of the intelligence community's finding.
The U.S. holds congressional elections in November, when the entire 435-member House of Representatives is being contested and a third of the 100-member Senate.
On Twitter Wednesday, Trump wrote that his meeting with Putin could be more successful than the NATO summit in the long-term.
Trump's revision of the comments he made as he stood alongside Putin at a news conference at the end of their summit came after a torrent of criticism from Republican and Democratic lawmakers alike, who said the U.S. leader appeared to be weak compared to his Russian counterpart.
Only a handful of Republican colleagues of Trump praised his performance.
Trump said that after he reviewed a transcript of his Helsinki remarks, he realized he misspoke.
"In a key sentence in my remarks, I said the word 'would' instead of 'wouldn't.' The sentence should have been … 'I don't see any reason why it WOULDN'T be Russia" — that Russia interfered in the election, Trump said.
But he added that the Russian actions had no impact on the outcome of his victory over Democrat Hillary Clinton, a former U.S. secretary of state, and reiterated his frequent statement denying that there was any collusion between his campaign and Russian operatives.
U.S. special counsel Robert Mueller is continuing his 14-month criminal investigation of Russian interference.
Trump said his administration will do everything it can to thwart any Russian efforts to interfere with November's U.S. congressional elections.
"We will stop it, we will repel it," Trump vowed.
Before back-tracking, Trump said on Twitter he had a great summit with Putin and gave no ground in changing his statements about accepting Putin's denial of interference in the U.S. election two years ago.
On Capitol Hill, House Speaker Paul Ryan, a Wisconsin Republican, responded to Trump's initial rosy assessment.
"Let's be very clear: Russia meddled in our election," Ryan said. "We know they interfered with our elections, and we have passed sanctions on Russia to hold them accountable."
When asked about election meddling during the joint news conference with Putin on Monday, Trump said, "President Putin was extremely strong and powerful in his denial today."