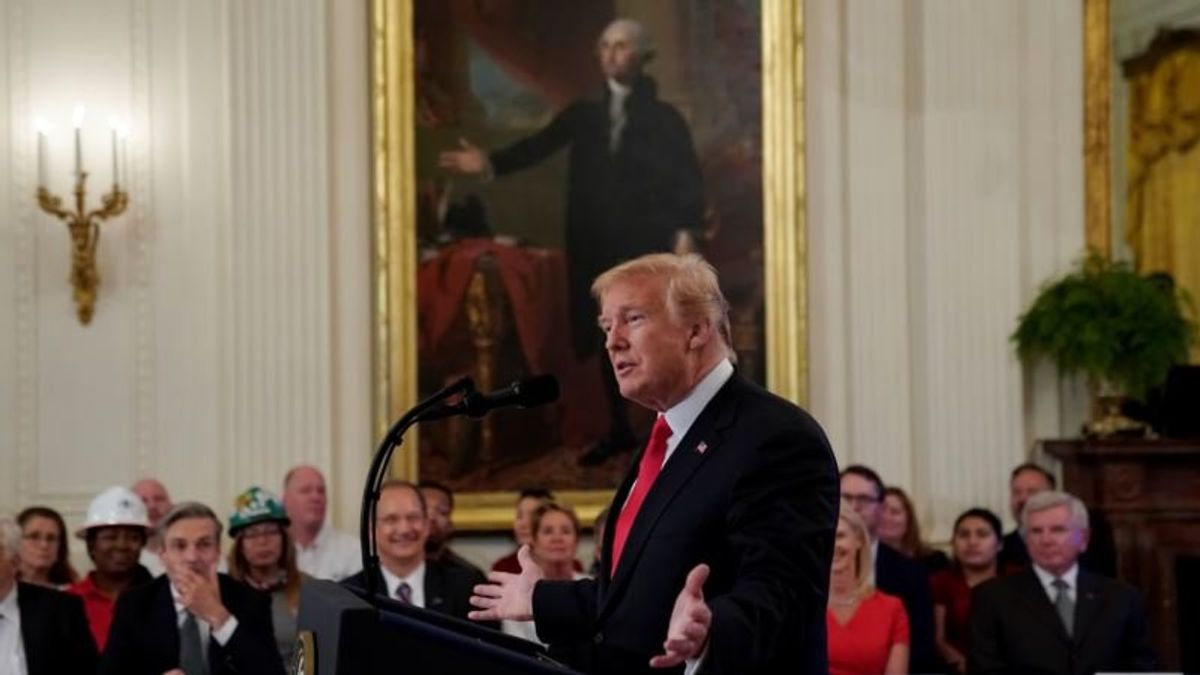 Trump Defends Efforts to Build a Rapport With Putin
Trump Defends Efforts to Build a Rapport With Putin
U.S. President Donald Trump defended his efforts to build a relationship with Vladimir Putin in an interview broadcast on Friday after he invited the Russian leader for a second meeting in the midst of an uproar over their first.
Trump's administration has sought to control the damage from Monday's summit in Helsinki, where the president shocked the world by siding with Putin over U.S. intelligence agencies on Moscow's meddling in the 2016 presidential election.
As the White House tried to put some distance between the two leaders, Trump made a jarring move in the opposite direction on Thursday, offering to host Putin in Washington in the fall.
In a television interview taped on Thursday, Trump said that he and Putin, who U.S. intelligence agencies say directed interference to sway the 2016 vote toward Trump, had a rapport during their meeting in Helsinki.
"Look, the fact is we got along well," he told CNBC, adding that the two did not agree on everything.
"So I had a meeting that lasted for more than two hours. It wasn't always conciliatory in that meeting," Trump said, without elaborating. "We discussed lots of great things for both countries, frankly."
Only interpreters were present for the two leaders' private meeting and details of what was discussed remain unknown.
Russia is ready to discuss a proposed new meeting between Putin and Trump, Interfax news agency cited Russia's ambassador to the United States, Anatoly Antonov, as saying on Friday.
Antonov said Putin had made concrete proposals to Trump about resolving the conflict in eastern Ukraine, Interfax said, though he did not spell out what these were.
The Russian ambassador suggested a meeting between Russian Defense Minister Sergei Shoigu and his U.S. counterpart, James Mattis, adding that a group of U.S. lawmakers are also planning to visit Russia, according to Interfax.
Election meddling
American intelligence agencies concluded last year that Russia carried out a campaign of hacking and propaganda targeting the 2016 U.S. election, seeking to sow discord, disparage Democratic candidate Hillary Clinton and help Trump's candidacy.
Putin has denied any such meddling. Angered by a federal probe into Russian interference that is also examining possible collusion by his campaign, Trump has long denied any collusion and has denounced the investigation as a witch hunt.
Top U.S. intelligence officials have said Moscow is targeting congressional elections in November as well. The Justice Department said on Thursday it would alert the public about foreign cyber operations like Russia's disinformation campaign.
Warning the American public about disinformation could allow people to make better-informed decisions, Deputy Attorney General Rod Rosenstein said at a security conference in Aspen, Colorado.
Illustrating the gulf between Trump and some of his own advisers, Director of National Intelligence Dan Coats said on Thursday that he did not know what Trump and Putin discussed in their private meeting.
Coats, the head of the U.S. intelligence community and a chief adviser to the president on national security, learned of the proposed second meeting with Putin when the White House announced it on Twitter, while he was being interviewed at the Aspen conference.
In his CNBC interview, Trump also blamed the news media for reporting that he did not publicly confront Putin over the election meddling in Helsinki.
"I mean I had these — some of these fools from the media saying, 'Why didn't you stand there, look him in the face, walk over to him, and start shouting at him?' I said, 'Are these people crazy? I want to make a deal.' I want to make a deal."
Critics of Trump's performance in Helsinki included many fellow Republicans. A Republican congressman and former CIA officer, William Hurd, wrote an opinion piece in the New York Times late on Thursday entitled, "Trump is Being Manipulated by Putin. What should we do?"