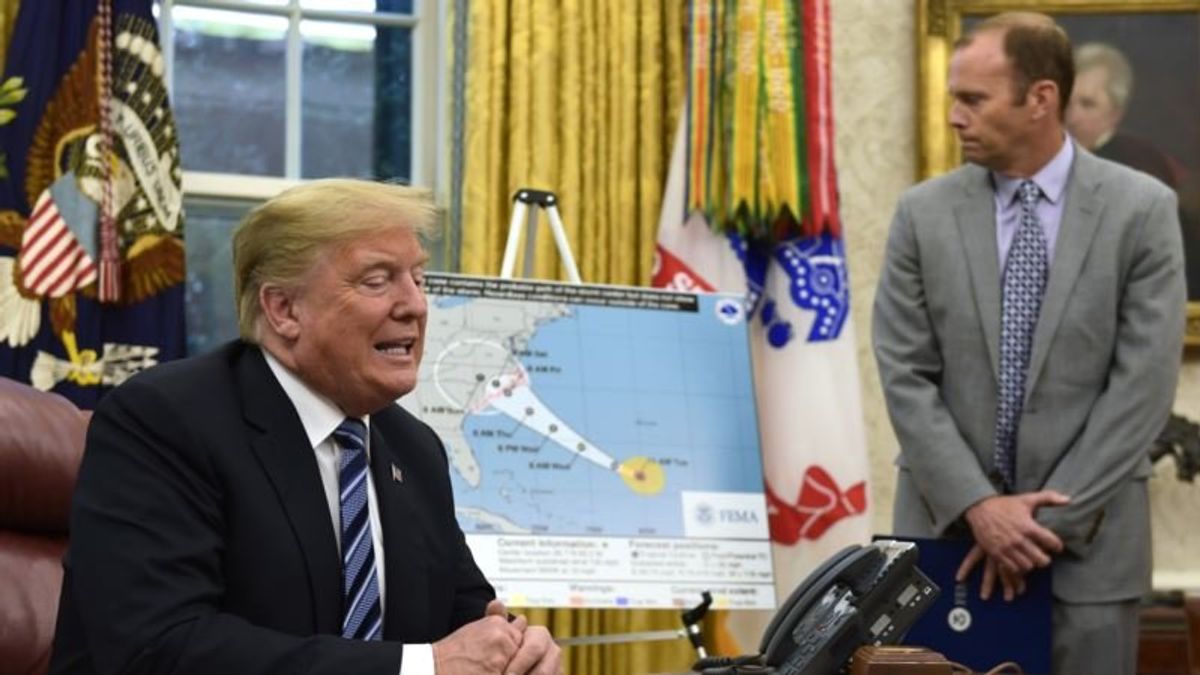 Trump Confident His Government Prepared for Hurricane Florence 
Trump Confident His Government Prepared for Hurricane Florence
WHITE HOUSE —
U.S. President Donald Trump is expressing confidence the federal government is prepared for this week's onslaught of Hurricane Florence, which is predicted to be one of the most powerful storms in nearly three decades to slam into the mid-Atlantic region.
"The safety of American people is my absolute highest priority," Trump said in the Oval Office at the conclusion of a briefing by the heads of the Department of Homeland Security and the Federal Emergency Management Agency. "We are sparing no expense. We are totally prepared."
Asked by a reporter what he would advise for those who are hesitating to depart areas where people have been requested to evacuate their homes, the president replied: "That's very risky. We've never seen anything like this on the East Coast, at least. Everybody should get out."
Nearly 1.5 million people have been ordered to evacuate parts of the southeastern U.S. coast as the powerful hurricane barrels toward the shore. Mandatory evacuation orders were given to coastal portions of the states of South Carolina, North Carolina and Virginia.
"They haven't seen anything like what's coming at us in 25, 30 years, maybe ever," said the president. "It's tremendously big and tremendously wet."
Florence will be a "devastating event for the Carolinas and potentially Virginia, as well," according to FEMA Administrator Brock Long.
The storm, which is forecast to make landfall from late Thursday to early Friday, will bring "copious amounts of rainfall," explained Long, predicting 51 to 76 centimeters ( 20-30 inches ) of rain that also would hit the central portions of Virginia, as well as the state of West Virginia, which already are soaked by the remnants of Tropical Storm Gordon.
There is quite of bit of certainty in the tracking forecast, replied Brock when asked by the president whether Florence could veer off course away from coastal areas.
"The power is going to be off for weeks," warned Long, adding that the hazards will be statewide.
Florence is currently a Category 4 hurricane, with maximum sustained winds of 220 kilometers per hour (137 mph) with higher gusts — and forecasters say it is expected to gain more strength.
A Category 4 storm is capable of ripping roofs off houses, snapping or uprooting most trees, bringing lasting power outages and making areas uninhabitable for weeks or months.
President Donald Trump signed declarations of emergency Tuesday for the Carolinas and Virginia, a move that frees up federal money and resources.
At the same time Florence is expected to make its landfall, another storm, Isaac, is forecast to be at or near hurricane strength as it moves across the Lesser Antilles and into the eastern Caribbean Sea.
The National Hurricane Center expects Isaac to weaken to a tropical storm by Friday and Saturday as it moves near or south of Puerto Rico and the Dominican Republic.
"We do not want to see Hurricane Isaac hit Puerto Rico," said Trump who defended his administration's response to Hurricane Maria last week.
That storm is blamed for nearly 3,000 deaths in the self-governing U.S. commonwealth where local officials have criticized the Trump administration for neglecting the Caribbean island in wake of the hurricane.
The federal response there was an "unsung success," said Trump on Tuesday, blaming the island's catastrophe on an electric grid and generating plant that "was dead before the storm ever hit."
Nervous officials also are keeping an eye on a third Atlantic storm, Helene, but it is not expected to have an impact on land in the coming days as it moves north over open water.
Wayne Lee and Carla Babb contributed to this report.