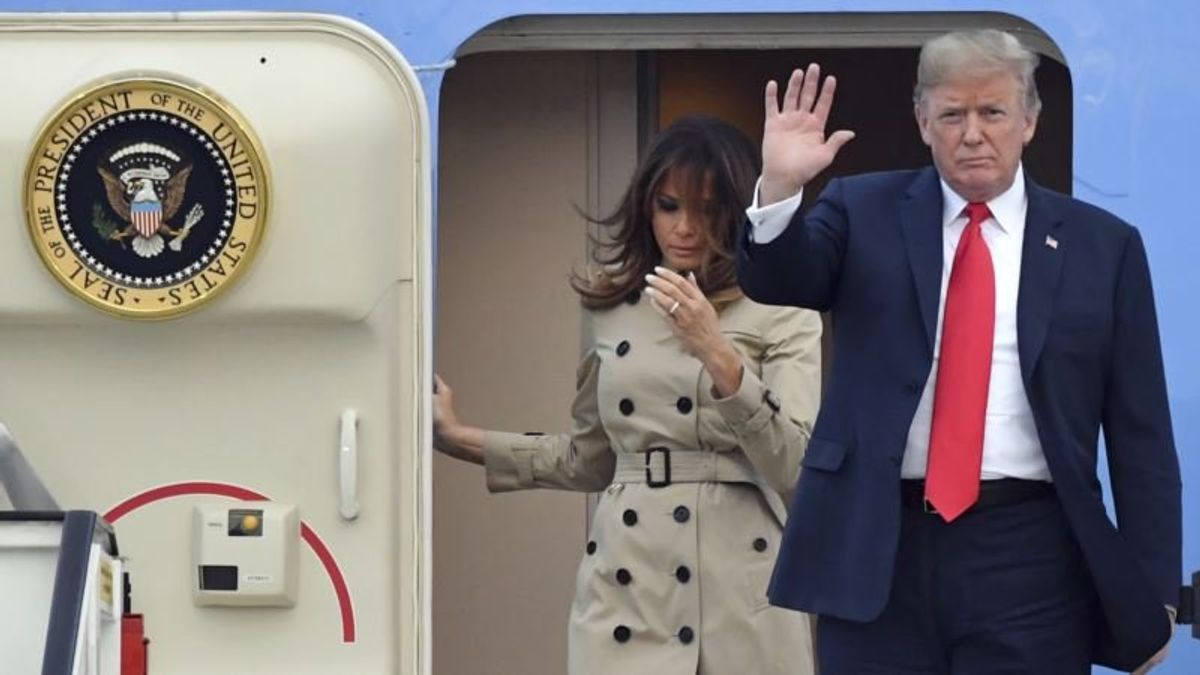 Trump Arrives in Brussels Amid Tension with NATO, EU
Trump Arrives in Brussels Amid Tension with NATO, EU
BRUSSELS —
U.S. President Donald Trump has arrived in Brussels — home to the North Atlantic Treaty Organization and the European Union — two steadfast allies with whom the American leader has increasingly put himself at odds.
Trump on Tuesday tossed barbs at both organizations. On Twitter, he again bluntly demanded NATO members contribute more money to the defense alliance that has been the linchpin of the West's post-World War II military cooperation.
European leaders, since Trump's election 17 months ago, have fretted and fumed about the president's bashing but have hesitated to lash back publicly. That changed Tuesday, just as the U.S. president was leaving for the trip across the Atlantic Ocean.
"Dear America, appreciate your allies. After all, you don't have that many," remarked European Commission President Donald Tusk, adding that Trump's "criticizing Europe almost daily" is no way to treat a good ally.
On the White House South Lawn, Trump, asked about Tusk's comment, responded: "We do have a lot of allies, but we cannot be taken advantage of. We're being taken advantage of by the European Union."
NATO, the U.S. president emphasized, "helps them more than it helps us."
The president added, "We pay far too much and they pay far too little."
Trump also has repeatedly complained that European automakers have an unfair trade advantage compared to their American competitors. The president has slapped new border taxes on steel and aluminum. He also has applied tariffs to foreign agricultural and other products, including those from neighbors Canada and Mexico. Targeted countries have responded with punitive tariffs. A tit-for-tat with China has brought the world's two largest economies to the precipice of a plunge into a full-scale trade war.
During the NATO summit on Wednesday and Thursday, Trump will have an unspecified number of one-on-one meetings with other European leaders, according to White House officials.
Those leaders are certain to be anxious after the president berated his fellow leaders on trade at the recent Group of Seven summit in Canada. There is particular unease over Trump, in such encounters, not hesitating to link security cooperation and trade differences, something previous U.S. administrations were careful to keep separate.
United Kingdom
Following the discussions in Belgium, Trump heads to the United Kingdom, where he is to be hosted by British Prime Minister Theresa May, who suddenly finds herself embroiled in domestic political upheaval stemming from intra-party disagreement over terms for the country's exit from the EU, known as Brexit.
Trump on Tuesday acknowledged the United Kingdom is currently facing some turmoil. Asked if May should resign, the president responded, "that's certainly up to the people."
May's foreign minister, Boris Johnson, resigned Monday over differences with the prime minister on terms for Brexit.
Trump referred to Johnson as a friend who has been "very, very supportive and very nice to me," adding, "Maybe I'll speak to him when I get over there."
Trump said despite what he called an "interesting" time for both NATO and the U.K., "we will work it out and all countries will be happy."
Putin summit
Following visits to England and Scotland, where the president owns two golf resorts, Trump heads to Helsinki for a highly anticipated summit with Russian President Vladimir Putin.
"Frankly, Putin may be the easiest of them all," relative to the anticipated contentious encounters with America's traditional European allies, Trump told reporters at the White House on Tuesday morning.
Asked if Putin is a friend or foe, Trump replied, "I really can't say right now. As far as I'm concerned, he's a competitor."
The president added that "getting along with Russia, getting along with China, is a good thing."
Trump has faced substantial criticism from opposition Democrats and more muted concern among lawmakers of his own Republican party for hesitating to criticize Putin and Russian actions since his election.
A special counsel, under the U.S. Department of Justice, is investigating Russian interference in America's 2016 presidential election and the extent of contacts between members of Trump's campaign and Moscow.
The president has consistently denied any wrongdoing by his campaign, characterizing the investigation as a "witch hunt" and predicting it will conclude there was no collusion.