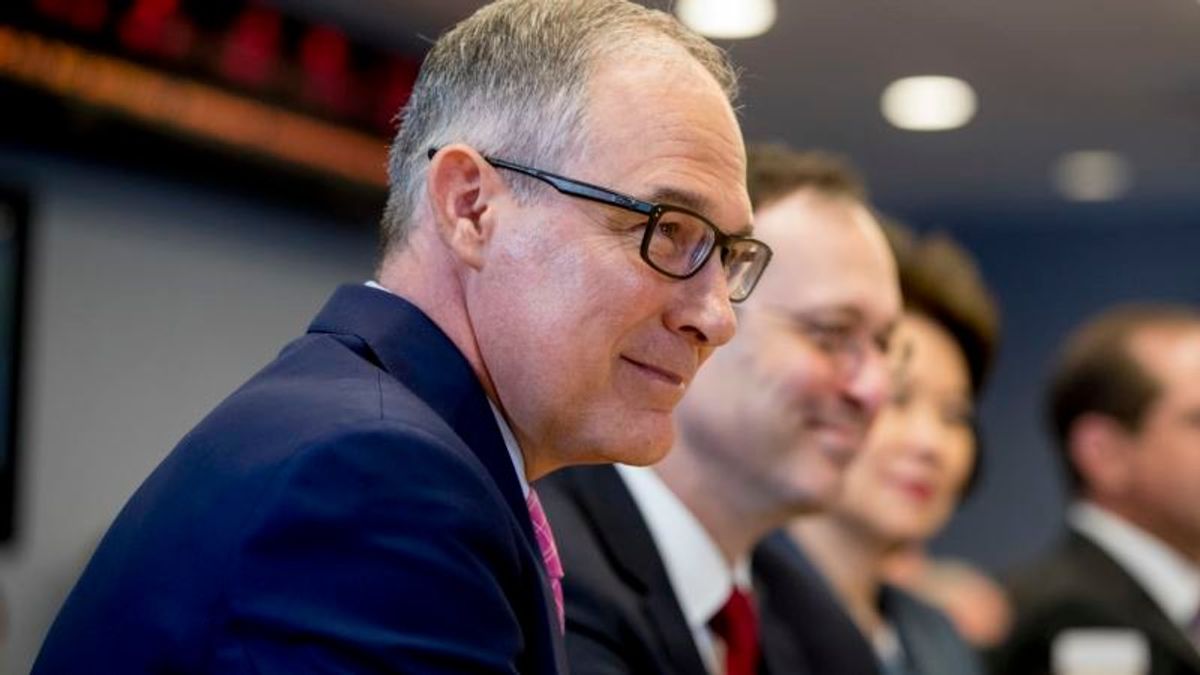 Top US Ethics Official Seeks Expanded Probe of EPA's Pruitt
Top US Ethics Official Seeks Expanded Probe of EPA's Pruitt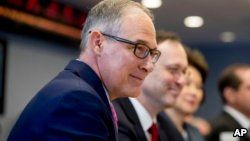 The top federal ethics officer asked Friday that an internal investigation of Environmental Protection Agency head Scott Pruitt be resolved quickly so he can determine whether "formal corrective action" is needed and make recommendations to President Donald Trump.
David Apol, acting director of the Office of Government Ethics, also asked the EPA inspector general to expand its probe of whether Pruitt is violating federal ethics rules to include allegations he used staffers to do personal chores during work hours and seek business deals for his wife.
His letter to EPA Inspector General Arthur Elkins Jr. was released hours after Trump gave conditional support to the embattled agency administrator, saying his unhappiness with Pruitt was overridden by the "fantastic job" he was doing at EPA.
In his letter, Apol said the American public needs to have confidence that allegations of ethical misconduct are investigated.
"We ask you to complete your report as soon as possible so that we can decide whether to begin a formal corrective action proceeding in order to make a formal recommendation to the president," he wrote.
Pruitt is the subject of several investigations over his use of first-class travel, round-the-clock security and spending.
Recently released emails show Pruitt had aides reach out to Chick-fil-A about a "business opportunity" for his wife, inquire about getting a used mattress for him from the Trump International Hotel and arrange for him to attend batting practice at a Washington Nationals baseball game, among other favors. It also has been disclosed that he got a sweetheart deal renting a Washington condo co-owned by the wife of a lobbyist who had business with the agency.
Federal ethics codes prohibit having staffers conduct personal errands and bar officials from using their position for private gain.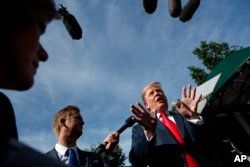 "I'm looking at Scott," Trump told reporters in a question-and-answer session on the White House driveway. "I'm not happy about certain things," he said, repeating the same phrase three times in all.
But at the same time, Trump praised Pruitt's performance at the EPA, where the administrator has initiated numerous overhauls of Obama-era regulations.
Asked if he thought Pruitt was using his position for private gain, Trump said, "I hope not."
Trump did not refer to the scandals specifically.
Growing numbers of Republican lawmakers have joined Democrats in withering condemnations of Pruitt's ethics troubles.
As the allegations swirl around him, Pruitt has continued his work targeting regulations put in place by the Obama administration, pursuing a pro-business mission for which he is careful to credit Trump.
On Friday, the EPA announced it had wrapped up a proposal expected to narrow the scope of an Obama-era rule on what kind of waterways fall under the protections of the federal Clean Water Act. Pruitt's official Twitter account signaled the news Thursday night, showing a 2017 photo of a beaming Trump watching Pruitt sign a document starting the process of changing the rule.
The move accomplished a promise that Trump had made, Pruitt's tweet said. He concluded by saying, "Happy Birthday, Mr. President!" Thursday was Trump's 72nd birthday.
JOIN US ON RUMBLE LIVE NOW!