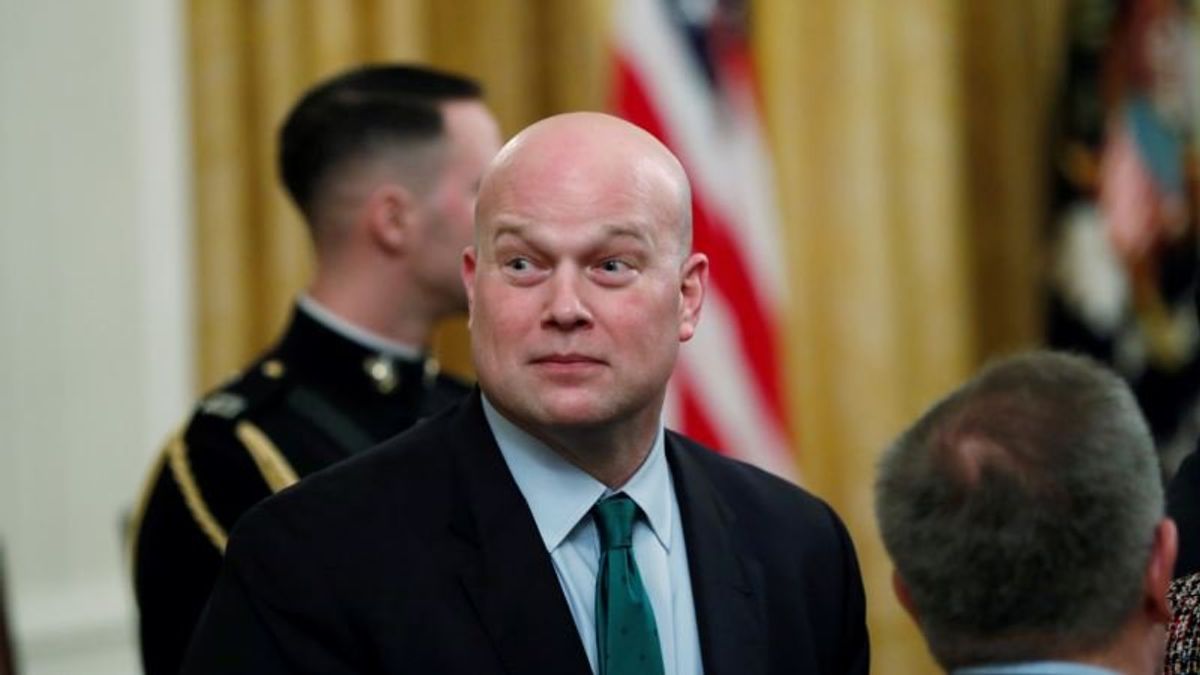 Three Democratic US Senators Sue to Challenge Whitaker Appointment
Three Democratic US Senators Sue to Challenge Whitaker Appointment
Three Democratic senators launched a new legal challenge on Monday to President Donald Trump's naming of Matthew Whitaker as acting attorney general, accusing Trump of depriving the U.S. Senate of its constitutional power to act on such appointments.
The lawsuit was filed in federal court in Washington by Senators Richard Blumenthal, Sheldon Whitehouse and Senator Mazie Hirono, all members of the Senate Judiciary Committee that customarily reviews attorney general nominations.
Congressional Democrats have expressed concern that Whitaker, a Trump loyalist, could undermine or even fire Special Counsel Robert Mueller, whose investigation of Russia's role in the 2016 U.S. election has cast a cloud over Trump's presidency.
"Americans prize a system of checks and balances, which President Trump's dictatorial appointment betrays," Blumenthal said in a statement.
The lawsuit also accused Trump of violating a federal law that establishes the line of succession if the attorney general post becomes vacant — giving full authority to the deputy attorney general — and rejected the Justice Department's legal reasoning in its support of the Republican president's action.
Whitaker took over supervision of Mueller's investigation when Trump appointed him on November 7 as the chief U.S. law enforcement official to replace Jeff Sessions, who the president ousted. Whitaker in the past criticized the scope of Mueller's probe and brought up the possibility of undermining it by slashing the special counsel's funding.
Whitaker has not recused himself from overseeing the probe despite calls by Democrats for him to do so. Trump said in an interview on the "Fox News Sunday" program he would not intervene if Whitaker moved to curtail Mueller's investigation and that his appointee is "going to do what's right." Trump has called the Mueller investigation a "witch hunt."
The attorney general of Maryland last week brought a similar legal challenge, saying Trump violated the so-called Appointments Clause of the U.S. Constitution because the job of attorney general is a "principal officer" who must be appointed by the president and confirmed by the Senate. A hearing on Maryland's legal challenge is slated for December 19.
A challenge to Whitaker's appointment was also made last week as part of a Supreme Court case on gun rights.
The Justice Department last week issued a 20-page legal opinion declaring that Trump's appointment of Whitaker was lawful under a 1998 law called the Federal Vacancies Reform Act even though he was not a Senate-confirmed official. Many legal experts have disagreed with the department's view.
The Justice Department was able to cite only one instance in U.S. history — in 1866 – in which a non-Senate confirmed person was named acting attorney general.
Kerri Kupec, a Justice Department spokeswoman, issued a statement on Monday defending Trump's designation of Whitaker.
The appointment "is lawful and comports with the Federal Vacancies Reform Act, the Appointments Clause of the U.S. Constitution, Supreme Court precedent, past Department of Justice opinions, and actions of U.S. Presidents, both Republican and Democrat," Kupec said.
"There are over 160 instances in American history in which non-Senate confirmed persons performed, on a temporary basis, the duties of a Senate-confirmed position. To suggest otherwise is to ignore centuries of practice and precedent," she added.
Democrats are preparing to take over control of U.S. House of Representatives in January following gains in the midterm elections, though Republicans maintained control of the Senate.
Top U.S. House lawmakers have said they plan to scrutinize Whitaker, including whether he should recuse himself from overseeing Mueller's investigation.